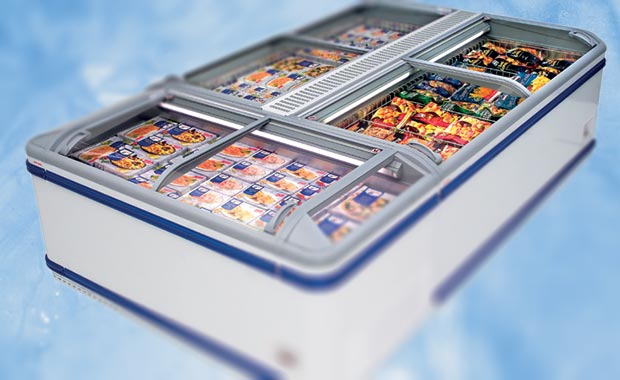 Good refrigeration is vital for retailers stocking profitable product categories such as ice cream, alcohol, soft drinks, chilled and dairy products. But with the hugely different requirements for retailers with different stores sizes and ranges, and the vast assortment of refrigeration options to choose from, deciding on the best unit for your store can be a daunting task.
"There is a world of different refrigeration options available to retailers choosing equipment for their store," points out Lucy Jordon, marketing manager at refrigeration supplier The Jordon Group. With this in mind, RN brings you a simple guide to the best five refrigeration options for independent retailers, depending on the range in and size of your store.
1. The multideck display fridge
For independent retailers with sufficient space who want to make their chilled items look attractive and maximise space for point-of-sale material, multidecks are a must-have, say suppliers.
"We believe that a good looking, well stocked and well planned multi-deck chiller will give consumers the most pleasant experience when shopping," says Mike Lees, director of Platinum Cooling. "The improved appearance of, for example, our Frost-Trol range of cabinets, will make products easier to find and in turn increase customer basket spend."
Simon Gordon, managing director of Foodfresh Refrigeration, points out that independents can get good deals on these types of units. "Our Italia range of Sunny Multidecks starts from £1,099, which is one of the cheapest in the market," he says. "These fridges come in four different widths to suit varying store sizes, so all retailers can get great deals if they look for them."
2. The upright chiller
For smaller stores, an upright fridge for soft drinks and dairy makes the most sense, says Ms Jordon. "For bottles, cans, milk and dairy produce a small store has the option of a single or double glass door upright merchandiser.
"Glass door merchandisers offer maximum visual impact, displaying goods to their best potential, and the doors can be sliding or hinged opening outwards towards the customer," she says.
Indeed, being efficient with space is essential for these chillers. "When our customers told us they wanted the longest display area possible from the smallest footprint, we set out to find it," says manufacturer and supplier Husky on their website.
3. The upright freezer
For retailers who stock frozen goods but are limited on space, the upright freezer is a good solution which means independents don't have to miss out on lucrative product categories such as ice cream, say suppliers.
"There are models, such as the JRX upright freezer, that are particularly good because they provide a different level of display to island units, meaning they can maximise the use of space," says Lucy Jordon. "This cabinet has LEDs as standard but is also approved by the Enhanced Capital Allowance energy-saving scheme, so it reduces carbon footprint."
With ice cream such a huge seller all year round, even retailers with restricted space should find a way to stock a good range. "A tiered ice cream display is a better option for small stores, such as the DD240," says Ms Jordon. "This would provide an upright ice cream display for the retailer who has limited space but doesn't want to compromise on style."
4. The energy efficient fridge
"While our customers cherish the planet, they don't want their concerns to cost the Earth," says Husky on its website, "our future philosophy is leaner, meaner, greener."
Platinum Cooling's Mike Lees agrees. "In today's economic climate, the long-term success of any business is directly linked to the control of operating costs," he says.
"Our new Frost-Trol range of cabinets is designed to significantly reduce your energy bill and further savings can be achieved by adding doors to this equipment, resulting in a near 50% reduction on energy compared to conventional cabinets."
This 50% equates to an annual saving in the region of £1,000 for a typical 3.75m multideck cabinet, based on an energy cost of 12.5p per kWh, he adds.
"The recent market trend we have seen in the convenience store sector is the move from open-fronted refrigerator cabinets to glass door refrigerators as retailers are becoming more concerned about increasing energy costs and want to reduce costs wherever possible.
"Refrigeration is the greatest consumption of energy in stores," agrees Lucy Jordon.
5. The island freezer
If space allows, an island freezer is ideal for placement centrally in your store, helping to display your frozen products in a way that is easily accessible for shoppers.
Small to medium-sized stores have the option of a jumbo freezer such as the CHV Range from Arcaboa, says Ms Jordon. "These jumbo freezers are available in three different sizes, the 2.5m being the most popular, and are a great island site for a medium-sized retailer displaying frozen goods," she says. "They have adjustable feet, temperature display and an easy-clean interior."
Another island option is a unit such as the Paris Island Freezer, which can be installed as a suite joining three or four cabinets.