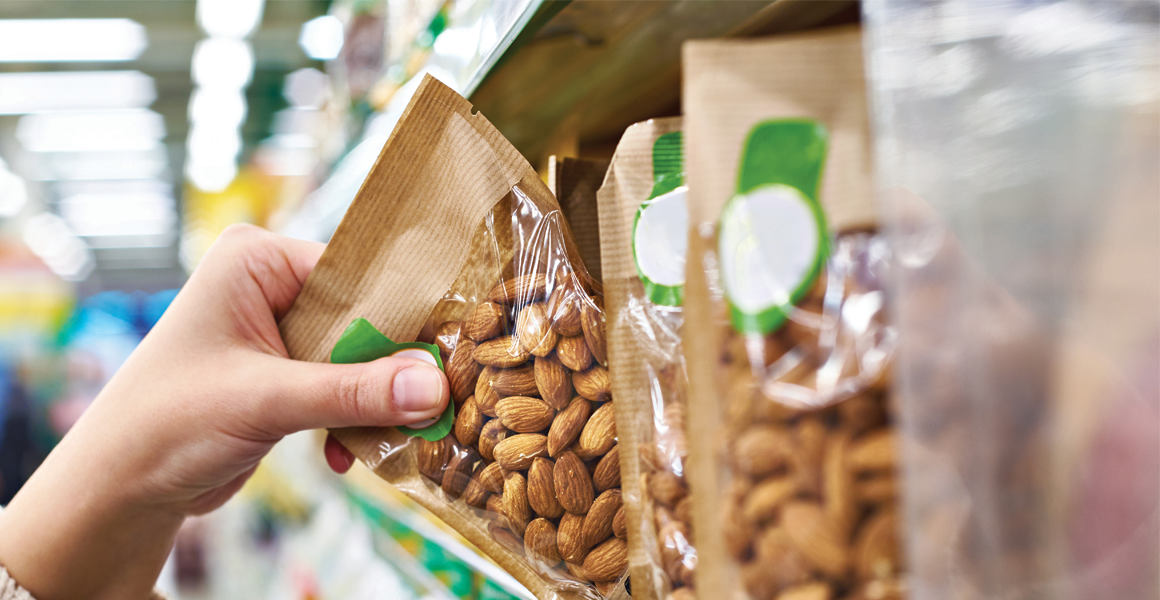 From protein bars to fresh fruit, retailers are finding there are lots of different ways to meet shoppers' growing demand for healthy snacks, reports Daryl Worthington
With 85% of shoppers 'actively' trying to improve their diet, according to Paul Samways, trade marketing manager at Trek, it's more important than ever that independent retailers and convenience stores offer healthy snacking options.
This is great news for retailers as customers are usually willing to spend a little more when buying a healthy snack.
"The average shopper would be willing to spend £1.44 on a single snack, whereas a healthy snack shopper would be willing to spend £1.84, presenting convenience retailers with a real opportunity to drive basket spend," says Laura Sayer, head of direct to store at Costcutter Supermarkets.
Located close to the University of Warwick, Sunder Sandher, of One Stop in Leamington Spa, has found that students in particular are becoming more health conscious.
"They're the biggest group who are buying healthier products. Gluten-free and healthy breakfast products are very popular with them," he says.
"What's really going well at the moment are the bags of mixed nuts and dried fruits, things like dried apricots, cashew nuts and raisins, which we've got near the counter. It's a One Stop range, in a clear bag where you can actually see the product inside. It's not just the students who are buying these, everyone is when they're on the go."
According to Sandher, the best margins in healthy snacks are on confectionery. "Fruit is growing in popularity as well. When people buy a meal deal, they'll buy a sandwich, fruit and water. It shows that healthy eating is on the increase," he says.
"On the protein side, it's mainly bars such as Trek and Grenade that are showing higher margins. I've noticed the customers who buy those are often carrying gym kit with them, so they're probably getting them either before or after they go to the gym."
Bags of dried fruits and nuts are also a popular category for Simon Lunn, of Simply Fresh Weare in Somerset. "We've been selling Nature's Table mixed bags for a long time. People know we sell those things, so they come in looking for them. We've also tried snack packs of fruit, but they haven't gone as well."
Like Sandher, Lunn has found that confectionery-based healthy snacks are giving him the best margins. "We stock Graze bars, Grenade, Metcalfe's Ricecakes and Kind bars, and they go really well. We find they're popular across genders and ages," he says.
"While Nature's Table products are price-marked, we can put a little more margin on cereal bars,
or, alternatively, lower the price a little to be more competitive. These are seen as an alternative to chocolate bars, but price-wise they're quite a bit more."
Where to put healthier snacking options
Both Sandher and Lunn range their healthy options separately from their regular confectionery. "There are so many confectionery lines that if we put the healthier options with them, we'd have to delist quite a lot. So, it's just easier to give healthy snack bars their own section," says Lunn.
Lunn used to put his healthy confectionery in a separate section of the store. Now, however, he's placed them with his cakes, just inside the door and opposite newspapers and magazines.
Sandher also groups his healthy confectionery together in one aisle. "When a customer comes in and wants a healthy snack, they'll look for the healthy section – they'll want to know exactly where to go for a snacking product rather than look around the store. In terms of gluten-free, I mix those in – so gluten-free cereal will be with the regular cereal, gluten-free bread will be with the regular bread."
Anish Parekh, of Broadoak Londis Post Office in Ashton-under-Lyne, Greater Manchester, has found protein-packed boxes of nuts, such as Graze, are selling particularly well. His bestselling healthier snacks tend to be related to sports, but he's had to find solutions to their high price.
"I place them by the counter and I'm always on the lookout for ways to discount them," says Parekh. "They're often quite expensive, which can put my customers off, so finding a way to lower the price – by buying when they're on promotion, for example – then putting them by the till with PoS to highlight the offer, helps drive sales."
For Kay Patel, who owns several Best-one stores around east London, important concerns are that these products can often have shorter shelf-lives and, being small and high-value, are a popular target for petty thieves. To prevent this, he'll stock them on the countertop, or at least within eyeline of the tills.
Patel notes that patience is important when it comes to building a healthy snacking range. "We ran a trial with 5th Season fruit snacks and initially they didn't work, but we kept with it, kept them visible, and now we've got customers that come in looking specifically for them."
Confectionery with less sugar
"Consumers are becoming increasingly health conscious, looking for alternative products to help reduce their sugar consumption. In store, healthier snacking products are increasingly gaining space, with retailers opting to give them more visibility, often at the expense of sugar-based confectionery. This presents a fantastic opportunity for the growth of confectionery with less sugar, which is worth £45.1m and growing at 8.9%."

For retailers looking to offer a sugar-free or reduced-sugar range, PVM recommends:
Fruittella 30% Less Sugar (includes Strawberry and Summer Fruits chews, Gummies and Jelly Foams) 28g/120g
Fruittella Sugar Free (includes Fruit Gums, Fruit Foams and Fruit Drops) 45g/80g/90g
New Chupa Chups Sugar Free Slim Wheel, in three flavours: Cherry, Strawberry and Cola