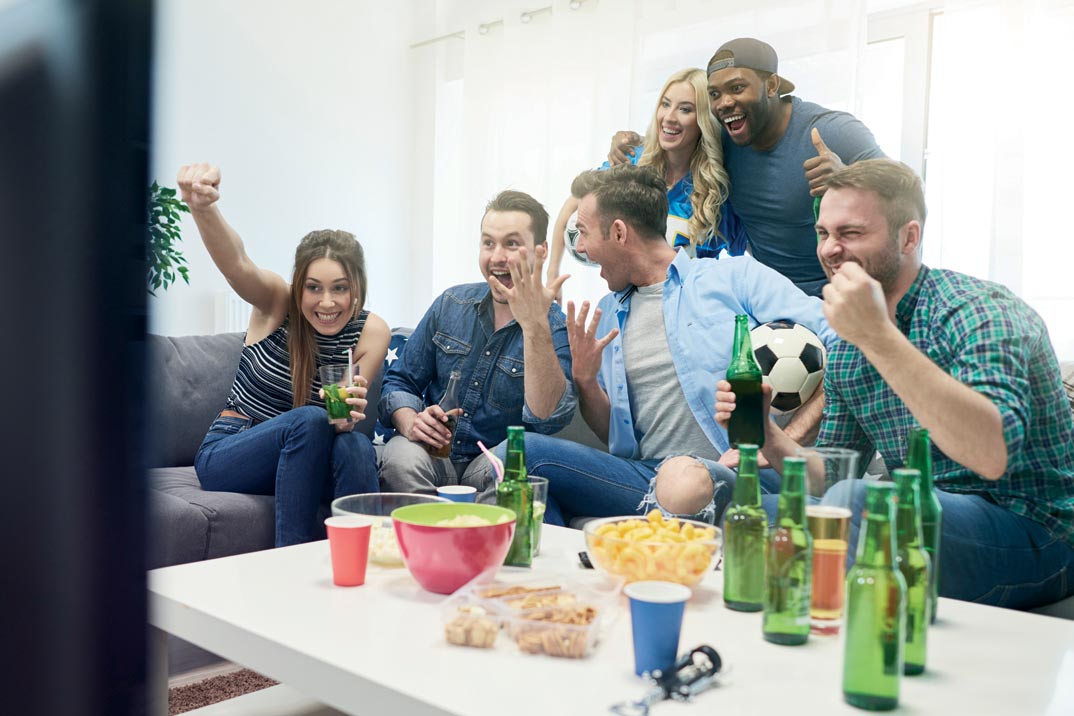 Are you ready to win big profits during Euro 2016? Toby Hill has been speaking to retailers across the UK to find out how to prepare your store for Euro 2016
Big sporting events bring with them huge opportunities for convenience retailers, as groups of friends come together to cheer on their team. Beer sales soar, and canny retailers can cross-merchandise related products to drive sales across the whole store. So, in advance of Euro 2016 – where England, Wales, Northern Ireland and the Republic of Ireland are all vying for glory – we've gathered together lots of invaluable insight from retailers at the top of their game for some big pre-match analysis.
Five-a-side tips – Retailers Utd
1
Use props to decorate the store and as part of a competition
"We have Coca-Cola footballs placed around the store. We then raffle them off at the end of the tournament. That gets the kids' attention, and brings parents over to our displays of beer and food."
Julie Duhra, Julie's Premier Convenience Store, Telford, Shropshire
Challenges vs solutions: Pinda Cheema's head-to-head tactics to maintain his profits
Through three decades in his Malcolm's Nisa store in Coventry, Pinda Cheema has been a shrewd observer of his customers' changing habits. Here, he identifies the major challenges and the match-winning tactics he deploys to maintain his profits.
The big challenges
A stronger economy means people have the money to go out to the pub and watch the game instead of staying in.

Under-25s are drinking less, and buying alcohol in smaller quantities.
Trends change quickly and it can be a challenge to stay up to date – last year it was all about vodka, this year everyone is buying Jim Beam and Hendricks.
My tactics
Highlight instant barbecue products, meats, pizzas and other oven snacks – tasty additions to a big night in that many people find too pricey to fill up on in the pub.

Stock smaller four-packs of more premium beers – such as Tiger, Cobra or Peroni – and include them alongside Carlsberg on promotional displays.

Keep up to date with the latest trends – I work directly with a market research company which provides up-to-date insights.
2
Use window displays to catch the attention of passers-by
"We'll fill our window display with Panini sticker books and event guides. We'll also try to tie in with the local paper and stick up any posters or promotions that they run."
Mark Dudden, Albany News, Cardiff
3
Get displays and PoS up early
"You want people to know your store is somewhere they can go before the match. If you set it up on the cusp of events you'll get some customers but miss quite a lot of trade. People need to see it early on and then be confident they can pop in later to get what they need."

Justin Taylor, Spar Winford, Bristol
4
Tie your store's unique selling points and the tournament
"During the World Cup, we'd put out food related to different countries on the day of the match. And if a local brewery is doing a related ale I'll make sure we stock that."
Kate Mills, The Heath Stores, Horsmonden, Kent
5
Don't forget hot food to-go, which can be tied into a football theme
"We'll link our breakfast baps, wraps and other hot products with the tournament throughout the four weeks."
Amardeep Sandhu, Go Local Extra, Chesterfield
Become a Member to comment
Register to comment and get exclusive content and subscribe to the online and print versions of Retail News.
Become a member