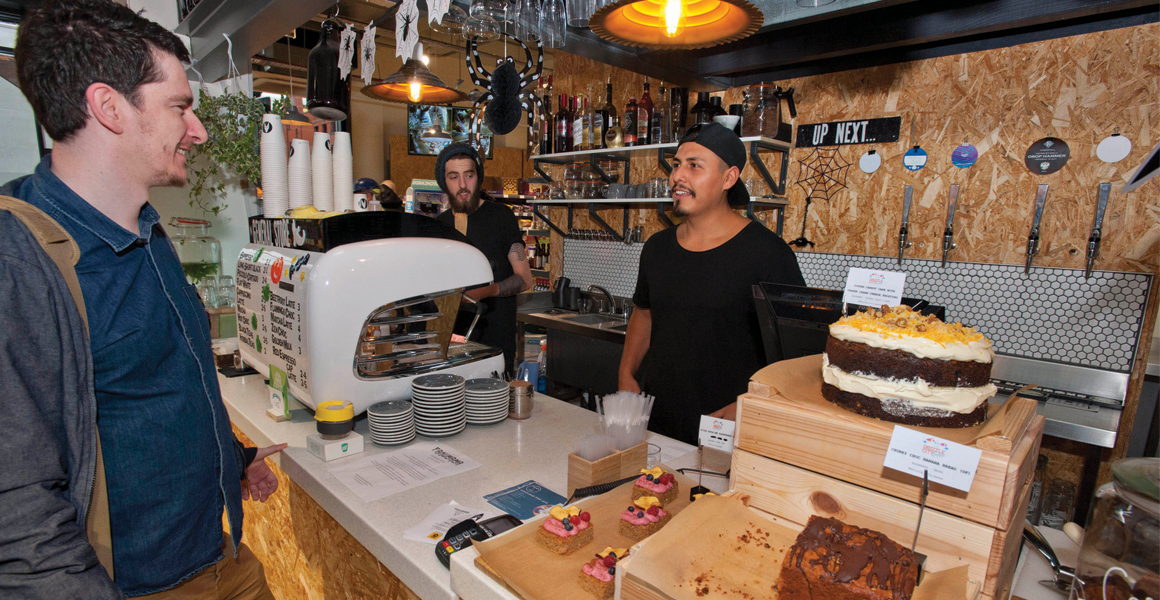 More than half of all consumers now drink takeaway coffee at least once per week, so they're looking for quick and easy solutions from their local shop. Priyanka Jethwa explores the biggest trends in the market, and compares the best machines for your store
If there's one area that all retailers of all shop sizes can profit from, it's coffee to go, with an average of 18 cups sold per day in a typical convenience store. But, according to ACS figures, only 30% of convenience stores offer a customer-operated machine.
Michael Ratheram, customer engagement manager at specialist wholesaler Epicurium, says the blurring of lines between traditional retail and foodservice means it's crucial retailers have a coffee machine in store, especially in time for the breakfast trade.
"We've seen more than half of independent retailers benefit from incremental snack sales bought alongside a coffee. The best performing products are those from premium and indulgent brands, and in accordance with wider industry trends, high-protein snacks are also performing well," he explains.
According to Allegra's World Coffee Portal report, 54% of consumers now drink takeaway coffee at least once per week, offering retailers an easy way to gain additional sales.
The report states that there are more than 7,470 branded coffee shops in the UK, generating approximately £4bn in sales annually – that's a 1,328% increase on the £280m total branded coffee shop turnover recorded by the research firm in the year 1999.
The report goes on to state that although Italian influence shows signs of waning, espresso-based beverages continue to be a cornerstone of the British coffee shop experience.
"Allegra estimates the UK's non-specialist segment comprises almost 10,000 outlets. From vending machines to hotels and supermarket cafés, technology is enabling non-traditional operators to become coffee destinations in their own right.
"With falling high street footfall and lower consumer confidence already impacting
sales among major coffee shop chains, the specialist sector, such as independent retailers, should heed the growing ability of non-specialists to attract traditional coffee shop customers."
Machine development
Espresso machine development is moving quickly and has been for the past few years. As a result, more suppliers are increasingly finding ways to combat existing problems in machines, such as improving the mechanics around scales, weight and grinder weakness, to make it easier for retailers to operate.
A lot of the automation and technical advances in coffee machines at the moment are giving retailers the opportunity to be more creative, while allowing the rest of the staff members to replicate the same brew consistently.
Andrew Tucker, managing director at Sanremo, says there are so many coffee machine brands now on the market, it's important for retailers to offer all the flavours available, using equipment that allows brews to be replicated by the rest of the team, especially as consumer standards grow.
"To make it easier for retailers, the designs of machines are becoming physically shorter as they move to the front counter, so there can be more interaction between customers and the retailer serving the coffee," he says.
"There is a move in the industry towards different-looking and customisable machines, giving businesses the opportunity to be more individual. Our Café Racer machine is a good choice for businesses looking for customisation to enhance brand and space."
Care for the environment 
One thing that has taken top priority in the coffee industry is the determination to only use beans that have been ethically sourced.
Paul Chadderton, managing director at Tchibo Coffee International, says ethical coffee sourcing is increasingly important to consumers, and as a result, its Smokin' Bean 100% Arabica coffee beans are Fairtrade, organic and certified by the Rainforest Alliance.
"The beans are sourced solely through Fairtrade cooperatives in Peru and Mexico. Our Smokin' Bean brand also offers 100% biodegradable and compostable cups," he adds.
Sanremo recently launched an energy grading system demonstrating that single boiler machines can use 50% or more energy compared to one of its Sanremo Energy Efficient Machines.
Tucker explains: "The espresso coffee machines in the Sanremo Energy Efficient Range use next-generation technology and features that improve performance and energy efficiency. Sanremo's Opera 2.0, Café Racer, Verona RS and the new F18 all use embedded PID, energy management software, with boiler and pipework insulation to significantly reduce power consumption."
Future trends
The Cannabidiol market in the UK is booming, with more herb aficionados looking for products that contain the substance. Cannabidiol, most commonly known as CBD, is an element derived from the cannabis plant. To be legally sold in the UK, CBD products must contain only 0.2% THC, which is the addictive substance that generates the high.
Mike Thelan, co-owner at The Coffee Boss, says the CBD market in the UK is worth £3m, and this is projected to grow massively in the next 12 months.
CBD has already penetrated the vaping and personal care categories, endorsed by celebrities from Kim Kardashian and her recent CBD-inspired baby shower, to Whoopi Goldberg, who is the co-founder of Whoopi & Maya, a company that specialises in CBD products. It is now turning its eye toward food and drink – and coffee machines aren't being left behind. Celebrity attention normally signals the beginning of a trend that shoppers are set to buy into, and they'll be turning to retailers to deliver, so it's important to jump on the back of it now.
"We recently launched the world's first CBD coffee machine, where shoppers can add a 15mg shot of tasteless CBD to a drink of their choosing. Having a machine that gives you the option to add CBD makes it convenient for the retailer and shopper – you can have the best of both worlds from one machine. We have also launched CBD-infused honey sticks. The market is growing at a fast rate and more shoppers are looking for products like this," Thelan adds.
CBD is widely reported for its supposed health benefits, and as more shoppers feed into this trend – not just in the UK, but worldwide – retailers should consider whether they should add the ingredient to their range.
"Coffee shops in London tend, on average, to sell CBD-infused coffee for £5-£11 per cup, which demonstrates how big the market is – and more importantly, how much shoppers are willing to pay for it. Our RRPs on the CBD-infused coffees are £4 – it costs the retailer £1.50 – so there is a 62.5% margin to be made," he explains.
Retailer viewpoints
We have a Costa Express machine in store by the counter and it's become a vital footfall driver to the business, fantastic for generating incremental sales while providing us with good margins.
We used to have a Simply Coffee machine around two years ago, but since changing to Costa, we could not have anticipated how well sales would be. We saw an increase of 68% in cup sales when switching brands.
The biggest trend that I have noticed is the demand for themed cups, like at Christmas. I think it's important to have a machine from a popular brand because shoppers are more likely to trust it and buy a cup.
Currently, we cross-merchandise the machine alongside bakery products from St Pierre and pastries that are baked in store.
We have a coffee machine supplied by a company called Papa Chinos Coffee. It's a small company, but here in Scotland it's well known and popular with customers.
We bought the machine outright and, as part of the package deal, received free stock that almost covered the price of the machine, so we can afford to sell coffee at £1 per cup.
The machine works well with our food-to-go offer, and we have it in the centre between hot food to go and cold sandwiches.
Our customers really like it and some even say they prefer the taste to Costa.
Machine comparison
The Coffee Boss 
The Coffee Boss' CBD machine is available to buy outright from £7,500, or rent from £30 per week (for the coffee machine alone) and £45 per week (for the complete stand). It comes on a five-year lease alongside a free drinks package worth £1,000 and free warranty for three years. The machine offers 10 varieties of coffee and the supplier provides free PoS, such as loyalty cards, posters and pavement stands.
Tchibo 
Tchibo's Smokin' Bean units are modular and have a 'Coffee Point' that is 900mm wide. Its main Smokin' Bean Cafe Destination can come with or without an ambient food unit at the side, and the supplier will soon be launching a hot food-to-go add-on. The supplier also offers a free additional espresso shot to consumers that prefer a stronger coffee (at its cost) and free flavoured syrup. Smokin' Bean features eight hot drink options, including tea and hot chocolate in two sizes.
Nescafé & Go
Nescafé & Go is available for retailers to purchase outright directly from Nestlé Professional, and offers independents who are starting off with coffee to go an opportunity without signing up to a long-term rental agreement. The cost of the machine is £99+VAT, and it comes with a 12-month warranty. The supplier advises an RRP of £1.50 per cup for all flavours. It also requires no plumbing – simply plug in and go.
Sanremo
Sanremo offers a range of machines to fit every level of the market, such as Zoe Vision and Zoe Compact, designed for smaller retailers looking for an easy-to-use and affordable machine. The equipment ranges from £3,000 to £20,000 and is available to buy and rent. The supplier also provides full technical and sales training, with all the tools retailers need to ensure Sanremo contributes directly to the success of the business. The company is able to sell directly in London.
UCC Coffee 
The Black&White4 machine is 645mm high, 320mm wide and 600mm deep. It has a 10-inch HD touchscreen with icon and colour customisation, and screensaver capability. With an 'infinite menu' option, it can display a comprehensive range of drinks, which will be displayed on the home and sub-screens. The drink 'batching' function allows customisable, quick beverage selection and improved customer decision flow. Customers can build and customise drinks orders quickly when in preparation and self-serve mode.
Sanremo's guide to barista coffee
The coffee-to-go category is about striking the balance between the quality of the product and the speed of execution. So, ensure your staff have had sufficient barista and equipment training. Having employees that are trained to get the very best out of a machine is an investment from a business perspective.
The busiest of environments that can handle the pressure are most often using some of the best traditional equipment, which is designed to produce the highest quality of drinks at precision and speed.
Also, knowing how to create the best-tasting product at high volumes in the most efficient way using espresso equipment will, in turn, drive sales, save energy bills and create a loyal customer base.
It's also important to acknowledge that the barista adds value to the consumers' decision making and service experience. Businesses who are focusing on these areas will prosper and continue to grow through uncertain economic times.
Tchibo's guide to cross-promotions 
The Allegra report states 69% of consumers buy a food item with their coffee. With this being said, we recommend meal deals for all retailers – breakfast meal deal, lunchtime and afternoon snack deals.
Smokin' Bean provides a food-to-go range that includes muffins, flapjacks, protein bars, popcorn and chocolate to link with coffee sales.
Ensuring the machine is placed in the food-to-go area and the front of the store drives additional sales.
UCC Coffee's guide to consistent quality
For retailers, it's all about understanding what consumers want: fast service, exceptional taste and consistent quality.
Take your time to understand the offer you want to provide, the brand, the competition in the market, and purchase the right package that suits your demographic and footfall.
Once your offer is up and running, it's about ensuring coffee consistency and
quality. At UCC Coffee, we train retailers through our Coffee Works programme. At the heart of this is three main things: use fresh coffee; use fresh, cold milk; and keep the machine clean.
We use category experience and insight into consumer trends to advise and consult on what the right coffee offer is.
For independent retailers, this could be anything from supplying branded roast and ground coffee or coffee bags for on-shelf sales, to Nespresso-compatible or Dolce Gusto-compatible capsules or automatic coffee equipment as part of a coffee-to-go offer to meet the demand for convenient coffee.