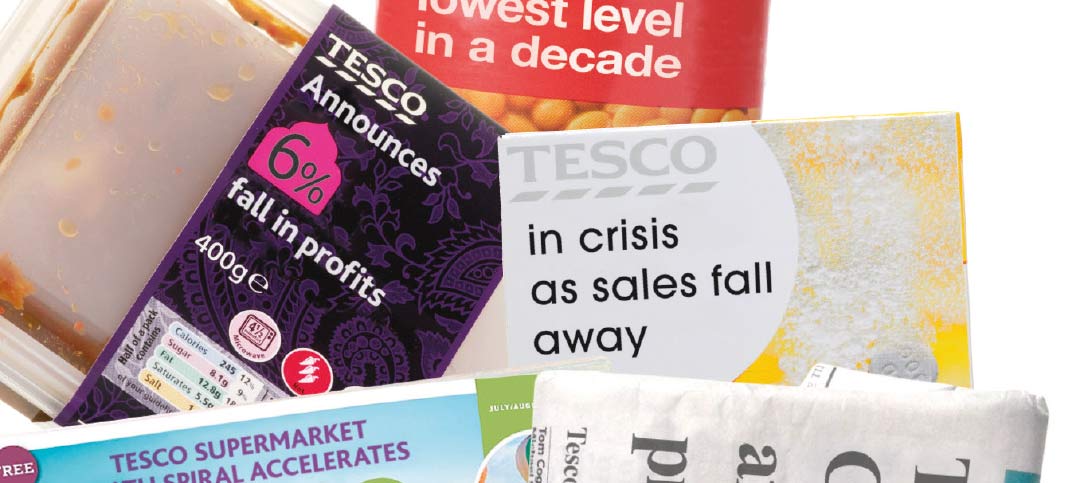 The ousting of Philip Clarke as chief executive of Tesco last month continued the stream of bad results and terrible headlines the supermarket has endured. How different things could have been if he'd followed the independent sector's example. Tom Gockelen-Kozlowski reports.
The hotel had been booked. The food and drink had been ordered. It might be one of the biggest retailers in the world, and the UK's largest private sector employer, but even a corporation the size of Tesco could recognise a fairy tale when it came along.
The party that would be in full swing within 24 hours was to recognise the 40 years of service of a man who had started his Tesco career as a shelf stacker in Liverpool.
Over four decades he'd risen, step by step, to chief executive officer, filling the boots of the legendry, celebrated figure of Sir Terry Leahy, a man once dubbed the UK's most influential non-elected person. 
Yes, there'd been profit warnings, talks of an "existential crisis" and a fall in the company's market share in recent years, but that wasn't going to be allowed to ruin the mood. Philip Clarke's was a story worth celebrating. 
So what happened? Why was the party cancelled? The hours that were supposed to be spent by the Tesco board putting on make-up, collecting suits from dry cleaners and putting the final touches on gushing speeches were instead spent dealing with the aftermath of the corporate assassination of the party boy.  
It may have been a simple case of one profit warning too many, but the reasons behind Tesco's continued disappointing performances was anything but simple. 
Within hours, Philip Clarke was being compared to David Moyes, the unhappy inheritor of Sir Alex Ferguson's Manchester United.
Tesco, always controversial for its size, power and ruthless treatment of its suppliers and competitors, shouldn't be surprised about the tidal wave of schadenfreude that greeted this latest episode. Accompanying the crowing, however, has been a huge amount of analysis and debate about how one of Britain's most successful businesses saw its fortunes sour, the mistakes made along the way, as well as speculation of what remedies might be required. 
All this is in great contrast to the situation the independent convenience sector finds itself in. RN readers are increasingly becoming known for being more innovative, more receptive and more passionate than their multiple competitors. So we decided to compare them with this ailing giant. How do our readers find better ways to deal with the challenges Tesco faces? What mistakes did Philip Clarke make that could have been avoided if only he'd looked at independents and learned from their best practice? The following ten points will show you.
Mistake 1 – He found it impossible to escape Leahy's shadow
Raaj Chandarana
Star News, High Wycombe
"I never expected to take over my dad in the business, but one day I woke up and knew that that's what I wanted to do. 
It was really important that I put my stamp on the business, however, so as soon as I took over we held an event to tell our customers and the industry that things would be changing. 
One of the first alterations I made was taking on an apprentice who could offer the service that I know
our customers expect. Bethany is great because she represents the future and from a business point of view employing her is more cost effective. 
I've also worked hard to develop new partnerships with suppliers like Bobby's, Warburtons and Mondelez who are looking to invest and engage with our business instead of just treating it like any other convenience store or supermarket."
Philip Clarke's job of following Sir Terry Leahy's tenure would never be an easy one. As the David Moyes comparison highlights, there was a daunting list of achievements that the outgoing man would be fondly remembered for. He, more than anyone else, took the credit for making Tesco the biggest name in UK retail. That The Guardian described Mr Clarke's departure as marking the end of the Leahy era, demonstrated just how unable the younger man was to escape the shadow of the elder. 
Mr Clarke has undoubtedly spent much of his time at the helm trying to stamp his own authority on the company, disposing of its somewhat outdated supermarket expansion plans and Sir Terry Leahy's pet US project, the Fresh & Easy grocery chain. According to Andrew Stevens, retail analyst at Verdict, rather than waiting to make these big decisions, Mr Clarke should have instantly moved to make the necessary shifts in Tesco's direction. "As soon as he took he should have done some kind of a review of where Tesco sat in the UK market and what he needed to do," says Mr Stevens. This, he believes, would have been a clear sign that the Leahy era was over.
Mr Clarke himself said in April last year – just as he announced the closure of Fresh & Easy – that he had indeed been analysing the company's performance closely before making tough decisions. "It's taken a while for us… to look hard and realise that big investment was needed in the UK," he said. 
With the turning circle of a company like Tesco so vast, the feeling was that (again like Moyes) he had taken too long to escape his predecessor's shadow and that in the end, the results were too bad and the prospect of real change too distant.