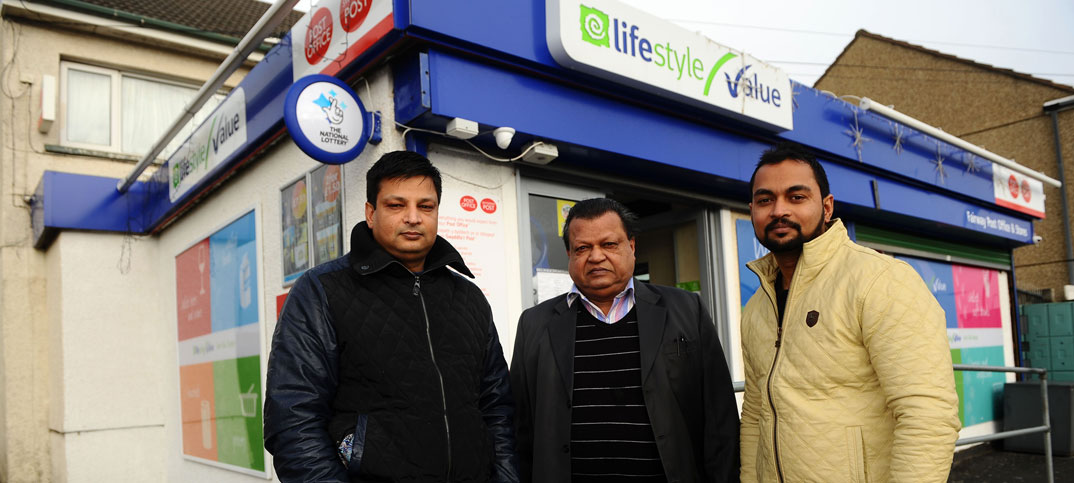 Brothers Barjesh and Yogesh and their dad, Sudesh have taken one of their four stores in a new direction, focusing on value-led shoppers using Landmark Wholesale's Lifestyle Value store model. Steven Lambert reports
Spanning over 10 years in the independent trade, the Kumar family; brothers Barjesh and Yogesh and their dad, Sudesh, have been making a name for themselves in South Wales.
They already have 4 shops – two with the Lifestyle fascia and two with Costcutter – and the retailers have decided to take a bold step by taking on a completely new fascia at one of their businesses.
"The shop is located in the middle of a council estate and a lot of people are looking around for bargains." Says Barjesh
As one of the first to trial Landmark Wholesale's latest concept, Lifestyle Value (a store model based on offering the best deals to value-led shoppers), the Kumars decided to use the opportunity to revamp their Fairway Post Office site in Port Talbot. Investing £130,000 in a refit this allowed the floor space to increase from 300sq ft to 1,800sq ft.
Barjesh explained how there's a supermarket about a half a mile away and a few bargain shops, but not too many so they seized the opportunity to launch their own value shop.
The business was shut for two months before officially being reopened under the Lifestyle Value banner last May. Barjesh says the family worked closely with their wholesaler, Blakemore, during this time to re-merchandise the store to suit the new retail model.
He says: "With the extra space, we were able to introduce a lot more products such as general groceries and household goods.
"It also meant we could expand our promotional areas to show we were offering good value to shoppers. For example, we now have a four metre £1 zone, and we also have five one metre £1 zones at the end of aisles.
"We fill these with price marked products from the Lifestyle Value range, as well as good quality branded goods such as Walkers £1 sharing bags, soft drinks and non-food items."
This is complemented by an increased number of deals running around the store, including even more £1 and 'two for one' offers, which are promoted with PoS material such as stickers and shelf barkers.
Barjesh says the extension of the shop floor has also allowed the family to increase space for two of their best-selling categories, confectionery and alcohol.
"We now have a five metre chiller for beers and wine, and that has helped us grow alcohol sales by 40%.
"We have a couple of schools nearby, so we have also increased the space we have for sweets and chocolate. We get quite a big trade coming in for confectionery at lunchtime, both from kids and adults."
Barjesh says the changes have had a knock-on effect on impulse sales and basket spend, which have backed up the constant footfall the store receives from its popular post office and Lottery services.
"We never used to have baskets in the shop before, but now people are coming in to take their money out from the post office, picking up a basket and spending it in the shop. We have some people doing a big shop and spending up to £25. Our customers have been very positive about the changes and they like the new look.
He adds that their success has come about from following the same principles that have helped them maintain footfall and sales over the past decade.
"Offer good deals to shoppers, give the best customer service you can, and keep your shop clean and tidy, and you can't go wrong."
Visit my shop