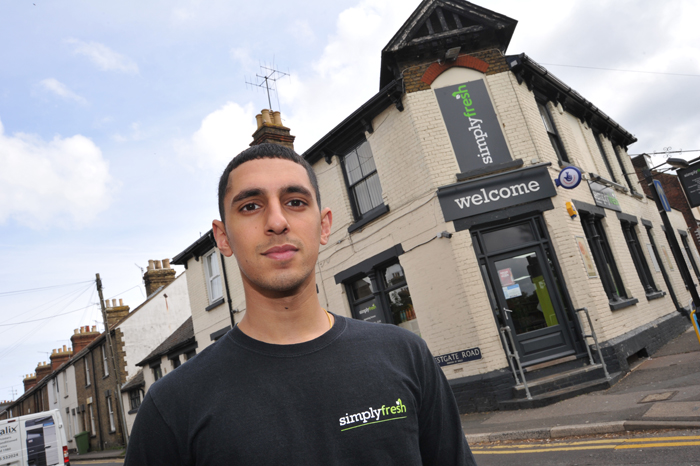 Confronted with a near-derelict building containing what was left of a pub and a restaurant, both of which had failed disastrously, Sandeep Bains invested £100,000 to turn the place into Simply Fresh Faversham.
A year since opening, the store already has an average basket spend of £7.40 – which Sandeep is quick to point out is brought down by school children buying cheap sweets. And what's more? He's only 23.
Coming from a background in retail meant Sandeep knew the ropes from an early age – his family have 15 years of experience in building successful convenience stores. However, rather than rush into business, Sandeep was careful to further build his knowledge base.
"I graduated two years ago, having studied politics and international relations, and then a postgraduate study in international management," he says.
Characteristically, he was focused on one thing: retail. "In particular, I focused on Tesco and Marks & Spencer, writing my thesis on them," he says. "Instead of being some dry academic exercise, this was in fact hugely useful, especially when it comes to HR management. The lessons are there when you look at the majors – it's just a matter of adjusting for scale."
On leaving his studies, Sandeep was quick to stand on his own two feet. "I always wanted to work for myself," he says. "My brother's gone into retail as well, and I wanted to follow his example – he has a shop on the other side of town. It's not close enough for us to be competitors."
Converting the building from a problem pub wasn't easy, though. "It needed some serious structural work – we had to take out the fireplaces, and the building as a whole just hadn't been maintained," says Sandeep.
The site also had no equipment suited to retail whatsoever, so £35,000 was spent on 17.5m of refrigerators with modern energy-saving doors, along with double-glazing on beer chillers and an inverter running all these chillers off one deck of motors.
[pull_quote_right]Faversham is home to England's oldest brewery, and I have deals with six local microbreweries to provide terrific local beer[/pull_quote_right]
As well as the latest in tech, presentation is arguably even more important to Sandeep. "It's all about the atmosphere," he says. "I'm very particular about the layout of my store, the lighting, the signage, and the overall in-store theatre – and I think it shows. It's a very competitive industry, so if you create a welcoming environment, that does half the work for you.
"I'm shocked sometimes when I go into a store and it's dark and dirty – what are they thinking? It's not hard to maintain a clean shop – people just shoot themselves in the foot so easily, and so pointlessly."
While presentation is one thing, it can only get you so far. Sandeep enthusiastically differentiates himself from bigger stores with a huge amount of interaction with local suppliers – some of whom he found on Twitter – and a focus on the strengths of his particular area.
"Quality is a real priority to us," he says. "Faversham is home to England's oldest brewery, and I have deals with six local microbreweries to provide terrific local beer – we do a deal at three for £5, and they're very popular indeed. We also get pies and sausages from local butchers, and all our fresh produce comes from nearby. We even have local chocolate and jam – it's so important, running products like these integrates us into the community."
And this community integration is Sandeep's masterstroke – be it leaflets on launch introducing him and his brother personally to the surrounding community, donating goods to the local food bank, or launching a highly successful healthy living initiative where local schools and nurseries are offered coupons for free fruit and veg.
Sandeep says: "I love interacting with the community and I'm a strong believer in healthy eating – what better way to show you care about your customers?"
With a Subway franchise opening in-store, plans to expand the food offering into the unit next door, and with ultimate plans to expand to multiple stores, it would be wise to remember the name Sandeep Bains. You'll be hearing it a lot in the future.
Visit Simply Fresh Faversham