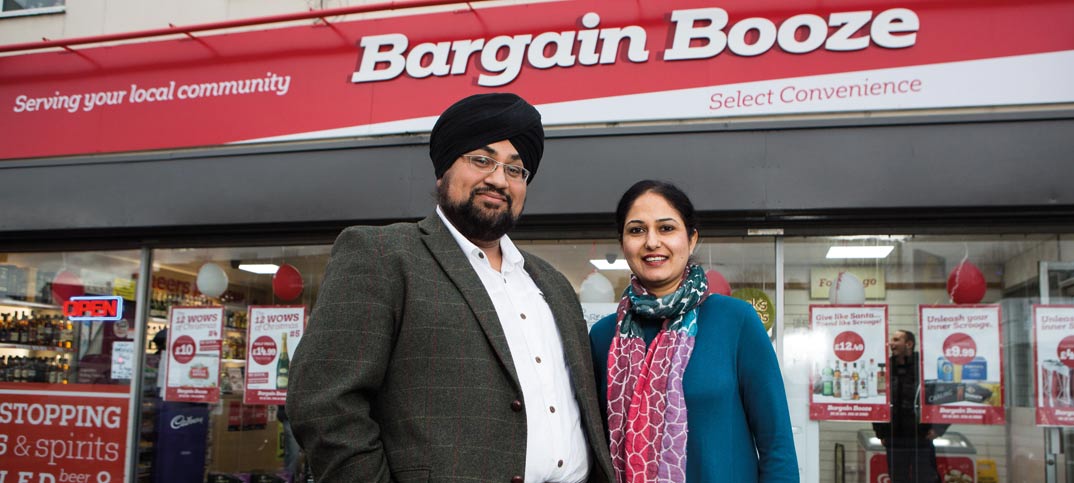 With a discounting giant opening up close to his store, the gloves were off for Bargain Booze retailer Rocky Sehmbi. But he rose to the challenge and believes he has been victorious.
Tim Murray
reports
Opening up a new store a stone's throw away from a Lidl may seem like a contrary move. But Bargain Booze retailer Rocky Sehmbi is proving to his customers that he can more than match his discount rival.
Like his fictional boxing namesake, Rocky is the underdog taking on a heavyweight giant – and the plucky outsider is landing some knockout blows against his opponent.
"We've got a full range of alcohol and at a price that's very competitive with the supermarkets," he says proudly.
"Lidl has promotions and offers for two or three months, but we're at the same low price all year-round."
A retailer for the past 11 years, Rocky's new Bargain Booze store, which has been trading for around a month, is his third opened in and around the Bristol area.
Sited in a former bed and mattress store, it has been given a complete refit in keeping with recent trends in convenience retailing, with wide aisles and plenty of space to give it an open feel.
Rocky says: "I wanted to expand. My aim was always to have two or three shops and this location worked."
"Bargain Booze help us all the time. It worked on the design of the shop floor and helped with the shopfitters. By the time they were in, it took just a week to do it all."
"We've now got more space to move around, more displays. It's very clean and fresh-looking."
The new store is also on-trend with other recent retail developments, with a food to go counter and coffee machine both being installed.
Rocky says: "Coffee machines and food to go can be tricky to manage, but they bring customers in who hopefully buy something else. It's the same as newspapers and lottery. They bring footfall in."
Lidl has promotions and offers for two or three months, but we're at the same low price all year round
And what of the stock? "Bargain Booze," he laughs, "the name says it all." But it's not quite as simple as that.
Alongside the traditional beer, wines and spirits, the store is once again keeping up to date with the latest retail buzzwords. "We've got a big selection of ales and fruit ciders," says Rocky. "It's a growing area for us."
And, of course, this being in the West Country, there's a fair bit of scrumpy too. Rocky says: "Bristol is a cider area, so we've got a lot of local ciders too. We deal direct with the makers in places like Somerset."
He adds that the proximity of his other Bargain Booze businesses helped his new store hit the ground running when it opened.
But how does he manage to compete with a large Lidl on his doorstep? The key for Rocky has been competitive, long-term pricing on top-name products he knows his rivals can't offer. "We've got branded wines, we've got prosecco and they are still cheaper or just as competitive as Lidl's pricing. We're getting repeat business from them."
"We've also got a lot of cheaper grocery lines. We have a lot of branded items on at £1, things like Crunchy Nut Cornflakes, multipacks of crisps and popcorn, and soft drinks such as Pepsi."
Rocky says he is still learning about the community around the new store, but has already won over some of the locals, as well as staff at the nearby hospital, which, like Lidl, is right next door to his store. He has also spread word of the business by delivering promotional leaflets through the Royal Mail to local homes.
"We're getting a lot of the nurses and people like that coming in," he says. "As well as the booze on offer, there's also the bargain side for those finishing work.
And despite only trading at his latest venture for a month, Rocky says he is already looking at ways of refining the business.
"As we get more customers coming in, we're learning more about what they want, we'll be extending some ranges, especially across the convenience side."
For this Rocky then, it's a case of seconds out, round two.
For more details on joining the Bargain Booze franchise call 0330 3030 333 or register your details here.
Visit my Store