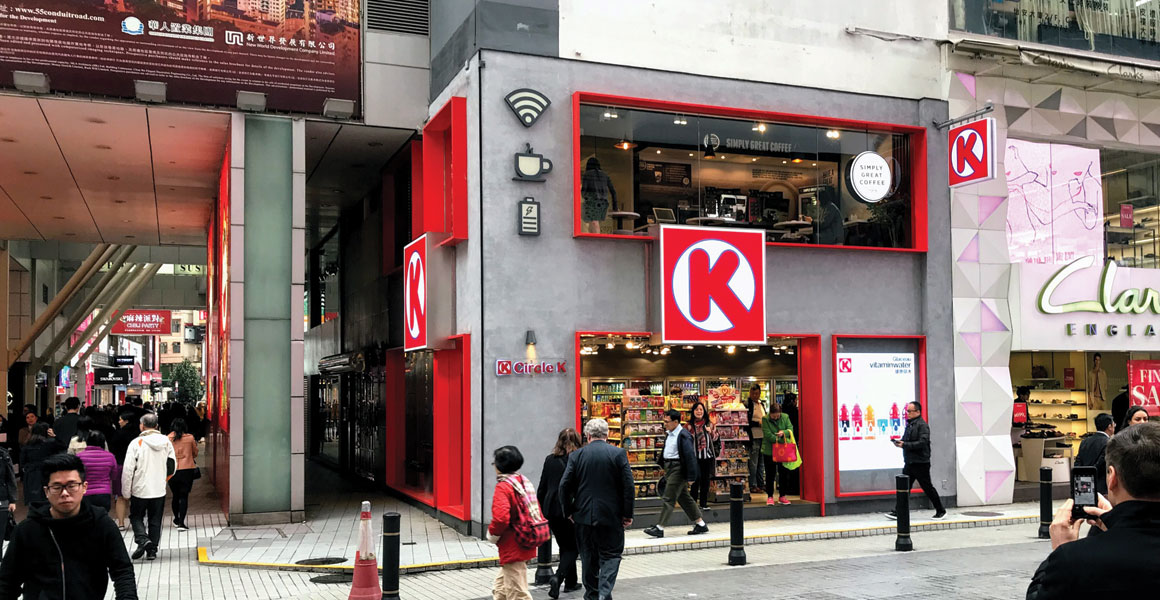 From 200sq ft to 2,000sq ft
Everything needs to be easy, fast and simple for shoppers, chief operating officer Pak Chi Kin explains in an overview of the factors that make Circle K's 322 company stores successful in Hong Kong.

Nick Shanagher

reports
Positioned at a premium against the densely populated Hong Kong's many family-owned independent c-stores and rivals such as 7-Eleven, Circle K is chasing a new generation of consumers who have grown up using smartphones as their interface with the world.
High rents limit growth and the size of the average shop is 600sq ft, but chief operating officer Pak Chi Kin (known as CK) says success in the past year has been driven by one-to-one marketing using a loyalty app, OK Stamp It, which entices consumers back to its stores.
The flagship store in central Hong Kong has a self-service coffee bar over a compact c-store and shows the company's determination to be a trendsetter for busy higher earners. Its coffee is priced at HK$25 (£2.29) compared to HK$32 (£2.93) in Starbucks and HK$14 (£1.28) in rival 7-Eleven.
Customers pick their beverages from a display on a cashless till and then sit at small tables by the window to watch trendy shoppers in the street outside or to meet contacts or friends.
More than seven million people live in Hong Kong, mostly in small flats with basic cooking facilities, so they often eat out. C-stores are not the cheapest option – you can buy a filling meal for HK$40 (£3.66) at a restaurant in central Hong Kong – so speed of service is the differentiator.
Its shops are designed around shopper missions, with Hong Kong managers taking inspiration from the visual merchandising and space optimisation excellence of c-stores in Japan and the US.
The path to food-for-now is clearly visible to shoppers entering a suburban Circle K and queues at tills are swiftly managed. Most shops include tables so shoppers can eat in-store and most dishes are recognisable to Western consumers.
Bakery is an important driver of business and Circle K acquired its own chain of bakeries to ensure quality. Window displays are used to attract passers-by and customers can help themselves when they enter the store. Where space allows baking in-store, this is visible to shoppers, adding to the theatre.
In-store PoS has also been adapted to provide a visual link to promotions on the company's 18-month-old OK Stamp It app, which has been downloaded more than a million times. Some 90,000 regular users spend 18% more per visit.
As well as money-off offers and collectables such as small toys, the app is used to target shoppers with free samples of new products from major brands.
Low-level shelving is partly a result of the height of many local consumers but Keith Lee, general manager, says shelves have been raised by 15cm in the past year to extend range and availability.
The shelves are 25cm deep and have 60cm gondola ends, with big brands renting space for periods from one month to a quarter. While it requires good daily deliveries to maintain product availability, the narrow shelves make it easy for shoppers to navigate busy stores.
Some front-of-store units have wheels to adjust displays and, as in Japan, heated display cabinets sit alongside chillers to serve ready-to-drink hot coffee.
While Circle K is working hard on its quality coffee offer, the big consumer trend in beverages is tea-based drinks, as consumers stop drinking sugary carbonates for health reasons.
More than 50% of transactions are made on pre-paid cards or by using touchless technology such as Apple Pay. As stores are doing upwards of 3,000 transactions a day, the focus on speed is a big driver of store design and product selection.
The convenience store estate provides a uniform offer on busy high streets where shoppers have lots of choice. The Circle K shopper knows what to expect and this is delivered well in every store I visited.
Find out more about the retail market in Hong Kong here