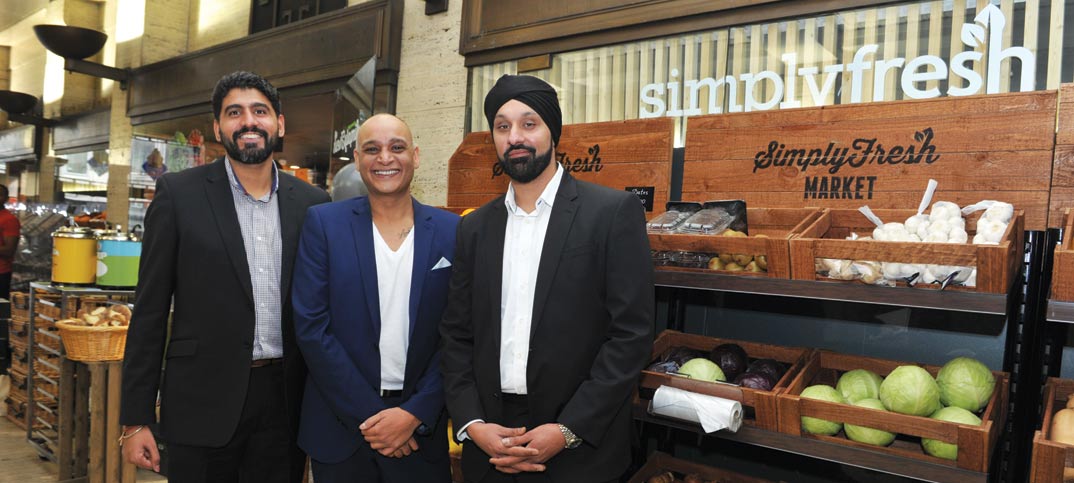 Becoming the first small format Simply Fresh store was an easy decision for business partners Jasvinder Randhawa, Gavin Mahal and Vimesh Patel to make. After all, it was their customers who helped make up their minds.
Steven Lambert
reports
With a longstanding CTN located in a prime location in St James's Park tube station, Jasvinder Randhawa, Gavin Mahal and Vimesh Patel have spent the last four years building up a strong rapport among office workers and local shoppers in the bustling heart of London.
But while their business was well known for its robust range of snacks, magazines, greetings cards and other impulse items, changes in their customers' buying habits and new competition led them to re-evaluate their approach to retailing.
Vimesh says: "We spoke to our customers and many of them felt we should be doing more ready meals and fresh food.
"We've also had chains such as Pret opening up nearby, with more people moving towards coffee and sandwiches for lunchtime."
Feeling they were missing out on a big sales opportunity, the retailers turned to Simply Fresh to help them redevelop their store.
With the symbol group's help, they have transformed their "tired" 800sq ft shop into small convenience store catering to the needs of the thousands of commuters passing by every day.
Being the first small format Simply Fresh store, Jasvinder, Gavin and Vimesh have worked with the group to offer a tight range designed to encourage repeat purchases throughout the course of the day.
For example, the store has been targeting workers at the nearby Transport for London and Ministry of Justice offices during breakfast and lunch with a range of artisan pastries and bread, and a large selection of fresh fruit.
These products are stocked in rustic-looking wooden crates at the front of the store to catch the eye of passing trade and to improve the overall aesthetics of the business.
In addition, Simply Fresh St James's Park features a robust range of high-end ready meals and lunchtime options sourced from local independent suppliers – including the likes of Greenwich-based Soulful Soups and Soho Sandwiches – to attract more business from the 'Pret crowd'.
We spoke to our customers and many of them felt we should be doing more ready meals and fresh food
Vimesh says: "We work with about 30 local suppliers. Before we reopened we had an open day to sample products from them to make sure we were stocking the best quality items for our customers."
The team has been able to take this one step further by working with Soho Sandwiches to offer two eye-catching meal deals to shoppers – a £3.50 offer that includes a sandwich, drink and snack, and a £4.50 promotion that includes the option of a gourmet sandwich and smoothies.
Gavin says: "One of the complaints we heard from customers about Pret was that they don't always completely fill their sandwiches. We chose Soho because they offer great quality and they fill their sandwiches right to the edge, so customers are getting a better deal."
To complete the package, the store now boasts a range of fresh meat and fish, loose and pre-packed vegetables and a selection of herbs and spices to appeal to shoppers looking to cook for themselves after work. This is complemented with a selection of beers and wines from national and local manufacturers, with a large number of these available chilled from the store's two alcohol fridges
As Jasvinder puts it: "We're now more like an M&S food store but without the price."
While the shop has only been trading under Simply Fresh for just over a week, Jasvinder, Gavin and Vimesh say the changes have had almost immediate impact, with rising sales and average basket spend up by more than £1.
And the team is already looking at further growth opportunities, with plans to install a coffee machine and proposals to add flowers at the front of the store due to the impending closure of a nearby florist.
Vimesh says: "We've been able to keep the things we've become known for, such as magazines and the Lottery, but now we can do so much more on top of this."
Visit our Store