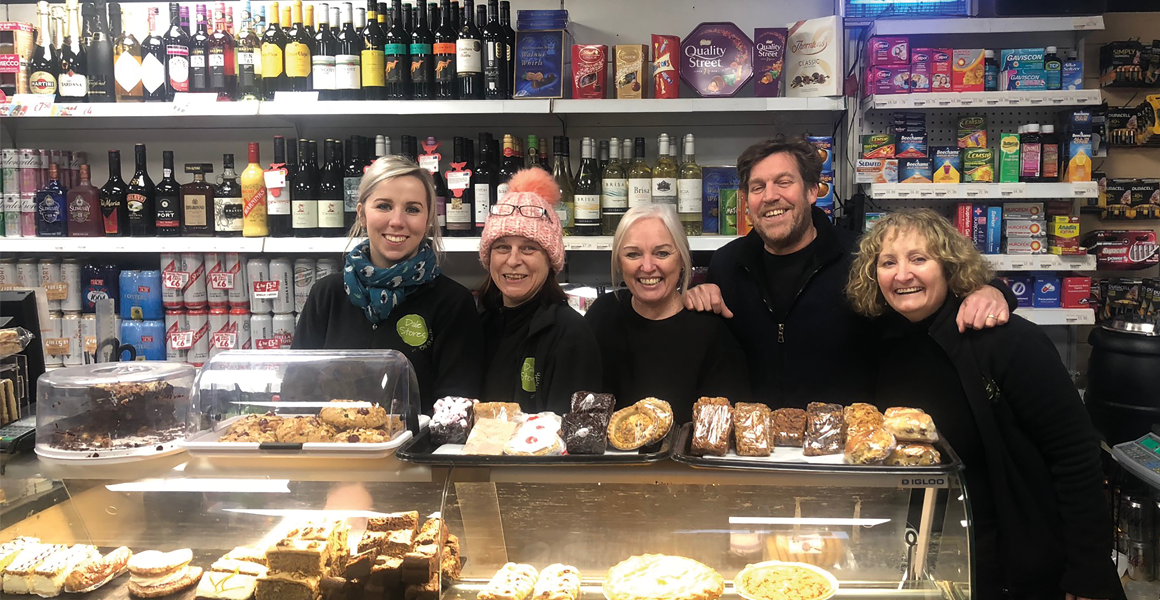 Birstwith, Harrogate, North Yorkshire, HG3 2NF
Husband-and-wife team Matthew and Andrea Walwyn have had to quickly learn what works in food retail since leaving their day jobs and setting up Dale Stores. Megan Humphrey finds out what they have learned
Dale Stores is more like a family than a convenience store. With staff greeting customers of the local village in Harrogate by their first names, this was exactly what husband and wife Matthew and Andrea Walwyn had always wanted. But, it hadn't always been this easy.
Thirteen years ago, the pair left their day jobs and jumped into retail with zero experience. "We both had very busy jobs in the commercial world," says Matthew. "We never had a moment to ourselves."
After spotting the shop was for sale in her local newspaper, Andrea was tempted by the new opportunity. "It was only on the market for one week," she explains. "We just thought, why not – so we gave everything up and were in the shop by April the following year."
Things were slow to start with, but after recruiting three new members of staff, the shop quickly became the heart of the community. "There were things we could do to improve it straight away, so we started selling newspapers and offered food to go," says Matthew.
"At first we just made sandwiches on the in-store counter, but we knew we could do more. We cut into our house behind the store and built a kitchen."
By sourcing all their food-to-go ingredients locally and putting together a weekly menu, the shop has built a reputation that stretches beyond the village of Birstwith.
"On a Friday, we can sell up to 250 sandwiches," says Andrea. "We put together a menu at the end of each week and email it to our customers, as well as post it on our Facebook and Twitter pages."
"Today we had someone travel more than 10 miles to sample our food," adds Matthew. "He ended up buying £40- worth – it seems we have developed a bit of a following."
Aside from this, the pair attribute a lot of their success to the services of its post office. "We were approached by the Post Office, who were interested in updating our old-fashioned fortress," explains Matthew. "We jumped at the chance and felt we could provide a better service to our customers."
Andrea trained as a post-mistress immediately, and was able to pass on her training to every team member. "The transactions are really quick and easy," she says. "The bonus is that whenever the shop is open, so is the post office, so it's a great footfall driver."
At the time of installation, the store as a whole also underwent a full refurbishment. "We removed the central gantry and added basket stands," says Andrea. "This helped create an aisle structure and gave our customers somewhere to stand."
Customers remain the team's priority, and the pair find this is the best way to learn. "Retail is all about evolving," stresses Andrea. "All we can do is try our best to stock the products our customers ask for."
"We want to get the reputation that we have everything," adds Matthew. "If somebody comes in and we haven't got what they want, we'll make sure by the next day that we do."
Customer service is a priority for the store, and it's even helped the store support local businesses. "Customer service is everything to us," explains Andrea. "We try lots of different products, which we find out about by having conversations with our customers. We offer our store out as trials because we want to encourage and support local businesses.
"This is why we have managed to secure regular orders from local butchers and farmers – we just start the conversation. We want to create a sense of family within the store."
Find my store