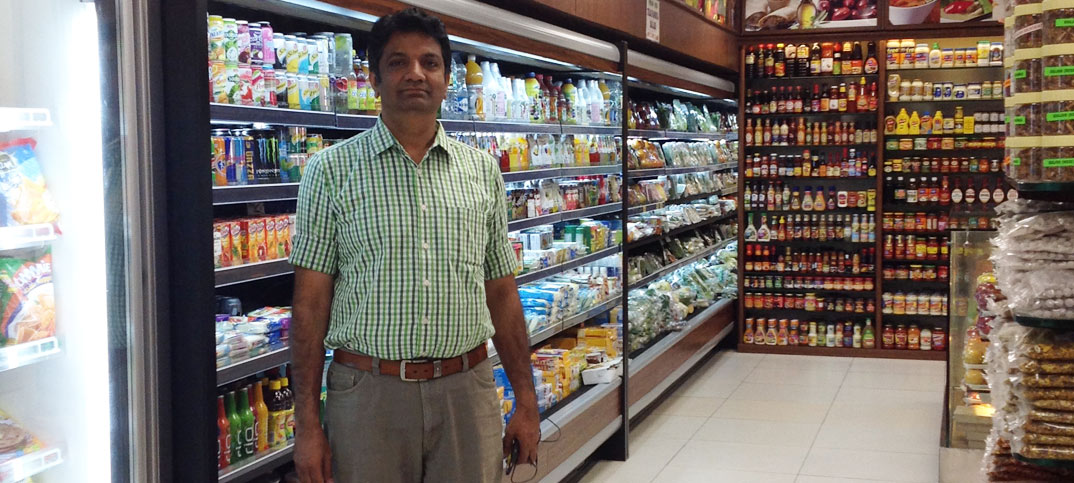 Mumbai retailer Laxmichand Gada has plenty of competition near to his Society Stores business. But with his strong focus on the best products while stocking a tight range, he has built a strong reputation.
Chris Rolfe
reports
Mumbai retailer Laxmichand Gada has achieved a rare thing with his new Society Stores shop.
In the middle of India's most-populated city, he has established an immaculate, spacious, well-merchandised store with stock and service that is tailored to meet the needs of its affluent clients, all within eight months of opening.
The 2,500sq ft store stands out because Laxmichand has managed to avoid many of the pitfalls that other Indian c-stores – kiranas – fall into.
With fierce competition from other kiranas and large discount stores, and margins for Indian retailers notoriously low at around 12-15%, Laxmichand has worked to combat both with a focus on premium quality goods and services.
"We get the cream of shoppers in here – customers who want quality at a good price with a good environment and great service," he says. "People will flock to the big stores to buy on discount and to local stores to buy heavy things like oil for delivery, but they'll come here because the quality of grocery products isn't high in these stores."
The store specialises in the very best pulses and boasts a large chiller and confectionery counter for customers to select specialist chocolates. Around 30% of its sales come from grocery, 30% from home and personal care products, 30% from fruit and vegetables and 10% from cosmetics. But while his competitors cram several equivalent brands into any available space, Laxmichand keeps his range tight and keeps a close track of it via his EPoS system.
"We only sell one brand of each product and it's the best quality," he says. "Ninety per cent of stores sell packaged goods but the packaging is horrible, which is why a good store does a good trade."
This store is the third Society Stores shop to open in Mumbai and Laxmichand says the reputation the other stores have built among loyal customers, plus the extensive range and high standards, attracts shoppers.
"If customers come into a store, don't find a good environment and there is no-one there to help them, they'll walk out. But here, they know they'll find good products, service and experience. They know we won't lie and push high-margin products."
Laxmichand's staff are also key to the success of the store. High staff turnover, long hours, low pay, no official retail training schemes or recognition by managers that great training is essential are all significant problems in India. But Laxmichand keeps attrition to around just 20% and holds weekly meetings to address issues and provide training. It's a long, slow process to cultivate good practice around promotions and keeping abreast of sell-by dates, he says, but he tries to emphasise training rather than criticism, and ensures that staff are well looked after.
If customers come into a store, don't find a good environment and there is no-one there to help them, they'll walk out. But here, they know they'll find good products, service and experience
"We take care of our staff – we'll give them a loan or an advance, if their families need help we'll give that too, and if they need lunch, we'll provide it. Some staff from the slums have really bad lives, but here they will find a good environment."
With three stores to oversee, Laxmichand relies heavily on his managers and cashiers. He has put processes in place to minimise the potential for theft.
"At the end of every day the cashier has to give us a report – how many sales he has made, how much cash is in the till and account for card sales with receipts. If there is a shortage, this is taken from his salary."
His ultimate aim is to persuade his son to join the business once he finishes university.
With India's retail market predicted to double in size by 2020, Laxmichand believes there is further scope for expansion.
"Many stores have a lack of vision, don't manage their products, merchandising or cleaning and don't want to change. But we have a good relationship with our customers and they trust us. There could be more Society Stores in Mumbai in the future."
Visit my store