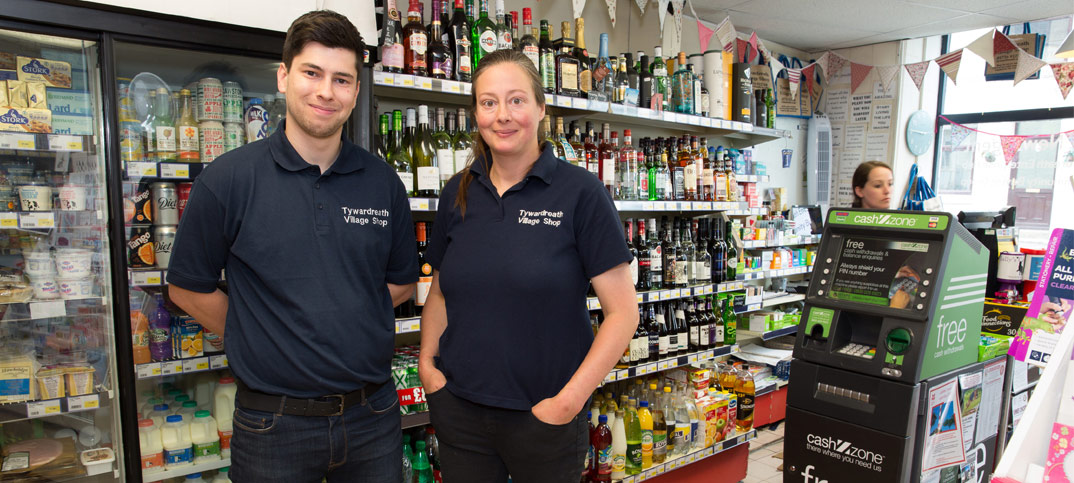 Community funding combined with the know-how of two savvy businesspeople has been the recipe for success at Tywardreath Village Shop. Co-owner Trudy Thompson tells Lucy Douglas how she has tripled turnover in less than a year
A beloved community shop being taken over by out-of-town entrepreneurs isn't often a story that ends happily. But Tywardreath Village Shop in Cornwall has done things a little differently since it reopened in September 2016 under the ownership of business consultants Trudy Thompson and partner Josh Taylor.
Trudy and Josh had only moved to the village in 2014, with no background in retail and certainly no plans to open a shop. But with the store on the market and no prospective buyers, the community was in danger of losing a vital asset.
Trudy canvassed opinion in the village to see if there was an appetite to keep the shop going and, if so, why.
"There were three local suppliers: Niles Bakery, Trewithen Dairy, and Ray Davies bacon," Trudy says. "People were most concerned about being able to buy this local produce in the village."
Instead of running the store as a community enterprise, Trudy and Josh persuaded the village's residents to lend them money to buy it via peer-to-peer loans. "Instead of us going to the bank or outside investors, we give locals 6% per year interest," says Trudy.
More than 300 people in the local community invested between £50 and £50,000. Over six months they raised around £500,000.
Instead of us going to the bank or outside investors, we give locals 6% per year interest
"We run it the same as any normal limited company, in that we're here to make a profit and employ people," she says.
They opened in September, with friend and local resident Tom Larkin managing the store, and made small changes such as introducing card payments and an ATM, extended opening hours and cutting prices.
While Trudy is making a smaller margin than her predecessor – about 30% – the boost in sales volume has more than made up for it, she says.
With local produce selling so well, she has added to the range, including takeaway cakes baked by villagers, and locally-made preserves and honey. The shop now buys from more than 80 local suppliers, and local produce accounts for around 70% of sales.
The store prides itself on accepting even the smallest local produce – the fruit, vegetables and flowers often come from villagers' gardens. Around 20% of the fruit and vegetables comes from village residents, which Trudy hopes to increase to 50% by next summer.
"We pay them the same rate we'd pay our suppliers and the shop keeps it as store credit," Trudy says.
Trudy and Josh aren't averse to using the store as a place to provide locals with their own business advice, too. They have both used the store as a meeting place for clients looking for business advice – many of them local entrepreneurial residents.
Under its new owners, the store has also expanded its delivery business. "We bought a van and we've got dedicated people working on it," Trudy says. The team delivers in Tywardreath and to neighbouring villages Par and Golant.
Able-bodied customers can have home delivery for a fee or on minimum orders of £5, but elderly or disabled customers can use the service without cost. "They could ring us for a can of beans and we'd deliver it," Trudy says.
Trudy estimates she knows 80-90% of her customers by name, so keeping the local community engaged is crucial. But with the Eden Project and sandy beaches just a few miles away, tourists are essential too. The team have added a new revenue stream as a result, by supplying welcome baskets to around 50 self-catering holiday homes in the area.
So far, Trudy and Josh's gamble is paying off. Turnover has tripled, up to £750,000 in the first nine months, and Trudy already has the ball rolling on expansion plans. "We're turning the residential property next door back in to a shop," she says.
"It's the only way we're going to be able to expand the shop to get the space for chillers and storage space, and we're going to put a café in there. It's been a great first year, and we want the next one to be even better."
Visit my store