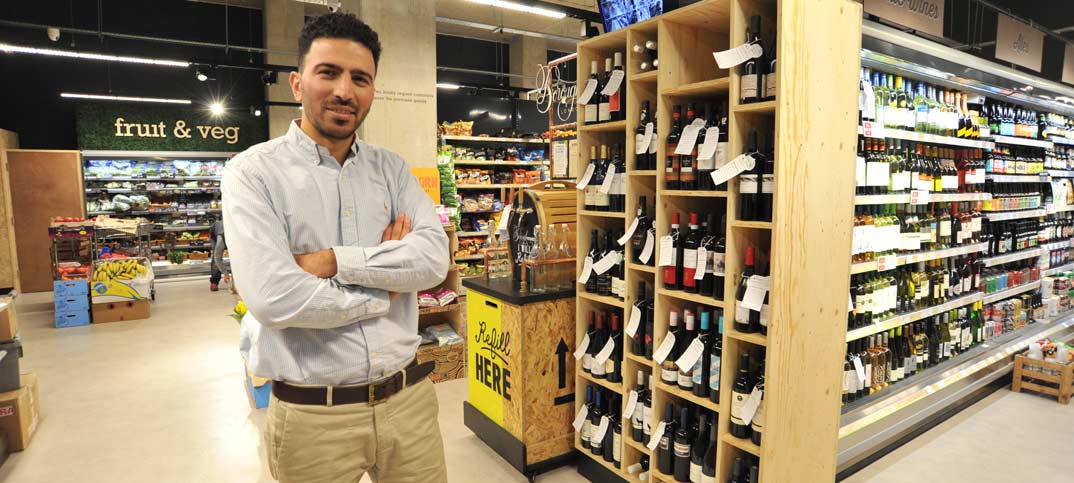 Mehmet Guzel's new 1,600sq ft store sits within a purpose-built community in Old Oakham Common, west London. The Collective is the world's largest co-living building and is home to around 600 young professionals.
Lying between Kensal Green and Park Royal – one of the capital's few remaining truly industrial areas, the store provides Mehmet with a new type of customer base with different demands than in trendy east London where his first store is located.
"At first it didn't seem like it would be the kind of location I was after," says Mehmet. "I went and viewed the area and thought 'oh my God', but after consideration and an agreement on favourable terms I decided to go ahead."
Having opened his first store four years ago he had originally planned to grow his business sooner.
"Before I bought my own shop I was working with my brother for 10 years so I had the basics under my belt," says Mehmet. "It's always the dream to own your own store and when you finally do you feel like you can conquer the world. I'd originally thought I could start looking at more stores within the first six months but, as the business grew, I realised it needed more of my attention."
But this new store has presented a different kind of challenge, with his new customers not as accustomed to such a large range of fresh and chilled products.
"We're the only store like this in the area. There's a 300sq ft cornershop up the road and a Tesco Express about 10 minutes away, but that's it. The response has been good but it's a little different to Bethnal Green. They're not people who are cooking from scratch and my vegetable offering is not being taken up as much as I'd like," he says.
But Mehmet has spotted a number of home deliveries to the block from supermarkets and healthy meal boxes such as Hello Fresh, which can be be easily cooked at home.
"After trialling the boxes they may realise it's not the best value for money and by then they've got a few recipes under their belts, at which point they're likely to start making the most of what we offer," he says.
Mehmet admits he plans to cut back some of his fresh range and offer just three variants of mushrooms, reduce his range of fresh flowers and instead focus on packaged produce such as ready-made salads.
However, one big difference which is working in his favour is the demand for value from his new customers, something he believes helped drive the store's £15,000 turnover in its first week.
"I've gone back to the basics. Organic and artisan lines are still there but they're not a main focus," says Mehmet. "I've got things selling that haven't done well in the Bethnal Green store. I'm learning to give everything a chance and not to dismiss anything – such as items I may have dismissed in my other store.
So far he has seen a big demand for food to go and although he anticipated lunch trade would be big it has exceeded expectations. "We're already increasing orders and bringing in new products," says Mehmet.
He has focused on snacks to cater to younger customers and has also noticed the popularity of own label. Although he does not currently offer promotions, his shoppers will have access to the Simply Fresh loyalty app, coffee offers and money-off vouchers.
"I'm looking forward to seeing the whole business grow as well as the food to go offering. I'm also aiming to minimise suppliers. Currently I have about 60 to 70 at the other store, but I want to streamline things and make it more manageable so that I can focus on expanding the entire business."