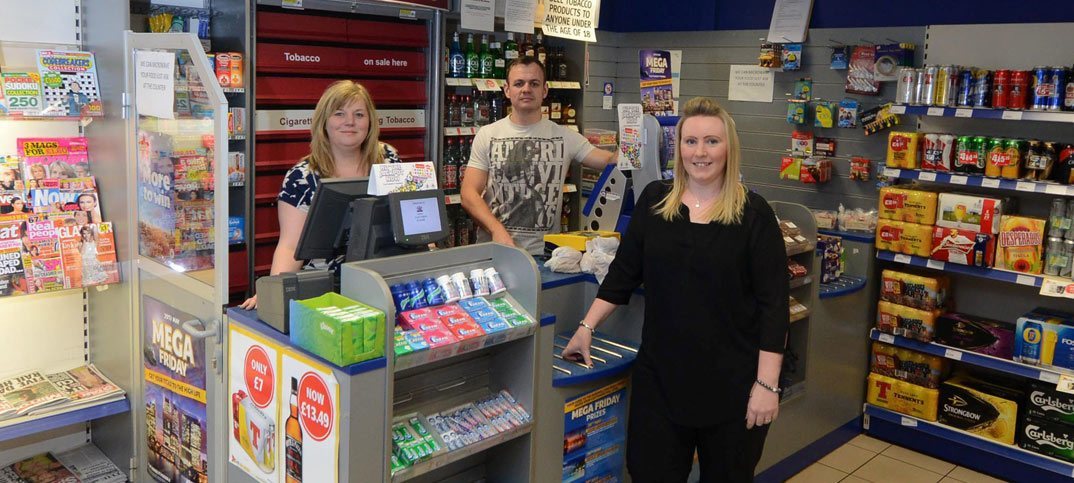 Building strong ties with their community while offering exceptional value has enabled Leanne McGowan and her husband John to establish a loyal customer base and a more than tenfold increase in turnover in just 12 years.
Steven Lambert
reports
After leaving school with her future husband John, Leanne McGowan caught the retailing bug early when the couple decided to open their first shop aged just 18.
Since then, they have turned a string of under-performing businesses in Aberdeen into a £3.9m retail empire by building strong community ties and introducing a wide range of profit-driving services.
"At the start we had no idea about running a shop," admits Leanne. "But we thought it would be nice to run our own business, so we drew up some plans, got a bank loan and went for it."
It's clear that Leanne and John are quick learners, having grown yearly turnover at their flagship business, Icon Stores in Torry, from £169,000 in 2003 to more than £2m last year.
Leanne says much of their success comes down to endearing themselves to local residents from an early stage.
She says: "Torry has a reputation for being a bit of a rough area, but we've not had any trouble in the 12 years we've been here.
"I think it helped that we moved into the area ourselves, and also the fact that all our staff live in the area.
"We pay them more than the minimum wage and we're here doing the same jobs they're doing, so we're on the same level as them. It helps to create a good atmosphere and I think the customers enjoy that."
Leanne says they have also done their best to modernise the store and introduce the types of products and services customers were looking for.
"The store used to be a very basic corner shop but we wanted to bring it up to standard. So we filled it with stock, fresh fruit and veg, hot food and so on, and we added an ATM and extended the opening hours to 10pm."
She adds that doing this at an early stage has also helped the business stave off competition from a nearby supermarket.
"As soon as we opened, a Tesco opened just down the road. We were worried and we lost sales in the first few weeks, but then things returned to normal and we're still growing year on year."
Offering value for money has been another big draw for customers. Leanne says: "A huge bulk of our products are pricemarked. For example, we've started taking on a great range of steak pies from Fife Creamery which are all price flashed at £1, and we're now selling 60 a week."
After four years of running their Torry store, Leanne and John decided to open a second business on George Street.
With more passing trade compared to their first store, they have focused on more impulsive lines including soft drinks and alcohol.
The store used to be a very basic corner shop but we wanted to bring it up to standard. So we filled it with stock, fresh fruit and veg, hot food and so on
"The owner before us used to focus on Polish and European foods, but the area is saturated with these stores now. So we decided to bring it back to a traditional c-store and refitted it four years ago, doubling the chiller space and adding more drinks and ready meals," says Leanne.
The couple have since added a third shop and a bakery to their stable, and are now able to bulk-produce their own sandwiches to be sold in their convenience stores.
"They're so cheap to produce and they've been really popular so far," says Leanne.
She adds that future plans include updating their signage to introduce their own Icon Stores branding across all three shops.
She says: "We're also looking to add another store and move on to something bigger, and do more tie-ins between the bakery and the shops.
"We get bored easily, so we're always looking to challenge ourselves."
Visit our Store
[googlemaps https://www.google.com/maps/embed?pb=!1m18!1m12!1m3!1d2163.9017850812525!2d-2.1082535999999994!3d57.15583559999999!2m3!1f0!2f0!3f0!3m2!1i1024!2i768!4f13.1!3m3!1m2!1s0x48840e19416f5ebd%3A0x1a857dee592db566!2sIcon+Stores!5e0!3m2!1sen!2suk!4v1435752237639&w=600&h=450]