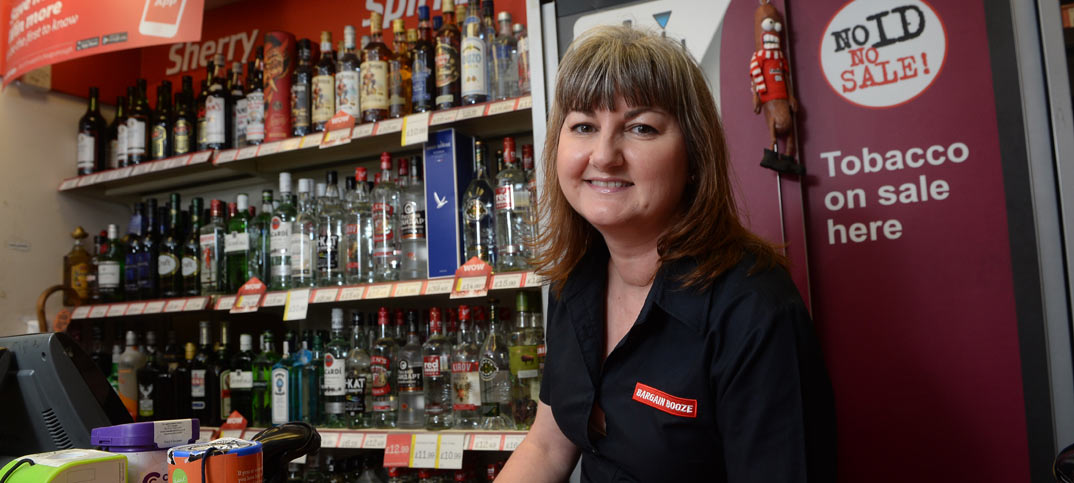 Wedged between Swansea and Cardiff, located just yards from the beach, you will find Marija Lewis' small but mighty Bargain Booze store "filled to the rafters" with prices and variety to rival the nearby Co-op, One Stop and Spar.
Limited to 430sq ft, Marija has had to be creative to enable the success of the Porthcawl store, a former terraced house, which now boasts a weekly footfall of 2,500 people.
"I bought it six years ago this month," she says. "It was already a Bargain Booze and I bought it off another franchisee.
"We made small, gradual changes initially and within the first 18 months we'd doubled the turnover."
"People want a small, friendly store with a big range and to know they can walk in any time and there's going to be a bargain."
A first step was adding five metres of refrigeration – a brand new concept for the store and a factor that's given it an edge as a modern convenience store.
Marija also installed services including the National Lottery, a cash machine, a UPS parcel service and Payzone. "As far as my turnover goes, they're negligible but they do bring people in. Customers who use the UPS service have said they didn't even know we existed until they started using it," she says.
And she was fortunate to inherit enthusiastic staff as a result of the business transaction. "They were a fresh team to the store and I've been lucky because they are very customer-focused."
"What we've found in the last few years is that it all comes down to price," she says. "We make sure we offer a variety of promotions, so we can have three or six-week promotions on wine, spirits and beer. And customers know they're getting consistently cheap prices."
Being a Bargain Booze franchise is easy, she says, because head office does all the work when it comes to pricing and promotions – which saves time for her to meet her customers' needs.
"I make sure I try and fit in the full range because there will always be that one person that will buy the more unusual product," says Marija. "I think there's a misconception around Bargain Booze that it's cheap and nasty. People are quite shocked when they realise they can buy a nice bottle of wine and that we cater for everybody," she adds.
Social media has also become a key sales driver and being pretty competent, Maria utilises online platforms to inform the community about her in-store deals.
"I post our offers on the shop's Facebook page and then share it in community groups so they get a lot of coverage throughout the local online forums," she says.
Building relationships within the community is a big part of Maria's business model. "It's why we do so well," she says. "Around 60% of customers are people we see on a daily basis."
Marija gets involved with the community to specifically target potential shoppers. "We've reached a plateau with the business because we're limited on how we can use the space, so I now focus on specific areas of the community rather than wasting costs and time on hitting everywhere with promotional material.
"We sponsor local charities and get involved in community events. I was on the committee for the town bonfire and my son James even helped to build it. We recently sponsored the local rugby team because we know there is a potential customer base there."
And while much of the effort has been put into bringing people into the store, her husband Nick also delivers to the elderly population who struggle to get out and about – a service that makes up 5% of sales.
"It's about communicating with people that although we've got Bargain Booze above the door the shop is privately owned. It's a little family-run business and we've put our heart and soul into it."