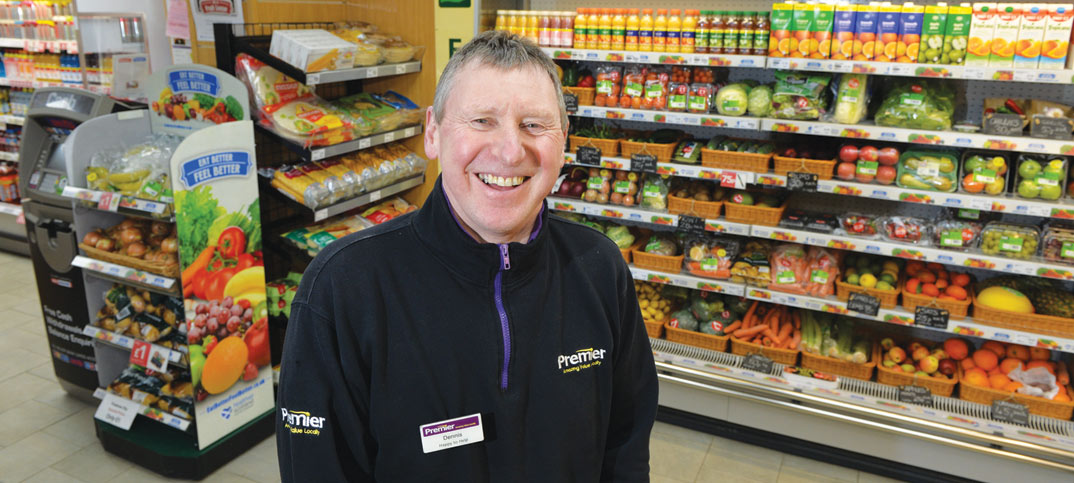 Edinburgh retailers Dennis and Linda Williams understand the importance of community. In fact, they've just received a top award in recognition of the work which has grown their business.
Chris Rolfe
reports
A box of pebbles, a miniature trolley and a bright red promotional bay. These three things that first strike you as you walk into Broadway Premier convenience store sum up what owners Dennis and Linda Williams have been focusing on for the past six months.
The couple have prioritised supporting their community through initiatives and offering great value in their 1,700sq ft store in Edinburgh. It is a focus that was recognised when they were named Independent Community Retailer of the Year at last month's NFRN Scottish Regional Awards.
"We are very community based," says Dennis. "You've got to get to know customers, because they're the biggest part of your business."
After setting up a breakfast club with local schools and encouraging healthy eating among customers, their latest community initiative is designed to be educational as well as to build links with future customers.
"We have a great relationship with the head of the local primary school," says Dennis. "We have a 'pebble challenge' on at the moment where kids have to answer questions about prices and money at the till to get a pebble. The class that gets the most pebbles wins a prize."
Serving the area has also meant an increasing focus on value to help cash-strapped customers. So the miniature trolley parked by the till is kept stocked up with short dated stock.
"Some people shop from it every day," Dennis says.
Booker's Mega Deal promotions have been a particular hit with locals, so much so that Dennis and Linda now have them on three island ends, highlighted with bright red PoS.
Current deals include Easter eggs, and Dennis says that these strong promotions make investing time and money in seasonal stock worthwhile.
"Easter eggs were so popular last year that we ran out of them," he says.
"With Mega Deals like £2 for a Thorntons egg this year we pre-ordered from Booker and made a good display a few weeks ago. In-store theatre is a big thing here."
Another popular addition has been the newly added range of £1 household, stationery and pet products.
Strong prices have also helped the store face the challenge of new alcohol legislation.
"There are a lot of retailers struggling to sell alcohol with the new drink driving laws in Scotland, but our sales are up three per cent and I think everyday low prices help," says Dennis. "Spirit sales are steady too because bottle prices are good, and we do well with half bottles on promotion."
Dennis says he and Linda refresh their store annually, and one beneficiary of last year's changes was Dennis's favourite section – fruit and vegetables.
We have a 'pebble challenge' on at the moment where kids have to answer questions about prices and money at the till to get a pebble. The class that gets the most pebbles wins a prize
"We looked at the whole shop with the merchandisers, who analysed our sales then cut down tins and packet grocery because sales were shrinking. We used the space to increase our fresh section."
The wide range on offer is a far cry from the bananas, apples and potatoes the couple sold at the start. "Whoever thought then that we'd be able to sell root ginger and loose chillies?" says Dennis. To minimise waste they eat any unsold fresh produce at home themselves or give things away to regulars.
This focus on community and value is important as a new Aldi is opening after a campaign against it failed, but Dennis says that good prices will help his store fight back. "We'll combat it with big brands," he says. And the new chillers and doors arriving next month are projected to shave up to 30% from the store's electricity bills.
The Williams' confidence in the future is bolstered by their annual spend with Booker being up 9% and sales up 5.8% year on year.
"Ask me why that is and I think it's simple," he says. "We're clean, tidy, well stocked, we offer great value and great customer service."
Visit my store