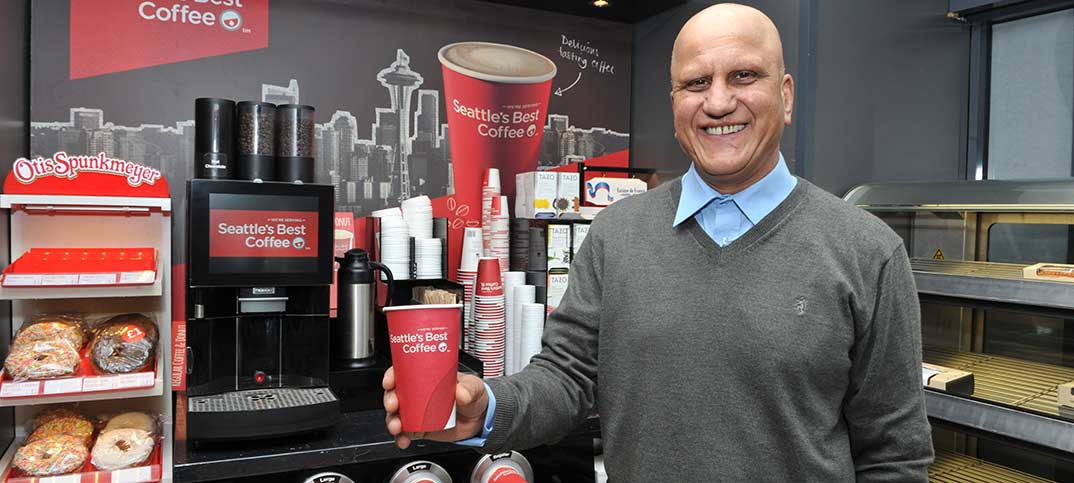 With his store located in a once run-down area, London retailer Anwar Haq faced the difficult decision of whether to expand his shop or face closure. He chose to invest and has grown sales thanks to new opportunities such as fresh coffee. Steven Lambert reports
Located just a short walk from the heart of London's business district, Canary Wharf, Anwar Haq's Nisa Local store is a haven for office workers looking for a quick bite to eat and families looking to do a larger shop at a reasonable price.
But it didn't always used to be this way. With Anwar's father establishing the business as a small newsagents in 1980, the landscape back then was very different to today.
Anwar says: "We used to have problems with drug dealers using the walkways and garages around the back of the store.
"It got to the point where the council told us to either extend the store into the garages to deter them, or risk being closed down."
Deciding to tackle the problem head on, Anwar expanded the floor space from around 1,000sq ft to 2,800sq ft in 2002 and, three years later, joined the Nisa symbol group to expand into fresh fruit and veg, chilled and frozen food and general groceries.
The investment coincided with the redevelopment of the Docklands area, with a number of new homes helping to attract more families and builders to the area.
"We made some big changes to the store to make it more inviting," says Anwar. "For example, we had parents using the nearby school who were concerned about alcohol being located at the front of the store, which they thought would encourage youngsters to pick it up.
"We listened to them and moved this to the back of the shop, where we can also keep a better eye on it for security reasons."
It got to the point where the council told us to either extend the store into the garages to deter them, or risk being closed down
Working with the community, Anwar says the situation has become "much better", and has allowed him and his team of 12 staff members – including his son Zubair – to look at new opportunities to grow the business.
This includes working with Aryzta Food Solutions to trial the group's Seattle's Best Coffee unit, which uses the same blend of coffee as Starbucks.
Anwar says: "We had a coffee machine before where we charged 80p a cup, but we were only selling up to 10 cups a day.
"We installed the new machine about a month ago, and customers are telling us that the taste is milder and is much better. We're now doing on average 110 cups a day, which is a big difference."
The unit also comes complete with promotional stands for Anwar to stock food-to-go lines from Aryzta's brands, Otis Spunkmeyer and Cuisine de France. Shoppers using the machine can pick up croissants, doughnuts, cookies and other treats as part of a £2.50 or £3 deal.
"We have had a lot of people picking up products when they get a coffee, especially in the morning where we're most busy," says Anwar.
In addition, Anwar has worked with Aryzta to introduce the firm's Pierre's hot food-to-go concept.
The store now features a counter promoting breakfast items such as bacon and sausage baps in the morning, and toasted baguettes, popcorn chicken, sandwiches and other meals in the afternoon and evening.
The range is promoted with a digital menu by the counter, with customers able to order food to take away or eat in at a small seating area located nearby.
"It's helping to keep people in the store for longer and they often pick up more products when they do," says Anwar. 
These products include a vast range of chilled and frozen goods to suit all tastes and budgets, including more exotic products such as authentic homemade curries, crayfish tails and a large selection of coconut waters.
Anwar says future plans will focus on building up his food-to-go and coffee sales, including adding an extra digital screen to attract more trade to his Pierre's counter.
He says: "I've been in the area for 40 years and we've always tried to offer the best service and deals to customers, and we'll continue to do so."
Visit my Store