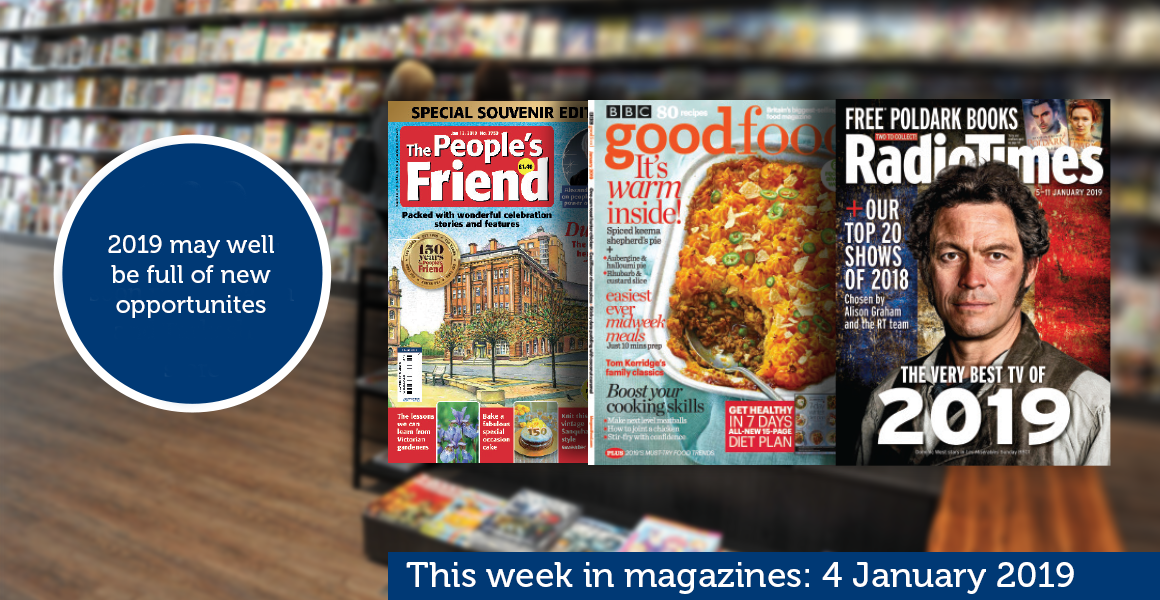 Magazine of the week
The People's Friend is 150 years old, and to mark the occasion, it's bringing out a special souvenir edition full of special features alongside its regular trademark short stories
The People's Friend
On sale 9 January
Frequency weekly
Price £1.40
Distributor D. C. Thomson
Display with My Weekly, Woman's Weekly
---
Very few magazines make it past 50 years, let alone 150. The People's Friend, also known as The Friend, was founded in 1869, and it is completing 150 years in January 2019 – the world's longest-running women's weekly magazine.
The issue has special features to mark the milestone anniversary, alongside the usual seven short stories that are the publication's trademark.
According to the publisher, independents are responsible for a third of the more than 172,000 sold copies a week, generating £2.2m in annual revenue, so make sure to stock it front of shelf.
Country Walking
On sale out now
Frequency monthly
Price £4.60
Distributor Frontline
Display with Trail, Trail Running
This outdoor magazine has tips, gear reviews and analysis of the UK's best trekking routes.
The first issue of 2019 comes with a free 64-page #walk1000miles campaign supplement, a double-sided daily mile-recording chart and four postcards.
Edition Dog
On sale out now
Frequency monthly
Price £4.85
Distributor Warners
Display with Your Dog, Dogs Today, Dogs Monthly
This unique mindfulness and well-being magazine is aimed at dog owners and includes advice, recipes, product reviews and stories.
January's issue focuses on a holistic approach to dog health, well-being and nutrition.
Trail Running
On sale out now
Frequency bimonthly
Price £4.99
Distributor Frontline
Display with Country Walking, Runner
A sports magazine dedicated to jogging in the wilderness, Trail Running has gear reviews, route advice and stories to help runners young and old.
The first issue of the year launches the 'Run 1,000 miles' campaign, aiming to help readers achieve their health and fitness goals in 2019.
BBC Good Food
On sale out now
Frequency monthly
Price £4.60
Distributor Frontline
Display with Delicious, Healthy Food Guide
This culinary publication has recipes, advice and utensil reviews for cooking enthusiasts of all kinds.
The first issue of 2019 is about winter warming pies, such as the lamb keema shepherd's pie, and a breakdown of 2019's must-try food trends.
Radio Times
On sale out now
Frequency weekly
Price £2.80
Distributor Frontline
Display with TV Times, What's on TV
The weekly broadcast entertainment guide features interviews, news and features about TV and radio programmes.
The January issue has interviews with Sheridan Smith, Dominic West and Lauren Laverne, plus the critics' Top 20 TV programmes of 2018.
Royal Life
On sale out now
Frequency bimonthly
Price £4.50
Distributor Intermedia
Display with Majesty, Hello
This magazine brings news, photographs and stories about members of the House of Windsor.
The first issue of the new year takes a look at the Queen and Prince Philip's upcoming 12 months, alongside Prince Charles' 70th birthday and coverage of Remembrance Day.
Treasure Hunting
On sale out now
Frequency monthly
Price £3.95
Distributor Marketforce
---
Specialist choice
Meryl Williams,
Pike's Newsagents,
Porthmadog
Who buys it?
It's usually bought by men of all ages, and we received some new orders last month from customers who were expecting metal detectors for Christmas.
How do you display it?
We display it in our section dedicated to hobbies, next to TheSearcher magazine and near the history titles.
My week in magazines
2019 May well be full of good surprises
2019 is here, with all the promises and hopes that a new year brings. It is most certainly an uncertain year – what with Brexit looming and the worrying state of newstrade distribution that has been the industry reality for over a decade.
But any tract of shadow conceals the presence of light, and 2019 might very well be the year where things start to improve. Thanks to the efforts of RN, the NFRN and the government's Cairncross Review, the performance of wholesalers and publishers is being progressively scrutinised, creating opportunity for change and improvement in a sector that has long performed below standards.
Meanwhile, the industry is adamant about not giving up on print, with publishers and distributors stating at the last PPA Festival that despite the reduction in print advertising, digital advertising is still miles away from making up the revenue from print circulation. Publishers can't branch out into confectionery and stationery like retailers do, so they double down on the one thing that keeps them alive.
As a result, companies continue to invest in print and fight for its survival, and even partworks are fighting for a resurgence as De Agostini and Panini vie to change retailer opinion. That, and the outside intervention, may finally tip the balance towards some much-needed change.
2018 was a complicated year, but there is still hope for newsagents. A new year brings new happenings, and with several healthy magazine sectors and the important part retailers play in the lives of many, 2019 might be full of good surprises.