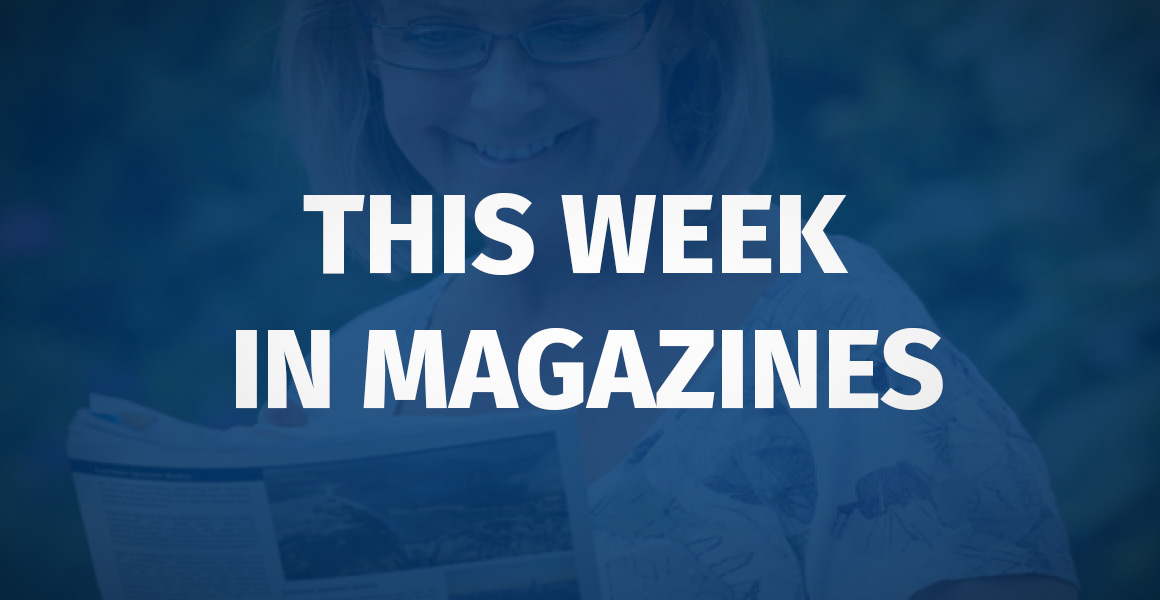 1. This Is Vlogmas
---
On sale 6 December
Frequency monthly
Price £4.50
Distributor Marketforce
Display with Shout, Top of the Pops
The latest instalment in the new This Is series focuses on all things vlogger-related, with a festive twist. YouTube stars inside include Zoella, JoJo and AmyLee33. There are also competitions to win a Nintendo Switch or SuggLife merchandise, as well as a selection of other prizes. Readers can learn how to make a Mincecraft winter wonderland or festive freakshakes, and how to host the best sleepover.
2. BRM
---
On sale 7 December
Frequency monthly
Price £4.75
Distributor Warner Group Publications
Display with Railway Modeller, Model Railway Journal
BRM's January issue includes a world exclusive 3D model railway mini-magazine complete with free 3D glasses. The magazine also comes with a free DVD, making the January issue the most generous giveaway package in BRM's history. The magazine offers a mix of the best model railways, step-by-step expert modelling advice and the latest new product reviews. A DVD is included with every issue.
3. Treasure Hunting
---
On sale 7 December
Frequency monthly
Price £3.95
Distributor Intermedia
Display with The Searcher, Coin News, History Today
Treasure Hunting magazine has served the metal detecting community for four decades, providing informative features and illustrations relating to metal detecting, detecting finds and associated equipment. Sites of special interest and advice on specific coins are featured inside, along with interviews with metal detecting enthusiasts and experts, and competitions to win new equipment.
4. BBC Top Of The Pops Magazine
---
On sale out now
Frequency monthly
Price £4.75
Distributor Frontline
Display with Girl Talk, Mega
The special Christmas issue of BBC Top Of The Pops Magazine contains exclusive interviews with top vlogger Zoella and the stars of CBBC series The Next Step – as well as secrets from Strictly Come Dancing, a party style guide and the chance to win a year's supply of make-up. Included with the magazine are five free gifts, including Russian doll erasers, stick-on nails, two bracelets, a book sampler and a Christmas puzzle pull-out.
5. History Revealed
---
On sale out now
Frequency monthly
Price £4.99
Distributor Frontline
Display with BBC History Magazine, History Today
To mark its 50th issue, History Revealed has asked some of the most well-known and respected historians, writers and broadcasters in the country to help select the 50 decisions that have most changed the world. Selections are made by Alison Weir, Dan Snow, Antony Beevor, Chris Packham, Dominic Sandbrook, Tracy Borman and many more, talking about subjects ranging from Neolithic farmers to Julius Caesar, Elizabeth I and the Beatles.
6. Starburst
---
On sale out now
Price £4.99
Frequency monthly
Distributor Marketforce
Display with SFX, Total Film
Starburst magazine is celebrating its 40th anniversary this month, with a host of commemorative features including how the title was reborn for the 21st Century, and an interview with cover artist Mark Reihill. Elsewhere there is a preview of the upcoming new Star Wars film as well as a look back at the life and work of the series' creator George Lucas, and the release of a remake of Jumanji.
7. Man About Town
---
On sale out now
Price £14.95
Frequency biannual
Distributor Seymour
Display with GQ, Esquire
Man About Town is a bi-annual publication exploring fashion, art, celebrity and culture, aimed at contemporary men with an eye on aesthetics. Exploring key trends and cosmopolitan happenings, it is designed to cover a broad spectrum of diverse interests. Celebrating its decade anniversary in this issue, the title has offered a platform for some of the industry's most respected photographers, among them Juergen Teller, Steven Klein, Wolfgang Tillmans and Alasdair McLellan.
8. Puzzler Sudoku
---
On sale 6 December
Price £3.20
Frequency Monthly
Distributor Marketforce
Display with Sudoku Puzzles Collection, Killer Sudoku, Take A Break's Sudoku
The Christmas issue of Puzzler Sudoku contains more than 160 puzzles designed to suit solvers of a range of abilities. The puzzles are graded into three levels of difficulty and suited to novices and experts. Puzzler Sudoku also includes some fiendish variants and special guest puzzles to test puzzler's logic skills in a new way. This edition is a bumper length and includes a competition to win £1,000.
9. Classic Ford
On sale out now
Price £4.99
Frequency monhtly
Distributor Seymour
Display with Classics Monthly, Fast Ford
Classic Ford's January edition is bagged with a Classics calendar, with an increased price of £4.99, up from the usual £4.70 to account for the freebie. Inside is an insider's guide to buying a Fiesta Zetec as well as tips on restoring a Granade Coupe. Distributor Seymour says 26% of Classic Ford's sales come from independent stores.
10. Puzzler
On sale 6 December 2017
Price £1.99
Frequency Monthly
Distributor Marketforce
Display with Puzzler Collection, Q Puzzle Compendium, Take a Puzzle
The no-nonsense original Puzzler magazine is designed to appeal to a wide range of puzzlers with a mix of straightforward and more complex puzzles from top compilers. The publisher also points out Puzzle magazines make great stocking-fillers. This edition includes a bonus Christmas competition for the chance to win £250 every month for a whole year. Also includes another £6,000 in cash prizes and a free pen.