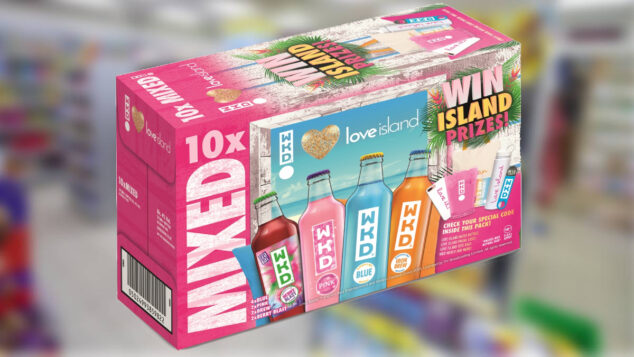 SHS Drinks' WKD brand has renewed its partnership with reality TV show Love Island for a second year.
The RTD brand will be the show's official alcohol partner throughout its eighth series. Last year's series was 2021's most-watched commercial programme among 18-25-year-olds, WKD's target market, with an average of 4.2 million total viewers per episode.
As part of the tie-up, there will be a limited-edition design across WKD Pink 700ml bottles, as well as a £3.39 price-marked pack (PMP) exclusive to independents, which is included in the WKD 700ml bottle range's '2 for £6' deal.
WKD Cocktails to launch exclusively to indies
There will also be a co-branded offer across all WKD 10-packs, giving customers the chance to win exclusive Love Island merchandise including tote bags, phone cases and personalised water bottles.
Additionally, the partnership will see WKD adverts airing across TV and on-demand on ITV2, ITV Hub and the official Love Island app. The supplier anticipates the broadcast elements of the partnership will reach 7.2 million viewers.
WKD will also have behind-the-scenes access to the Love Island set and will feature on the show's Instagram accounts reaching three million followers.
WKD becomes official alcohol partner for Love Island
Alison Gray, head of brand – WKD at SHS Drinks, said: "In a fragmented media landscape, the continued success of Love Island highlights just how much our target consumers still relish a shared media experience. Last year, Love Island attracted three times more all-important 18-25 viewers than other similar programme formats.
"Consumer and trade feedback was extremely positive last year and we're back with an all-inclusive package deal that's even bigger and better. Consumers are going to see WKD and Love Island brands partnered up on TV, partnered up on retailers' shelves and partnered up on social media."
Read more product news