Jac Vapour has launched a new closed-pod device called Puff Box, designed to offer customers a more cost-effective alternative to a disposable.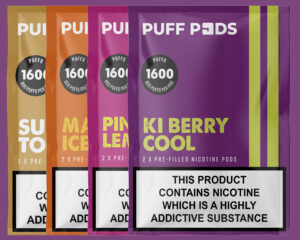 The supplier said while the disposable vape device market has become increasingly popular within the convenience sector due to their simplicity and ease of use, this convenience comes with a cost for the user.
"Disposable vape devices are one of the most expensive methods of vaping, with the average cost per unit of £5.99, for approximately 600 puffs," the company said.
"That means the average consumer pays circa £1 per 100 puffs on average. The Puff Box is designed to offer disposable vape users a significantly cheaper alternative in this cost-of-living crisis, while limiting the environmental impact of disposable vaping."
The Puff Box kit comes with one device and one flavour pod, providing users with up to 650 puffs, and has an RRP of £5.99. The device come in three colours: Brilliant White, Totally Teal and Vibrant Yellow.
Meanwhile, each refill pack contain two pods, and comes in six flavour varieties, including Pink Lemonade, Sunleaf Tobacco, Ki Berry Cool, Wings Blast, Mango Ice and Absolute Menthol. The refills have an RRP of £5.49.
Price and affordability to play a huge factor in vape market this year, says PML
Rob Patrick, sales director, at Jac Vapour, said: "Disposable vape devices have seen a huge rise in popularity over the past 12 months, but there are now some calls to ban the devices due to the potential environmental impact caused by the waste created.
"This focus lies mainly on the single use lithium batteries which can cause environmental damage, with an estimated 2 devices disposed of every second, in the UK alone.
"To alleviate this, the Puff Box has USB-C charging capabilities on a 650mAh battery and is a fully reusable and rechargeable device that keeps both the convenience of disposables and saves the user money. By using twist-and-go refillable pods, the Puff Box also helps to cut down on both lithium and plastic waste, reducing potential chemical harm to the environment."
Order your copy of Vape Retailer today, the leading vape magazine for the convenience sector. Click here for vape product news and category advice.