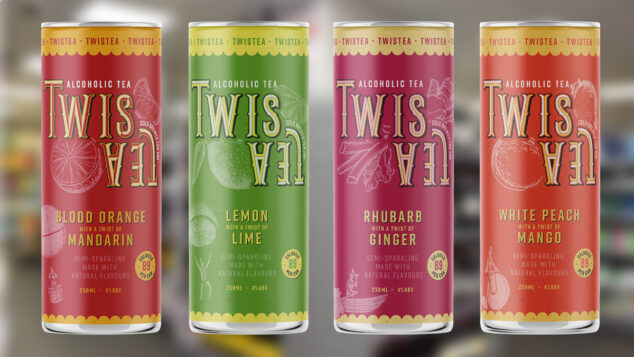 Broadland Drinks has launched Twistea, a canned alcoholic cold brew tea RTD.
The semi-sparkling range is launching in four varieties: Blood Orange & Mandarin, White Peach & Mango, Lemon & Lime and Rhubarb & Ginger. Each variety is vegan and contains 89 calories.
Twistea is among the first alcoholic tea launches in the UK. The category has seen success in the USA, where it is worth $528m (£430m) and predicted to double in size by 2024.
Absolut launches Passionfruit Martini RTD
According to the supplier, millennial drinkers are looking for lighter alcoholic drinks that are less sweet than current RTDs, but which still deliver on taste. There is also an established iced tea customer base, with 62% of 18-24 year olds consuming iced tea.
Fran Draper, marketing director at Broadland Drinks, said: "Iced tea is already a firm favourite in the UK, with coffee shop chains such as Starbucks and Costa offering evolving ranges of flavoured iced teas. Consumers are used to, and enjoy cross category innovation, so as a nation of tea drinkers, Twistea has been developed to offer consumers a fresh experience, while providing retailers with a strong category opportunity to increase sales.
"Our research revealed that 77% of RTD shoppers would buy alcoholic tea, so with an unexplored category opportunity and a wide base of iced tea consumers in the UK, Twistea is the perfect addition for any retailer looking to grow their RTD sales."
Read more product news