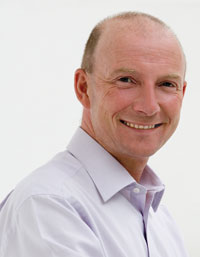 [tab:About]
betterRetailing users have had the unique chance to talk to Nestlé's Head of Trade Communications Manager, Graham Walker. He was asked about all kinds of things from getting the most out of your local rep, whether planograms really work, and does double-facing double your money?
The answers to these questions and more are detailed over the following pages in this, the first of our interactive Q&A sessions. If you want to ask some more questions of Graham, just leave a comment at the bottom of any of the pages.
[tab:Question 1]
Steve Denham: Can Nestlé provide more evidence to support their argument for multi-facing products over displaying wider range of product?
Graham Walker: There definitely comes a point where there's a benefit on the fixture of introducing a second or third facing.

We have data from last year on Kit Kat 4-Finger that shows that if you have two facings, rather than one, you will see a sales rise of 18 per cent.

This gets extended further. If you have three facings, then your sales will rise by a further 10 per cent. And for those big stores that can extend their facings to four, you will see a further sales rise of six per cent.

In total, this can be an incremental sales rise of 38 per cent with four facings of Kit Kat 4-Finger.

This is sound advice, and we've been gathering this data for more than 15 years. We know it works.
[tab:Question 2]
Sunder Sandher: Nestlé's Tubes do really well over Xmas period, is there something similar they could do for Easter
Graham Walker: There are no plans to do that at this stage, but this is something that I've already fed through to the Easter team.

We're always keen to drive innovation – and more so now than ever before. We're looking harder than ever at what products we can introduce that would provide incremental growth.

Incremental growth is the key. For example, we introduced Bluebell the cow as part of our Easter range two years ago. Last year saw growth of 89 per cent – 68 per cent of which was incremental. This gave us the confidence to introduce the Smarties Chicken & Egg, part of this year's spring range.

Incremental growth [growth in addition to the category, not stealing share from within the sector] is important. If we're just stealing share, then it's helping no-one.
[tab:Question 3]
Harry Goraya: Beyond promoting new products and planogram advice Nestlé (and Mars) reps don't seem to be equipped to support retailers in other ways. For example Cadbury assisted me in my Easter promotion campaign last year with in-store theatre, display stands etc, have Nestlé any plans to do something like this in the future?
Graham Walker: For most periods of the year and special promotions, our reps will have PoS kits and pre-sale activity.

Last year alone we had five specific events that we produced in-store display materials for – not including Christmas and Easter, and the launches on Sense and Milkybar Biscuit & Raisin, and we'll be doing specific promotion around Aero Lamb from this month.

If any retailer isn't getting this sort of help, then they definitely need to give their rep a nudge. If you're still not getting anything, then it's worth asking to speak to the area manager in charge.

We're definitely producing a lot of specific PoS material including dump bins and magazine-rack displays for example, as well as longer-term plastic and metal displays. The money we spend on this is significant, so retailers should be letting their reps know that they want it – because we certainly want them to be in stores!
[tab:Question 4]
Jai Singh: At my local cash and carry I get intelligence as to what is selling by looking in other retailers' trolleys. It would be good if reps could share this sort of local information. Could they build up and share profiles of retailers within the locality?
Graham Walker: As part of the general service that our reps supply, they should be sharing their local knowledge. What they can't do is give specifics about what individual retailers are doing, but they can give guidance on top-sellers, and whether certain products are doing well in certain areas.

They're able to use their local knowledge to talk to local stores, they just can't be specific.

One recent example we had was a rep being able to tell retailers in a certain area to double-face Rowntree's Randoms. Ordinarily we'd only advise them to be single-faced, but they were doing well locally and so we could pass on that information.

If retailers aren't getting this information they should be giving their rep a nudge, and asking if there's anything that they should be doing differently, based on the reps local knowledge.
[tab:Question 5]
Steve Denham: What sort of flexibility should retailers have in adapting planograms to their local areas?
Graham Walker: This is a very important question. We would always expect some sort of flexibility – every shop is different, that's what makes the independent trade so interesting.

We would always talk about the biggest sellers nationally. The top 20 or 30 are what every retailer should be stocking, but then behind that there may be variations based on your location.

You have to look at simple things. If you're near a junior school, for example, you'd need to stock more children's products. Whereas if you're somewhere like Canary Wharf, where your customers may be city traders, your range will be slightly different.

The core remains the classic national bestsellers, then a reflection on local demographics.

One example is in Scotland, where caramel-based products do very well. We actually did a separate press advertising campaign in Scotland when we launched Kit Kat Chunky Caramel because we knew that there would be slightly more interest.

It's about knowing your types of shoppers.
[tab:Question 6]
Jai Singh: What help is there for me to define a customer profile?
Graham Walker: The retailers will generally have a better idea of his immediate area and shoppers than the rep will. What they should be doing though is sharing information. It's about a good working partnership between the rep and the retailer.

The retailer could tell the rep who is coming into the store – and the rep could then use his knowledge to match the products that are available to the demographic of the customer.

It's about partnership.
[tab:Question 7]
Harry Goraya: Promoting your business in the community is key to independent retailing, have Nestlé any thoughts on how they can help us with this?
Graham Walker: Our focus is sot work with retailers in store to develop their business – I think that's what the majority of suppliers will do.

But of the projects we've been involved in I think the work of the FWD, and the My Shop Is Your Shop programme, are certainly one that I would recommend. As channel-led initiatives go, MSYS is super. There are lots of events that retailers can get involved in.

I also think that the trade press is a valuable source of information. Particular around National Independents Week, there's a lot of coverage across the press and examples of best practice from other retailers.

It's also worth keeping an eye on Awards. The IAA is one example – what are the retailers who do well in community-facing categories doing that means they're the best?

There are lots of different sources that you can gain guidance and advice from. Looking at what successful retailers are doing is a great way to get ideas about what you can do in your own store.