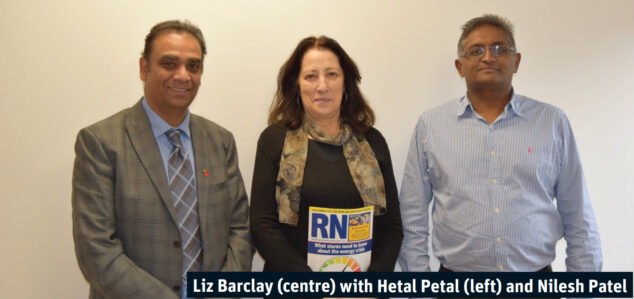 Small Businesses Commissioner (SBC), Liz Barclay, has pledged to lobby the central government over payment issues with news wholesalers.
Barclay met with London-based retailers Hetal Patel and Nilesh Patel at betterRetailing's offices last week, alongside casework manager, Neil Cowley.
Both store owners informed Barclay that payment delays from Menzies and Smiths News are leaving retailers hundreds of pounds out of pocket every month.
"Wholesalers get credit straight away from publishers, but we have to wait weeks," said Nilesh. "Even when you call up and chase the credit, someone will always blame someone else – it's a vicious circle that we are always paying the price for."
Doubts cast over potential new powers to fine big businesses
Upon hearing the concerns, Barclay confirmed she would be keen to speak to the Department for Digital, Culture, Media & Sport (DCMS) to resolve the problem.
"We would need to check the contracts first, but this is definitely something we can help with," she said. "Small businesses are just ignored, and they haven't got a voice – this has to change."
Cowley added: "We would be interested in looking at this. It's not right a retailer who is owed hundreds of pounds is still expected to pay upfront for their news bill. It's so common for small businesses to end up financing themselves."
Paul Uppal, SBC in 2018 said he would be prepared to "name and shame" wholesalers, but he needed independent retailers to provide evidence of incidents.
Despite visiting several stores, Cowley revealed Uppal struggled to get retailers to come forward.
NFRN backs new powers to fine big businesses
However, Barclay highlighted evidence is just as strong, even if store owners remain anonymous. "Retailers don't need to give us their name," she said. "We just need to work on building up anonymous case studies."
"I want to be able to engage with the DCMS and perhaps get them around a table with retailers to hear about the financial impact of this issue," she said. "We now have an ongoing dialogue with retailers, and I'm keen to get something sorted about this."
Hetal responded: "I know most NFRN members have been affected by this and won't have an issue coming forward."
Although the role of the SBC is to help tackle payment disputes between small businesses and their suppliers, they don't currently have the power to issue fines.
A consultation took place last year looking to allow them to use court orders and financial penalties, but Barclay confirmed in August she doesn't expect to be given more power to crackdown harder "four a couple of years".
For more on how Barclay intends to help tackle newstrade issues, click here
Read more news and articles about the newspapers and magazines category