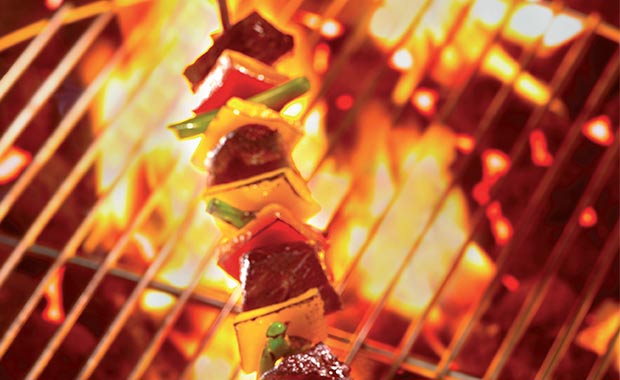 After a particularly long winter we've finally had a decent bit of spring weather and people have already begun flocking to their local shops to stock up on BBQ gear. And with customers having nearly doubled their average spend on food and drink for the barbie – from £19 to £35 in the past five years according to the National Barbecue Association – there are massive sales opportunities around the corner.
Although we won't be having any more diamond Jubliee's or Olympic Games this summer the popularity of barbecues is growing rapidly every year. The NBA estimates that the average number held per family during the summer has risen during the past decade from two to nine, and alfresco dining is becoming a popular after-work option too, with 40% of barbies taking place mid-week.
Small changes can make a big difference in-store at this time of year, says Spar Dolwyddelan retailer Mike Skerrett.
"We already offer a large variety of fresh food that's perfect for the barbecue season, such as bacon, sausages, fish and cheeses from local Welsh suppliers, and I have a well-stocked chiller for cold soft drinks, beers and cider. "This time of year, though, I get creative by cross-merchandising items such as burgers and buns, crisps and dips and sauces to form a barbecue-themed display. This helps encourage linked sales and leads to greater basket spend," he says. "I also run promotional deals on items that I am encouraging link purchases on, such as three-for-two on barbecue products including salad items or dips and pitta bread, or offers on charcoal and disposable barbecues when bought together.
"Plus, I encourage my staff to upsell barbecue-themed food and drink and make sure they are well informed on the latest deals we are running."
To celebrate the beginning of what will hopefully be a long summer, it's time to try something special in your store. Help your customers create an easy and delicious alfresco dinner and boost basket spend by cross-merchandising the necessary ingredients for these four popular and simple recipes and creating eye-catching displays to help them stand out. More recipes and further inspiration can be found on bbcgoodfood.com