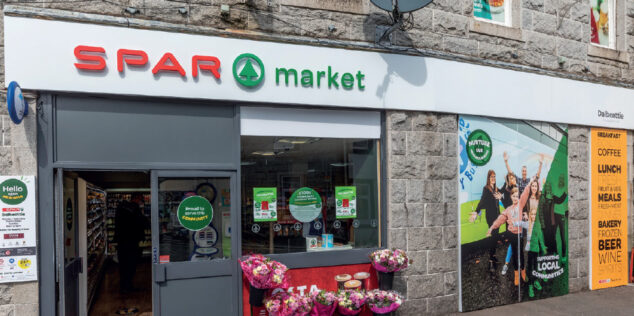 Spar Scotland has launched its first flagship Market store, noting potential expansion of the format to independent retailers. 
The former Nisa site in Dalbeattie, Dumfriesshire, launched last month and is the first company-owned site acquired by wholesaler CJ Lang in five years. 
Its transformation into the Market format highlights the current direction of Spar Scotland and the rest of its symbol estate. 
The wholesaler claimed the flagship site is "the first of its kind in Scotland", and focuses heavily on fresh produce and "customer missions", such as encouraging customers to buy products designed for cooking meals at home. 
Post Office opens first Spar replacement branch in Scotland
Other major features include a large deli counter and products sourced from local suppliers such as Irving's Bakery, Mitchell's of Castle Douglas, Irthing Vale Wholesale, Lockerbie Cheddars and Galloway Lodge Preserves.
A hot food-to-go counter sells ready-to-eat breakfast rolls, alongside a Costa Express, and Tango Ice Blast and frozen Calippo slush machines. Home delivery is also available to customers. 
Explaining the concept, CJ Lang chief executive Colin McLean told betterRetailing there is potential to expand the concept to the "right" independent Spar retailers across Scotland.
"We've been through a fair bit of transformation over the past four years and now we're back in the market," he said. "Dalbeattie was our best store for fresh produce sales within the first week of opening and that sends a very strong message to the market."
"It sends a message that the store has an amazing offer and the Market proposition is different to the traditional model. We know where we want to take the business and this shows we have a format that works. 
Spar's new brand positioning celebrates The Joy Of Living Locally
"It's about fresh produce and neighbourhood retailing. It shows our ambitions and how we can differentiate from the rest of the competition." 
McLean added that the site has seen its average basket spend increase and still has a minimal range of tobacco, confectionery and newspapers. "We've signed off record levels of money with the shareholders, so we're marking our major development programme at the same time," he said. "We'll see a lot more from Spar Scotland over the coming weeks." 
CJ Lang operations director Brian Straiton added: "We are very excited to be back in the property market to acquire new convenience stores as part of our business strategy of adding an additional three to four stores per year to our company-owned estate.
"Spar Market is an exciting new fresh, chilled and produce store format for CJ Lang and Spar Scotland that will really help to differentiate and grow from our traditional Spar customer offer." 
Read more Spar news