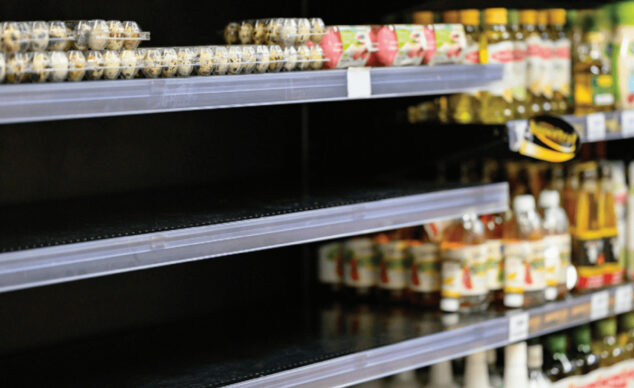 Independent convenience retailers are reverting to early coronavirus lockdown tactics to keep shelves full as 'pingdemic' driven shortages in supermarkets drive shoppers back to local stores.
National newspapers led with reports of panic buying last week as supermarkets admitted rising staff shortages in shops, distribution hubs and supplier factories caused by self-isolation were causing outages on shelves.
Data and retailer accounts suggest shoppers are again looking to local shops to find out of stock items, driving footfall and sales in convenience stores.
Grocery retail technology company NearSt found that online searches such as 'bottled water near me' and 'frozen desserts nearby' rose by 165% and 96% respectively last week.
Stores forced to close as self-isolation increases
The company said the results showed opportunities for convenience stores to grab new business.
"Although [the supply issues are] problematic, we are definitely seeing new customers walk through our doors who can't get what they need at nearby supermarkets," said Atul Sodha, owner of Peverills Londis Harefield in Uxbridge.
Despite the affected supermarkets claiming the shortages were "isolated incidents", independent retailers told betterRetailing they were experiencing wider availability issues as a result. "I've been unable to source bottled water, tuna, certain soft drinks and big brands, like Branston Pickle. I'm starting to notice gaps on my shelves," said Sodha.
Retailers also noted the increased customer purchase quantities picked up by the newspapers.
Warburtons suffers delivery failures due to driver shortages
Samantha Coldbeck, of Wharfedale Premier in Hull, said: "Me and a lot of independents are talking to customers when they come in and telling them to carry on buying what they need because we have got stock. We might not have the full range choice that everyone wants, but we have enough."
Retailers are reverting back to using the wider base of suppliers developed during the initial outages at the beginning of the pandemic.
Sodha said he was supplementing deliveries with local cash-and-carry runs. "I'm considering getting a van to use when hunting cash and carries farther afield that seem to have more choice," he said.
Promos pulled due to supplier shortages
Best-One retailer Kay Patel is using the same tactics. "I've had success calling around the suppliers I used when we first experienced panic buying, which means my customers aren't losing out," he said. "I'm finding I can't rely on just one, so instead I'm splitting my orders in case one falls through."
Patel added: "Speaking to other retailers in your area to find out who they are sourcing products from is essential."
To reduce supply-chain issues, the government announced a list of critical workers last week who would be exempt from self-isolation rules. The list included food distribution staff, but not retail workers.
Read more retail industry news for independent convenience retailers