What's trending?
Whether it's a healthier snack grabbed on the go or a bowl of cereal before work or school, the occasions that defined the cereal and cereal bar market were particularly affected by the impact of the pandemic. This has now changed as the market shifts towards that much discussed 'new normal'.
"With life now returning to normal, and more people on the move, the future is looking bright for the snacking market, but particularly for healthier snacks," says Gerry Roads, marketing manager for snacking at General Mills. "We have noticed a shift in snacking habits as consumers are demanding more permissible options, with healthier snack bars forecast to grow by 14% over the next three years as confectionery and sweet biscuits become a smaller part of the snacking repertoire." Darryl Burgess, head of sales at Weetabix, adds: "We believe we'll continue to see cost pressures throughout the industry in the next few months, meaning shoppers will be focusing on value for money more than ever," he says. "This is where cereal has a huge advantage compared to other breakfast options."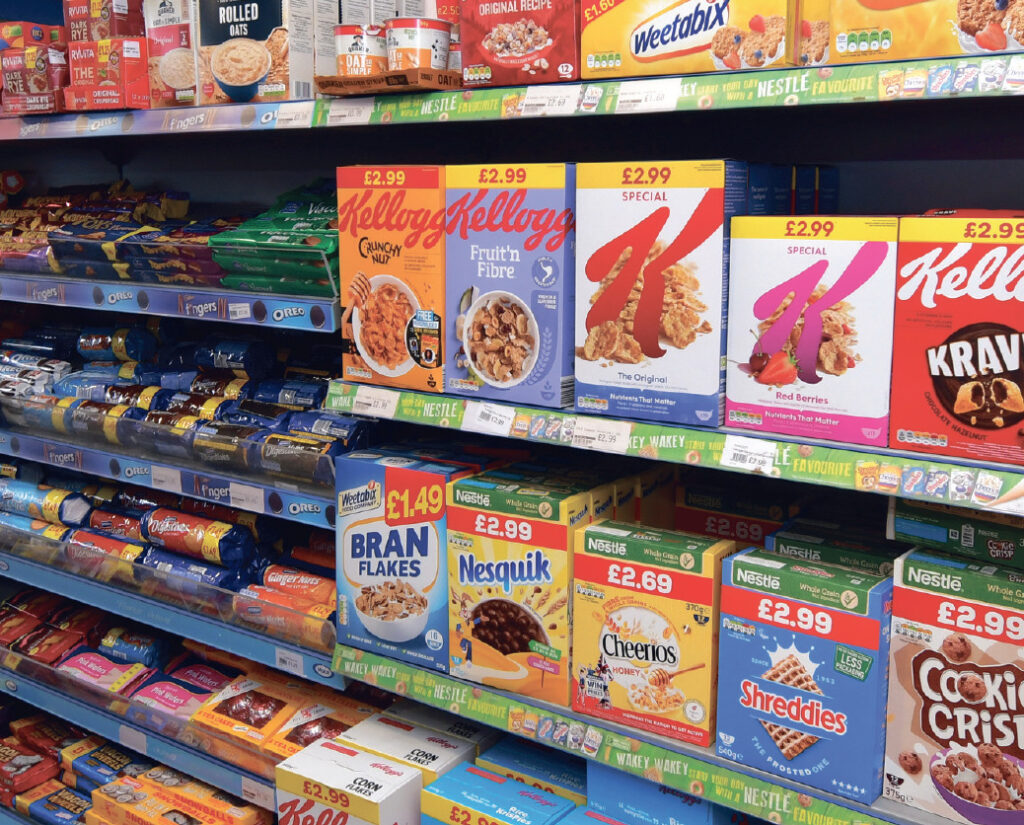 Healthier options
Generla Mills' Gerry Roads says snacks that boast nutrition through added fibre or protein, those fortified with vitamins or that offer quick ways for consumers to hit their five-a-day goals are all in demand as shoppers look for snacks that fi t in with their busy lives while helping them reach lifestyle goals. General Mills' Nature Valley brand offers added benefits through its core platforms: Nature Valley Crunchy (made with 100% wholegrain oats) and Nature Valley Protein, which is high in protein and fibre.
Together, these ranges have contributed to the brand's 4.3% year-on-year growth (to £58.7m). "We also know more shoppers are turning to weight management solutions, with the overall weight management snacks category now valued at £120.7m," says Roads. The supplier's main growth driver in this area is Fibre One, which is now the third biggest brand in the category and a signifi cant contributor to growth at £6.5m, according to the firm.
Read more: Weetabix teams up with Lyle's Golden Syrup for new flavoured cereal
"Famous for its 90-calorie brownie and square range, we reduced the sugar content by 30% without compromising on taste. The range is delivering 22.7% growth and has contributed £1.3m to the overall category over the past 12 weeks," Roads adds. Another brand that has introduced a healthier, non-HFSS (high in fat, sugar and salt) recipe is Go Ahead's Fruit & Oat bakes, produced by Pladis. The new recipe, launched in February.
"With a heightened nationwide focus on health, more shoppers are actively seeking snacks that deliver on taste and health credentials," says Charlotte Priest, senior brand manager for Go Ahead. "Now, more than ever, healthier biscuits represent an attractive and scalable growth opportunity for retailers." The new Go Ahead Fruit Slices are available in three flavours – apple, forest fruit and raspberry – in multipacks of five, with an RRP of £1.59.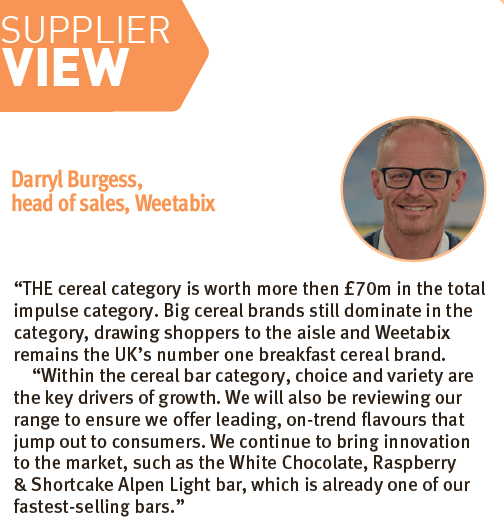 What are customers looking for?
The investment in new flavours, brand extensions and other innovations suggest suppliers see the return of more consistent work patterns as heralding a golden age for the cereal bar. Yet, as General Mills' Roads says, the category is versatile enough to stay relevant even when many of us are enjoying less 'on the go' lifestyles. "People are looking for options that will help them stick to healthier habits, especially in the post-pandemic world of hybrid working,"
Roads says. "Nearly half of those who work at home and in the office said they are conscious of what they eat to stay healthy. "While there's less commuting – which means reduced daily demand for on-the-go breakfast bars – homeworking means the mid-morning fuel or 3pm pick-me-up occasions have grown in relevance." Following a steep increase in sales of honey-flavoured cereals (value sales have soared 14.5% since 2019, according to analysts IRI), Nestlé Cereals has launched a new Shreddies cereal, dubbed 'The Honey One'. It will be available to select convenience stores progressively throughout 2022 and has also been formulated to be HFSScompliant. The launch follows an announcement from Nestlé that it has removed an estimated 59 million teaspoons of sugar and three million teaspoons of salt from its products since 2003.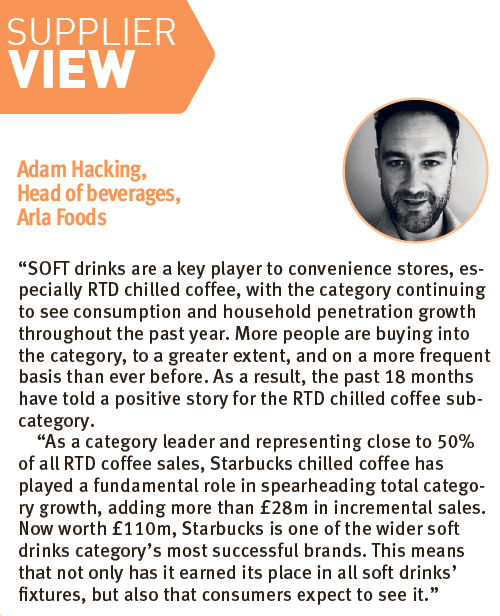 Capitalise on on-pack promotions
The domestic football season may be over but that doesn't mean football is going anywhere. In fact, from 31 May to 30 September, Weetabix products will give customers the chance to win tickets to men's and women's international games, signed shirts, football equipment and Weetabix vouchers.
Lorraine Rothwell, head of marketing at Weetabix, says: "We are proud to be championing women's football and will be featuring women's players from all fi ve [UK] nations on our packs and point-of-sale. "Last year's partnership with the Football Association brought new customers to Weetabix and we are expecting big things for this year's partnership." All the promotional packs will be widely available to convenience stores, and Weetabix says the promotion is the first in a big year of football promotions, with more planned to coincide with the World Cup in November. The latest campaign will be supported with in-store displays and social media content, aiming to encourage children to get active.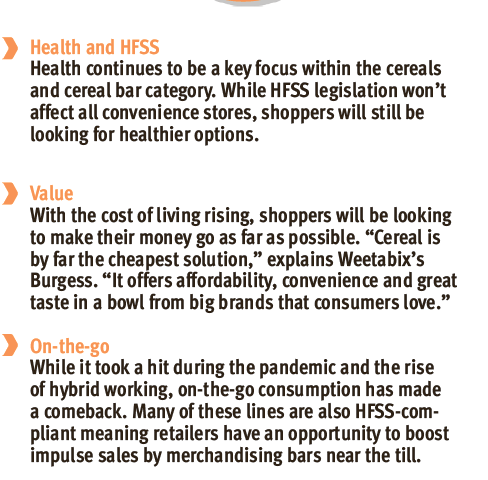 Brand partnerships are increasing
Weetabix has also paired up with Lyle's Golden Syrup to launch a HFSS-compliant cereal. Gareth Turner, head of marketing at Weetabix, says: "Consumers are looking for products that hit the mark taste-wise, but also offer nutritional benefits. "On top of this, brand partnerships are on the rise, with shoppers seeking authentic flavours and new experiences. It's the perfect time to bring two huge British kitchen cupboard staples together to launch this new cereal, which offers a unique flavour combination of two exciting brands and a strong nutritional profile."
Weetabix baked with Lyle's Golden Syrup is available across grocery, convenience and wholesale with an RRP of £3.29 for a 24-biscuit pack. It came as the cereal's sister brand Oatibix launched a new TV advertising campaign which, the firm says, aims to increase sales by 30%. The company has also launched a limited-edition Weetos Orange Chocolatey Hoops. Available in 420g packs across convenience and wholesale, with an RRP of £3.29, the new variety is also high in fibre. This activity highlights how suppliers are showing increased confidence in the cereal and cereal bars category, which is significant at a time when the media is full of stories of families reducing their spending and cutting out non-essential purchases.