Analysis
The 12 lines of personal care products selected for our Pricewatch data this week are not always stocked by the multiples in the formats that are most popular in convenience stores.
This is because, in cases such as Dove Cream Bar or Bic Disposable Razors, multiples prefer to stock larger multipacks, and this is where independent retailers can compete. Rather than spending £2 at Sainsbury's for an eight pack, customers can visit their local independent and buy a single pack for 53p.
Independent stores can win loyalty by meeting these distress or top-up purchases with a convenient format that no one else nearby is stocking. The temptation by independent retailers is to source larger multipacks of personal care products to compete with the multiples head on, but every store will be serving a different demographic.
According to the ACS, 54% of convenience customers typically walk to their local shop, so perhaps stocking larger packs may be a turn-off.
Profit checker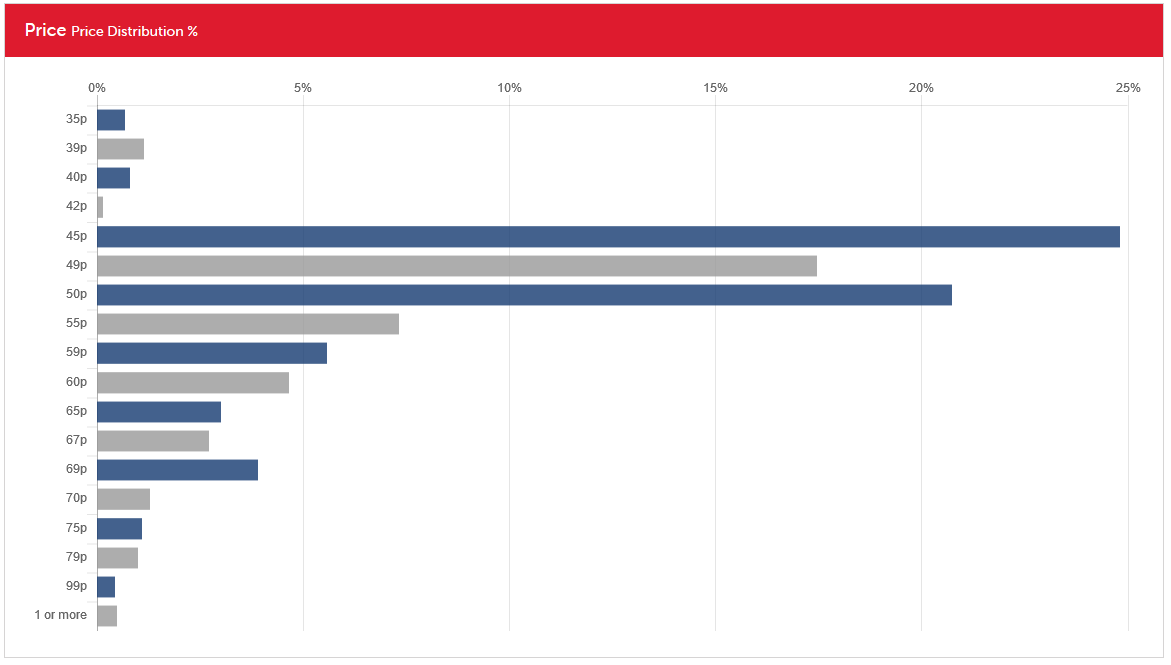 Price checker
AVERAGE


0.53

BOOKER RRP


0.45

LOCAL SHOP IN WEST SCOTLAND COASTAL VILLAGE


0.55

POST OFFICE AND SHOP IN CHESHIRE VILLAGE


0.69

NEIGHBOURHOOD STORE IN FORMER DURHAM MINING TOWN


0.45

TINY LOCAL SHOP IN NORTH YORKSHIRE VILLAGE HIGH STREET


0.45

LARGE SUBURBAN CARDIFF C-STORE


0.49

EDINBURGH CITY CENTRE NEWSAGENT AND C-STORE


0.65

INSETTE EXTRA HOLD HAIRSPRAY 200ML
£1.25
£1.15

–

£1.24
£1.29

–

£1.15
£1.49
SILVIKRIN MAXIMUM HOLD HAIRSPRAY 250ML
£2.60
£2.59
£2.59
£2.33
£2.59
£2.59
£2.69

–

WISDOM TOOTHBRUSH MEDIUM
£1.27
£1.79
£2.00

–

£1.10
£1.00

–

£1.99
LISTERINE COOL MINT MOUTHWASH 250ML
£2.74
£2.79
£2.79
£1.99

–

£2.79

–

£2.99
DOVE CREAM BAR 100G
£0.95

–

£0.99
£1.39

–

£1.50
£0.89
£0.99
SILVIKRIN FIRM HOLD HAIRSPRAY 250ML
£2.62
£2.59
£2.59

–

£2.59

–

–

–

GILLETTE SHAVE FOAM SENSITIVE 200ml
£1.60
£1.00

–

£1.99

–

–

£1.49
£1.99
FIXODENT DENTURE ORIGINAL CREAM 40g
£2.90
£2.59
£2.59
£3.49
£2.89
£2.59

–

–

LYNX SHOWER GEL AFRICA 250ML
£2.17
£1.50
£1.60
£2.69
£2.00

–

£2.49
£2.99
GILLETTE SHAVE FOAM REGULAR
£1.56
£1.00
£2.29

–

£1.80
£1.00
£1.29

–

BIC DISPOSABLE RAZORS ORANGE SENSITIVE 5S
£1.25
£1.45

–

£2.49
£1.00
£1.00
£1.29
£1.49
Data supplied by

EDFM is a specialist in helping leading suppliers to the UK's independent convenience channel get value, insights and business benefits from EPoS data. To find out how they could help you call 07976 295094
Supermarkets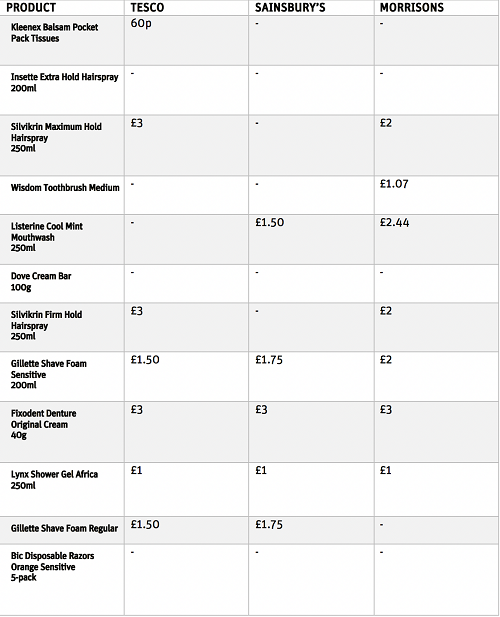 Drive your profits

Ralph Patel
The Look In
Location: Woodmansterne, Surrey
Size: 450sq ft
Type: village
Top Tip: Pick the right products at the right prices from your wholesaler to ensure you make the best possible margin
We stock a range of pricemarked and non-pricemarked personal care items. Items such as toothbrushes and mouthwash mostly come in pricemarked packs, as well as some sanitary care lines. These usually afford us reasonable margins, but it doesn't always work that way. For personal care items that don't come pricemarked, we round the amount up. For example, if something has a £9.57 RRP, we'll push it up to £10. It's important to be mindful about what shoppers are willing to pay and you have to use your own judgement.
Duncan McCutcheon
McCutcheon Newsagents Location: Tyne and Wear
Size: 300sq ft
Type: village
Top Tip: Find out what nearby shops are selling and at what price, then determine your prices according to that
I stock mostly pricemarked personal care items, such as men's shaving foam, hair bands and sanitary care lines. Being a Premier store, we only shop at Booker Wholesale and pricemarks work best for us because we are next to a Co-op. As a result, pricemarking has become the only way we can compete, as the larger stores offer the same services and products as us. Booker normally has sanitary care on promotion, priced at £1, which is popular. Every retail operation is different, so it's about learning who your competition is.

Abdul Arain
Al-Amin Store
Location: Cambridge
Size: 2,000sq ft
Type: town
Top Tip: Specialist suppliers' buying power enables them to offer you better prices on personal care items
We stick to RRP or pricemark to reflect value for money in the personal care category. I find that, with products such as washing powder, shoppers stick to certain brands, such as Persil and Ecover, because that is what they are used to; in this category, few people go for value brands. Most people also buy single toothbrushes. We mainly buy from Booker, Bestway and sometimes specialist wholesalers and suppliers such as Kingsway and Quicksave. We also work directly with bigger suppliers such as Procter & Gamble and Unilever.

Meten Lakhani
St Mary's Supermarket
Location: Southampton
Size: 2,800sq ft
Type: city centre
Top Tip: If you want stock to sell fast, price it lower. With £1 toothbrushes, you can still make a 30% margin
For toothbrushes, we stick to the RRP or sell them at £1. When we have put the price above this, they don't sell as well. The overall profit margin, when you work out the amount of sales, is higher when at £1. For example, we can get through a case of toothbrushes a day when it's priced at £1 – there is a better volume of sales. Wisdom and Colgate are bestsellers, as is Tusk Hunter deodorant, followed by Impulse. When Premier has a promotion on it, we like to stock up. When it comes to soap brands, Easy is a bestseller in the sub-category.
Find out more about RN's definitive guide to the best-selling products that you need to have on your shelves.
Read more Pricewatch and get expert product price comparison analysis and retailer insight on all the key products in your store.

Data supplied by the Retail Data Partnership, a specialist data and EPoS supplier committed to serving the independent retail sector.