Home delivery boomed during the Covid-19 pandemic, with approximately one-in-five households in the UK buying online in June 2020.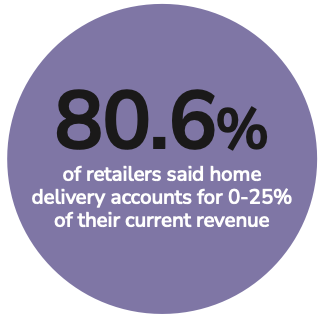 Independent convenience retailers enjoyed a 69% jump in home delivery pre-lockdown versus post-lockdown, as retailers needed to reach customers that were either shielding or couldn't get a delivery slot from one of the major supermarkets.
However, since nationwide lockdowns were lifted in July 2021, the need for home delivery has slowed as the economy has reopened and social distancing measures are no longer in place.
The future of home delivery and how retailers are ensuring it remains a success post-lockdown is the subject of the betterRetailing's data service, Newtrade Insight report, 'Home Delivery: What is Driving Growth?'
Newtrade Insight asked more than 150 retailers if they had expanded or scaled back their home delivery offering since lockdown, whether suppliers were doing enough for them and how confident they felt that home delivery would become more important in the next 12 months.
There is also insight on how the litany of delivery apps available to independent retailers and how many they use, as well as which areas they have invested in and which ones they plan to do so.
Additionally, the report includes insight from leading experts in convenience retail to give a rounded picture of home delivery's potential for independent retailers and the challenges it poses.