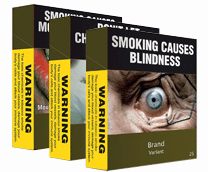 The Department of Health launched its expected consultation on the Standardisation of Tobacco Packaging on the 16th of April and it runs for 10 weeks until 10th July. There are 15 questions to answer and for me the most significant question is no.11:
'Do you believe that requiring standardised tobacco packaging would have any other unintended consequences?'
I personal know only to well the unintended consequence of the escalated tax on tobacco because my wife and I were victims of a 1 a.m. burglary at our shop. A most disturbing experience and of course by far the biggest slice in the price of a packet of cigarettes or tobacco is tax.
While attending Pro Retail 2012 I took the opportunity to visit the four tobacco companies who were there. I was interested to know how they were engaging with retailers during the consultation. I had the most interesting conversations on the JTI stand and there representatives were happy to talk at length about all the Tobacco Control issues including the consultation.
On the BAT stand I had a conversation about the unintended consequences of Standardised Tobacco Packaging. This specifically focused on the illicit suppliers filling the void left by the emasculation of the main brands with their own.
ITL gave me a copy of their 'Plain Packaging: What can you do?' leaflet and showed me their computer graphic displays of the display ban and how it affects England, Scotland, Wales and Northern Ireland. Clearly Scottish retailers will have the biggest challenge. They also have a picture of a Standardised packet.
Earlier this year I had the opportunity to talk at length to Dave Bryans of the Ontario Convenience Store Association about Tobacco Control in Canada. He told me how their market place has been disrupted to the extent that 65% of tobacco sales are now contraband. He also told me that there are nearly 200 contraband brands that have become available.
Engaging with Government on matter that effect you is important. If you have concerns about the proposals put forward in this consultation on the Standardisation of Tobacco Package make them know by responding to it on the Department of Health website http://www.dh.gov.uk/health/2012/04/tobacco-packaging-consultation/ . Get in touch with your MP, you can find them on the Write To Them http://www.writetothem.com/ website. Be assured, other people will be making their views know!