With the Waste Electrical and Electronic Equipment (WEEE) directive soon to be amended to set recycling requirements for disposable vapes, Elfbar has partnered with Recover to collect its used vapes in store.
Falling under its GreenPowercycle program, Elfbar said they have placed recycling bins to collect its used products in its retail partners' UK-based stores.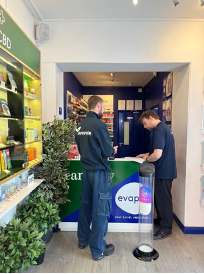 Recover, the battery recycling company, will then completely dismantle the collected vapes and recycle its components at an Authorized Approved Treatment Facility (AATF). With these efforts, the company said is a "step closer to its goal of diverting zero waste to landfills and creating a mature recycling chain by 2025".
The GreenPowercycle recycling program will ensure that all the components within the vapes, including the plastics and metals, undergo a rigorous disassembly and recycling procedure.
VPZ offers vape recycling service in store
Elfbar said: "The environmental regulatory landscape is ever changing and Elfbar is actively following its development. In a move towards greater sustainability, Elfbar has been working closely with the UK's compliance body, the European Recycling Platform (ERP), since 2022. The partnership has facilitated Elfbar's successful registration under the guidelines of WEEE regulations in the UK."
John Dorman, chief executive officer at Recover, said: "Through the comprehensive recycling process, all components, including plastics and metals, are safely transformed into reusable secondary raw materials."
Several vape retail partners, such as MyCigara, Evapo, and Tidal Vape, have already joined the GreenPowercycle program to install dedicated recycling bins for used Elfbar products in their UK-based stores, and the initiative will be expanded to include more retail chains soon.