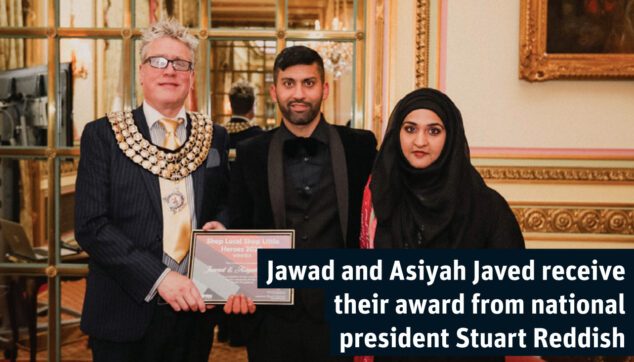 Three NFRN members received awards for outstanding community support provided throughout the Covid-19 pandemic last week at a luncheon held at The Ritz in London.
The NFRN's Shop Local, Shop Little Heroes Awards saw 12 finalists meet with politicians, sponsors and senior NFRN figures at the event.
Linda and Dennis Williams, owners of Broadway Premier Convenience Store in Oxgangs; Asiyah and Jawad Javed of Day-Today Express in Stenhousemuir; and Terry Caton of Londis Store and Post Office in Chesterfield received certificates and hundreds of pounds of free stock at the event.
NFRN reacts angrily to police chief's comments on shoplifters
Describing the recognition, Asiyah Javed told betterRetailing: "We were so surprised to have received this award, we weren't expecting it at all." She detailed how the store has provided 100 food packages per week, every week since the start of the coronavirus pandemic.
"We give them to the homeless, those that have lost jobs and single parents that are struggling. We run the shop by day and prepare the packs in the store at night.
"We've received praise from around the world, but the best is the response from the community. It's really like we are a part of people's families."
Asked about the store's current plans, she said: "We're worried about the supply shortages affecting the packages, so we're currently stockpiling supplies in store for them."
NFRN calls for solution to newspaper delivery issues
The three stores named at the event form the shortlist for the Heroes category in the NFRN Awards, taking place in January 2022, where an overall winner will be announced.
MP Joanna Cherry was in attendance. Her Edinburgh South West constituency includes Linda and Dennis Williams' shop.
The SNP politician highlighted the extraordinary work done during the pandemic by all retailers in attendance.
Speaking at the event, she said: "It was an honour to hear the inspiring stories of all the finalists.
"I thank the NFRN for inviting me and thank all convenience store owners for the outstanding work they have done to support their communities throughout the pandemic."
Former NFRN national president Owen Church dies
Describing the judging process, NFRN national president Stuart Reddish said: "As well as working long hours and keeping their doors open for essential supplies, the moving stories we heard ranged from setting up free delivery services for the elderly and vulnerable and raising money for people in hardship, to giving away free hot meals and donating to local food banks and charities.
"All of this made it extremely difficult to whittle the entries down to 12 finalists and the eventual three final winners but, to be honest, they are all winners and I couldn't be prouder of them."
Click here for more pictures of the event on the NFRN website
Read more The Fed news and articles