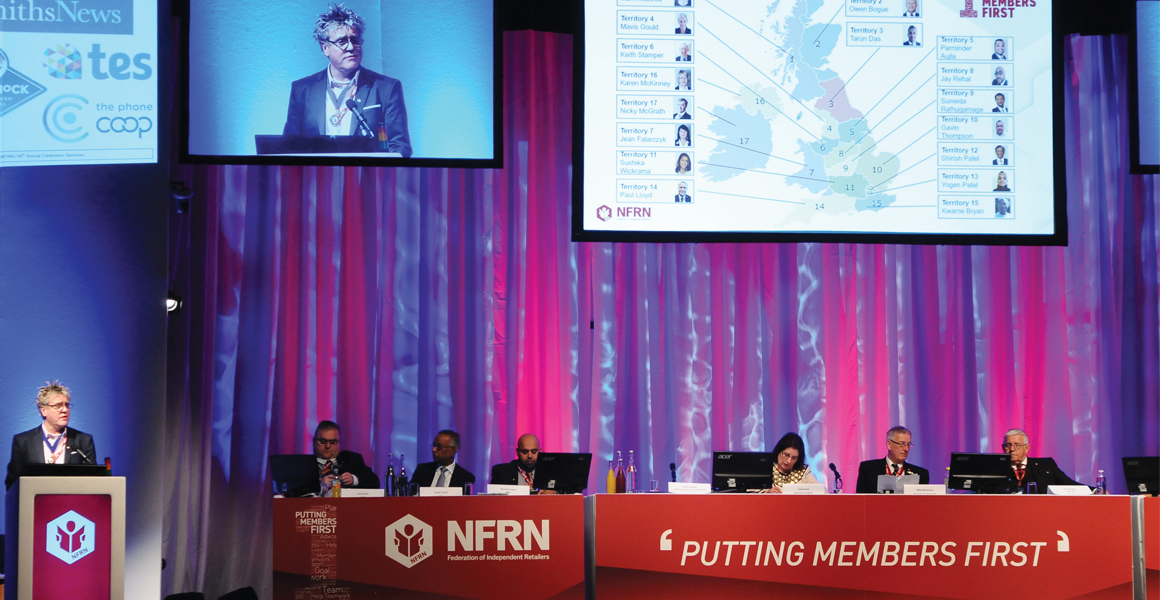 National elections
President Mike Mitchelson
Vice president Stuart Reddish
Deputy vice president Muntazir Dipoti
Trustees Martin Ward, Sunil Patel, Nilesh Patel
Executive committee Steve Archer, Jason Birks, John Parkinson, Bhavesh Patel, Gwen Patterson, Peter Wagg
---
Newstrade
Newspro
The NFRN is to relaunch its Newspro magazine category management system.
Brian Murphy, head of news, told delegates the updated Newspro would give members a similar level of control over their ranges as multiple retailers.
Newspro members will stock a core range of bestsellers, based on the amount of display space available. Once agreed, these titles will be locked in with wholesalers, and stocking them will be mandatory.
Local best-selling titles and those required for HND or shop-save will also be locked in.
For both ranges, changes to quantities will be under retailers' control.
Lucid Retail is working with the NFRN to roll out the system, and the federation's Connect service will deal with wholesaler problems and ranging queries.
Newspro will also arrange seasonal and other promotions.
"We will work with publishers to bring you some great promotions," Mr Murphy said.
Voucher payments
Members called on the NFRN to push vigorously for an increase in the 1p voucher handling allowance for retailers.
Northern member Graeme Pentland said the 1p allowance had remained unchanged for more than 20 years, during which time huge changes had occurred in retailing.
Mike Brown, a regular RN columnist, said he had processed 538 vouchers the previous week, representing around a third of his newsbill. The job had taken an hour, meaning he was working for less than the National Living Wage.
He called for a minimum payment of 2p per voucher. "Customers value us, so we have to provide the best service. But we'd like to be properly rewarded," he said.
But West Midlands member Julia Bywater suggested a higher payment might lead to more digital vouchers, and retailers who did not have payment terminals could be disadvantaged.
Read more: Newspaper circulation chiefs to further develop Deliver My Newspaper HND campaign
Mike Mitchelson
"Our priority is to help independent retailers prosper – for our benefit and for the benefit of our communities," Mike Mitchelson said as he took up the federation's reins ahead of its centenary year.
Engaging with members via open days, social events and focus groups was a priority, he said, with trade shows in Northern Ireland and the Republic of Ireland planned following successful events elsewhere in the UK.
The NFRN will step up its lobbying, prioritising making ministers who can enact change aware of the injustices faced by independent retailers, especially retail crime.
Mr Mitchelson challenged NFRN members to visit their MPs to support this drive.
He also pledged to engage with the news supply chain to press for an end to service issues."The alternative is to see the entire distribution network collapsing," he said.
"By working together, we can make the NFRN strong, vibrant, forward-looking and ready to face the next 100 years."
Business Development
Destination shops
Nick Shanagher, managing director of RN's publisher, Newtrade, advised delegates how to make their stores the first choice for customers.
C-stores must cater for their communities, he said, and on a recent study tour to the Far East he had observed this in action: "Every lifestyle in each country defines the retail offer."
In Hong Kong, where c-stores are small and food to go offers change several times a day, the philosophy of the Circle K chain is "speedy, tidy and friendly", he said.
In Japan, where coffee drives success, the three-word maxim is "easy, fast and simple". C-stores in Tokyo always offer something new, and food-for-now has to be served faster than in fast food restaurants.
In the UK, Mr Shanagher praised the offer in Conrad Davies' Pwllheli store. "This is a Waitrose-level store. Customers can see fresh lobsters in a tank, dry aged beef hanging in the store and Davies' own-brand food to go."
He also commended Mark and Samantha Coldbeck's store in Hull. It had adopted similar ideas to shops in Hong Kong and Tokyo: good value, always offering something new and heavy use of social media.
Booker
With sales to retailers worth £3.4bn a year and four symbol groups in its stable, Booker is targeting its non-affiliated retail customers for further growth.
This was the message from Paul Birch, Booker's retail development controller.
Shop Locally, Booker's non-fascia brand for non-affiliated shops, is a retail club with 7,000 members, operating under the slogan 'great value, local service'.
It has four retail formats – full licence, off-licence, non-licensed and impulse – and offers simple promotion packages with pricing at retailers' discretion.
Mr Birch also said bigger beer packs, better fruit and veg and better technology were three benefits emerging for independent retailers following the Tesco-Booker merger.
Camelot
Retailers who adhere to Camelot's recommended 10 store standards can expect to grow Lottery sales by £4,200 a year, the company's national sales manager, Greg Deacon, told delegates.
Camelot's Stock, Site, Sell initiative – part of a three-year £20m investment in retail – has driven 40,000 retailer visits in nine months, 11,744 retailers have joined the scheme and retailers have scored an average 6.9 out of 10 on store standards, with 40.5% of stores scoring eight, nine or 10.
Read more: Camelot sales grow but retail promotion needed
Energy drinks
A call by the Scottish district for a voluntary ban on sales of high-energy drinks to under-16s was narrowly defeated, but provoked a lively debate on best practice.
Ferhan Ashiq said members were already subject to legislation dealing with the goods they sold, and a voluntary ban might head off formal regulation in future.
"Let's send a message to all our legislators that we will do the right thing," he said.
Jim Maitland questioned whether it was worth selling a high-energy drink to someone under-16 for a small profit when it could have a devastating effect on the retailer's business.
Wales member Peter Robinson said the proposed voluntary ban would only apply to drinks that were labelled 'Unsuitable for children', and if a drink did carry this warning, that was a good enough reason not to sell it to under-16s.
Linda Sood
Linda Sood opened the conference by reviewing a year of unprecedented change, during which the NFRN had worked to improve a lot of members.
A new in-house business development department encompassing buying group NFRN Direct was "delivering practical support", she said.
Newstrade issues including late deliveries, packing errors, plus a carriage charge hike from Smiths News spurred the NFRN to protest outside the wholesaler's headquarters in September.
"We were there to say 'enough is enough' and it was time to end the carriage charge rip off. Following our protest and subsequent meetings, improvements were introduced," she said.
Mrs Sood was hopeful the NFRN's submission to the CMA for an investigation into the newstrade would also lead to service improvement.
Political lobbying had also highlighted issues such as retail crime. "Hopefully, with the new APPG and Daniel Johnson's 'Not Part of the Job' bill to tackle violence against retailers, real progress will now be made," she said.
Business Management
GDPR
Since 25 May, any business that holds information about individuals electronically has been subject to general data protection regulations, and this has important implications for retailers, the conference was told.
In a presentation by legal firm Ashfords, retailers were warned that failure to comply with regulations could lead to serious penalties.
Any retailer who holds information about individuals digitally, on a computer, mobile phone or other electronic device, or on paper must register with the Information Commissioner's Office and pay an annual fee.
Information about an individual covers details such as name, address, email address, bank account or any other details about customers or staff.
Ashfords identified three key issues for retailers:
• All information held must be freely given – you must have the consent of the people you hold information about.
• Any 'data breach' must be reported to the ICO within 48 hours – failure to do so can lead to serious penalties.
• Data processing arrangements must be secure – access to data should only be available to staff
who need the information to do their work.
George Bladon, speaking for ARAG, the legal expenses insurer that provides the NFRN Legal service, promised to look into a response to a request from Yorkshire member James Wilkinson to provide a template for recording customers' data, after Mr Wilkinson questioned whether addresses held for HND customers for delivering, not marketing, were affected by GDPR.
Employment law
With the number of employment tribunal claims on the increase, Ashfords offered advice on the measures retailers should take to avoid claims for unfair treatment:
• Employees must have contracts that set out the terms and conditions of their employment.
• Employees should be told about the business's policies and practices and be given the training necessary to do their work.
• Employers should deal quickly with any grievance or dispute and seek early legal advice if a tribunal claim is threatened.
Ashfords also emphasised that retailers who employ part-time staff should calculate holiday pay correctly – 28 days a year for full-time employees and proportionately for part-timers – and ensure they are complying with the National Living Wage regulations for adult workers, and the National Minimum Wage rates for staff under 25.
Card and banking security
Security is vital for retailers who accept payments by debit or credit cards, or who hold their banking details electronically, Michael Christodoulides, a senior executive at Barclaycard, warned.
"Fraud is on the increase, and the only way to fight it is through increased security," he said.
Any merchant accepting plastic cards must be fully up-to-date with the payment card industry's security standards. These and advice on protecting your business are available on the industry's website, pcisecuritystandards.org.
Basic security measures for online banking include strong passwords, keeping software up-to-date, and switching off remote access immediately after use.
NFRN Legal
With retail crime and violence against shop staff on the increase, the general duty on employers to ensure the health and safety of staff is particularly important for newsagents and c-store owners, Margaret McCloskey, the NFRN's head of operations, told conference.
Earlier in the event, incoming deputy vice president Muntazir Dipoti told conference: "Retailers don't feel safe anymore. Day in, day out, retailers experience some form of theft."
For retailers employing five or more staff there is a legal requirement to provide a written statement of the business's health and safety policy.
Contracts with suppliers could turn out to be a minefield, as a member who is facing a £76,000 claim for early termination of a contract has discovered, she warned.
"Read any contract thoroughly, including the small print, before signing it, and pay particular attention to any targets or charges set out in it. Resist pressure from the salesperson to sign straight away, and take your time to study it," she advised.
George Bladon urged members facing legal problems to contact NFRN Legal's helpline for free advice, or register through NFRN Connect with Legal Plus for help with legal documents.
Retail Mutual
The Retail Mutual has increased its membership by 25% over the past two years and has more than 6,000 members, manager Kirstie Hampton reported.
The insurer offers business,
home and landlord cover to independent retailers, and has recently teamed up with mortgage broker London & Country to arrange residential mortgages.
Other business it is considering includes motor and health insurance, with Health Cash Plan (covering everyday health expenses such as dentistry and opticians) and Access Surgery (for surgical treatment payments) set for launch.
Ms Hampton urged members to ensure they are fully insured for losses resulting from raids on cash machines, where claims could be up to £50,000, and for "slips and trips" claims.
Unfair practices
Conference unanimously endorsed a call for the NFRN to tackle the issue of unfair practices against independent retailers.
Proposing the motion on behalf of West Midlands district, Doug Morris said hardnosed trading practices imposed on independents were far removed from good commercial conduct, were undermining retailers' profitability and were causing a power imbalance between retailers and suppliers.
Aside from newstrade service issues, Mr Morris said two-thirds of councils were failing to grant discretionary rate relief for small shops.
West Midlands member Narinder Randhawa said the pressure applied by council officers on small shops not to sell high-strength beers and ciders, with implied threats that their licenses would not be renewed, was another example of unfair practices retailers had encountered recently.
In Brief
The NFRN is to seek legally enforceable ways to obtain automatic compensation for poor service from news wholesalers. It also reported an 84% success rate in submitting individual members' restitution claims to Menzies using NFRN Connect.
Public affairs manager Adrian Roper said the NFRN was holding discussions with districts about setting up WhatsApp groups to report retail crimes.
The coupon market, worth £5bn a year, is still largely paper, but is moving rapidly towards digital, with the main advantage of digital vouchers that they can be created and terminated very quickly, said Epay executive Liam Cagliarini.
NFRN charities paid out £85,000 in grants and benefits, committee chairman Peter Wagg reported. Head of membership services Theresa Neale asked delegates to publicise benefits available, including the NFRN's serious illness and convalescence benefits and Empowering Young People grants.
NewstrAid chief executive Alex van Straubenzee said the charity was looking for volunteers to act as almoners, and wanted to hear about people with newstrade connections who may need help.