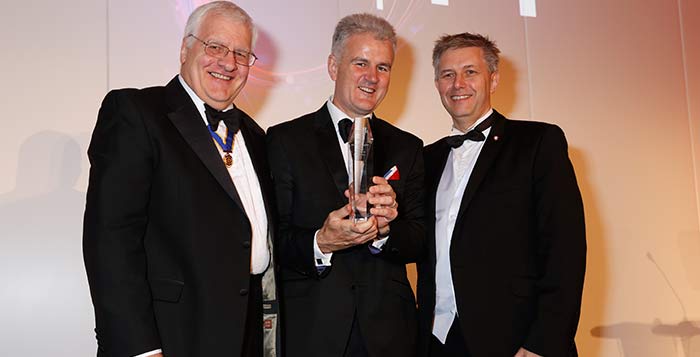 Nick Shanagher, managing director of Newtrade, was presented with the Special Services to the Industry Award by the National Federation of Retail Newsagents, the UK's biggest trade association for independent retailers, in London this week.
With previous winners including Camelot chief executive Diane Thompson, who pioneered the UK National Lottery, Shanagher is recognised for developing tools that work in helping retailers grow sales and profits from the inspirational Independent Achievers Academy to the top selling Retail Newsagent weekly magazine.
"Good trade press is a vital source of information and opinion and should be a powerful voice on behalf of the industry it represents," said Peter Wagg, one of the UK's most successful independent retailers, a leading NFRN member and chairman of NFRN Mutual, who presented the award.
"For the past 125 years the independent news and convenience market has had the benefit of being served by Retail Newsagent. And for 21 of those years, Nick Shanagher has driven best practice and high retailing standards across the industry with great distinction. He is a champion of independent retailing."
Since joining Newtrade as editor of Retail Newsagent, Shanagher has moved the magazine to its current position as the top selling newstrade title for independent retailers with a focus on thought leadership and sharing great ideas.
Under his leadership the company has launched:
"I'm thrilled to receive this award," Shanagher said. "My success is based on the brilliant team of people that I work with today and have worked with over the past two decades. Our aim is to energise independent retailers and for us to be recognised by the NFRN, with its 16,000 members is fantastic.
"Peter Wagg has built a world class business in News on the Wharf and is one of our most critical customers. He works tirelessly to help independent retailers be successful and to receive the award from him is very special."