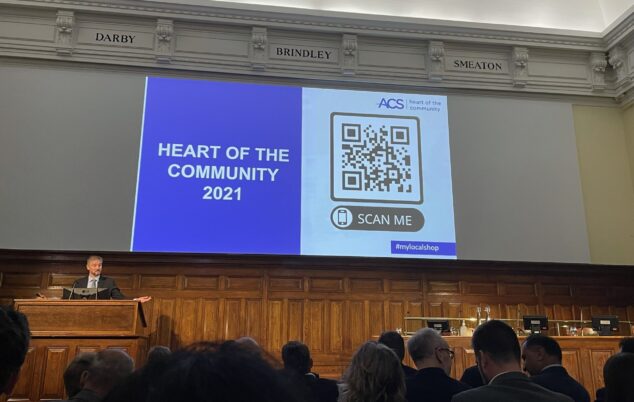 Independent retailers can learn from the government's 'levelling up' agenda by better tailoring their store to local needs to maintain gains made during the Covid-19 pandemic, experts have said.
'Levelling up' is the Conservative government's mantra for winning over communities in the north of England, but speaking at the ACS's Heart of the Community event last week in London, well-being and government policy expert Nancy Hey said stores would also benefit from the basic principle of "understanding what people need in a certain area and keeping that unique".
The Heart of the Community event highlighted how the ability of local retailers to do this during the pandemic was closely tied to their economic success during the period.
An ACS poll revealed 58% of convenience retailers believe Covid-19 improved their business standing in their community; and 31% of consumers said they choose which local shop to support based on their role in the community.
Small businesses face 6-month wait for pandemic insurance payouts
When asked what service proved most successful during the past 18 months, Dean Holborn, owner of two convenience stores in Surrey, named home delivery.
"Although supermarkets already offer home delivery, they aren't as best placed as independents to change and adapt it," he said. "They couldn't keep up with the volume of orders, so we launched it straight away and had an army of people volunteer to help us."
He added that the pandemic influenced the type of services he offers. "We have seen a change in what we offer. The number of people using myHermes increased so much," he said. We have also continued going big on premium products, which we didn't do before."
The Plunkett Foundation helps communities establish new businesses and take on essential businesses at risk of closing.
It supports 400 community-owned shops trading across the UK. Plunkett Foundation head of community business Claire Spendley told attendees these premises are an "essential part of the levelling-up agenda".
EXCLUSIVE: PMP margin squeeze alters buying habits, say retailers
"We are seeing a move to embed the services retailers are providing," she said. "They are now starting to offer takeaway food and drink. The good thing about community shops is they know their local people."
However, Spendley stressed the need for increased government support to ensure the shops are able to continue serving their communities.
"Community-funded projects need more readily available finance; there needs to be better rights given to the community so they can be given a first refusal on an empty premises; and infrastructure needs improving to help people have the right skills and knowledge to create something long lasting," she said.
Bestway's managing director, Dawood Pervez, praised independent stores for widening their offer during the pandemic, but also stressed the need for services to be economically sustainable for retailers. "Rapid delivery is going to remain important going forward, and banking kiosks in small shops have great potential," he said.
"The challenge in all this, however, is services can be bulky and take up a lot of room. It drives footfall, but do customers always actually buy something else?"
Find out more on our coronavirus information hub for retailers