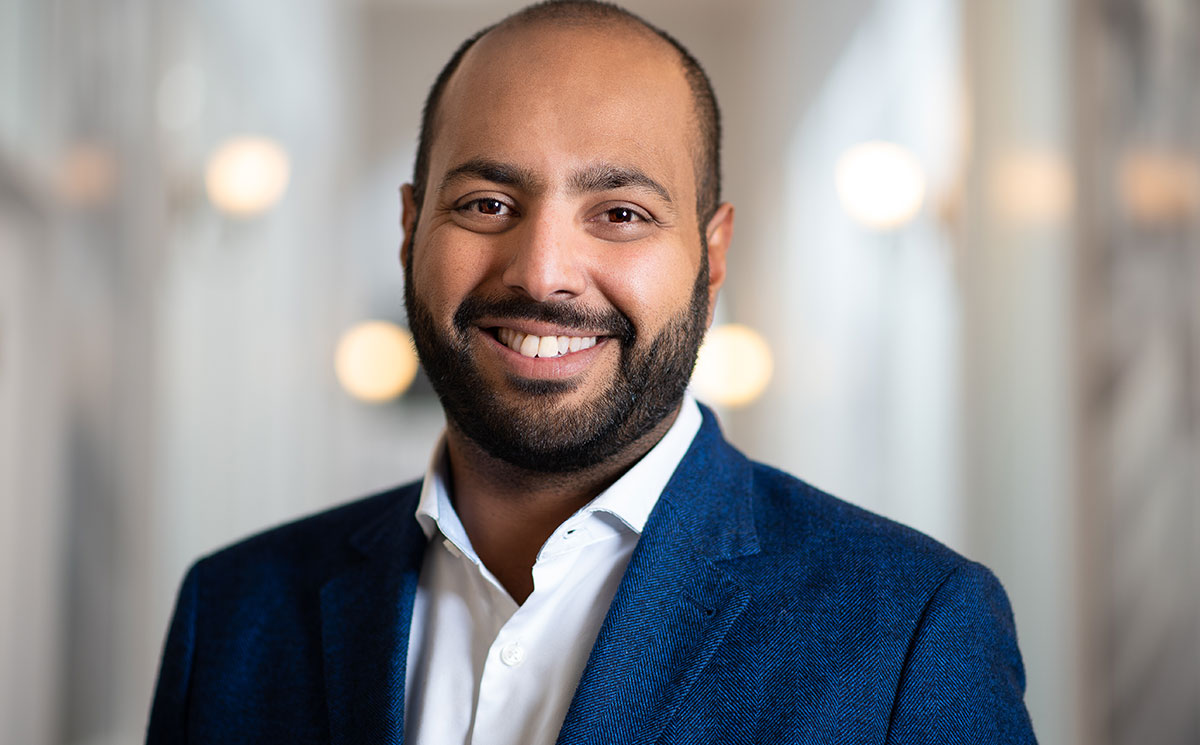 Alpesh, you joined the business a year ago. What changes have you seen?
We've had to change our pack strategy to include more cans and more drink-later formats. We launched Ribena Sparkling in cans and we reduced the price of our price-marked packs.
We've had to change our plans at some speed. One of my proudest moments was that we heard from retailers that carbonates were growing strongly and we felt there was a need for a blackcurrant and raspberry carbonate. We went from concept to launch within 12 weeks, when a process like that would usually take a year.
Last year there was so much news from SBF on sustainability. What more work is there to do?
Sustainability is a big focus for our business. We've launched Ribena Sparkling in 100% recyclable packaging and we know that the upcoming deposit return scheme will help us on that sustainability journey on Lucozade Energy and Lucozade Sport.
From a retailer point of view, we've done some work with Amit Patel in his Sandiacre store. We made some small changes to his lighting and heating, as well as added door-closing mechanisms on his chillers. It's saved him £264 a year and if every retailer could do that, it's worth £16m.
We've also been working with his stock levels. By helping him maintain the right amount of stock of the right lines, we've reduced his amount of deliveries and trips to the cash and carry, resulting in £42 of savings per year. This is something he really values. He's saving money by not buying too much stock and is in a better place to take advantage of cash & carry deals
We are seeing more retailers asking questions around how they become more sustainable, which is driven by consumer demand. It's important we facilitate peer-to-peer learning with retailers.
In May 2019, SBF (then LRS) outlined a £179.5m opportunity for independent retailers in three years. How has coronavirus changed this ambition?
We have a new category vision. We think there is a £1bn opportunity within soft drinks overall for retailers through purchasing occasions and key events. It's about £9,000 per convenience store.
We've got the Euros and other sports events coming up. There are plenty of opportunities for retailers to drive sales this year.
How are health trends continuing to shape the soft drinks category through coronavirus?
We've got HFSS legislation coming through and the health and wellbeing agenda continues. You'll see more promotions around Lucozade Zero this year and you'll see it extend into different formats.
I want to also highlight that during times of stress, in times of recession, we see shoppers gravitate to big brands they know and trust.
How do you see delivery shaping convenience stores in future?
We've seen more delivery apps come online but there's no consistency across the retailers we serve. We provide basic advice around the core range on those platforms, so for example if you're doing a full shop, we suggest 1l or 2l bottles as part of the range rather than having single bottles.
The difficulty we have is there's no commonality in terms of how you execute effectively on delivery apps.
Alpesh, when you were at Molson Coors you were the brains behind its 60 Second Shop category advice platform. Are there any similar plans for SBF?
We don't plan to do anything similar but some of the same principles hold true, such as 'ease of shop', 'occasions' and having the right range.
We've got to make sure the fixture is right. With independent retailers like Dee Sedani and Amit in Sandiacre, we've worked really hard to get their fixture right, with the right brands. The second point to make is, like alcohol, it's important to sell soft drinks cold. There are so many shoppers that put their hand into the fridge to ensure their product is cold before they buy it, so the more we can sell soft drinks at the right temperature, the better.
How are you forecasting the future of food-to-go sales?
We saw a drop in on-the-go sales in April, but we did see a swing back in October, November and December – not to the levels year on year – but we saw a 50% recovery. However, footfall is still down. I think we'll see a better recovery from the summer onwards to Christmas this year. That's why it's important that we can be agile to support retailers with these products.
What should retailers be focusing on in 2021?
If any retailer out there would like to get involved and talk to us more directly then we would welcome them with open arms. We have a strong field team out there that talk to our retailers.
The second point is think about the mid- to long-term. We have a deposit return scheme coming, which will be a fundamental change for our category. We're investing in resources to give advice to retailers there.
Finally, I'd just like to say a big thank you. Retailers have been superstars in the past year and have been pivotal to their communities so thank you for the work they have done.
Store advice
We have to see a recovery in on-the-go sales. It's really important for us and independent convenience retailers. As soon as that becomes available we need to make sure we have the right range and the right space.
Events are going to be really key for us. We also think next year there'll be more staycations. Anything between 3 and 5 million people stayed in the UK, we think it'll be similar this year.
Get the right range now between drink now and drink later.