"Get on Too Good to Go to reduce food waste, it's simple, flexible and it allows us to recover some of our costs," says Andrew Thornton, owner of Budgens in Belsize Park.
With 1.9 million tonnes of food going to waste every year in the UK, the issue is one of the biggest challenges for the industry. Waste is regularly cited by independent retailers as the main reason they avoid investing in the profitable fresh and chilled category. It can cause huge costs, from loss of income to cost of disposal.
The app launched in 2016 and is now available in 110 towns and cities across the country, as far north as Aberdeen and as far south as Plymouth. Initially, it worked solely with restaurants but soon businesses from other sectors joined in.
Read more: Plastics, pollution and waste proposal impact
At the Local Shop Summit event held in London last week, Andrew presented how he had made his store plastic-free before the multiples, giving tips on how every retailer could become more sustainable.
Explaining the expansion to betterRetailing, founder Jamie Crummie says: "It was surprising to see the level of food waste across all industries. Reducing it is a win for retailers, consumers and the planet, and Too Good to Go provides a safety net to help businesses play their part."
51 convenience stores have signed up to do just that, saving more than 1,300 meals in total. Here, we take a look at how you can get started.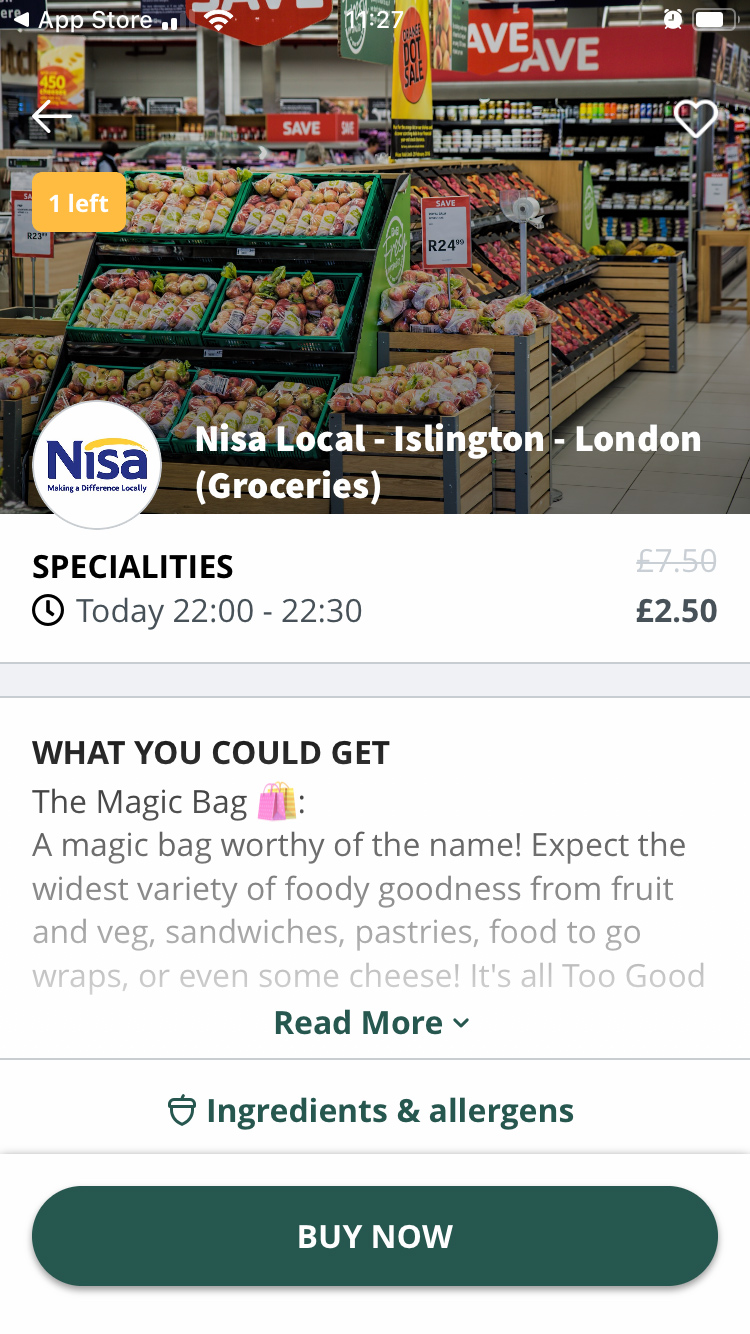 How Too Good to Go works
For a consumer, they log on and search their local area for a food business. When they find a store or restaurant they like, they click on it and buy a 'magic bag' – a mystery package made up of unknown items for less than a third of the original price.
They are also given a time window for when they have to collect, which is set by the business. Customers pay via the app and just have to show their receipt in store to get their bag.
"We invented the magic bag concept because it's impossible for businesses to predict exactly what food will be left over. It's fun for customers who are happy to get food at a third of the price and maybe try something different," Crummie explains.
Read more: Suppliers outline plans to cut plastic packaging
"Convenience retailers tend to use it by putting food close to the use-by date into banana boxes for their customers to pick up. Usually they set a collection window for about an hour up until close.
"The most successful ones have been with 6-8lbs of food sold at about £3, so worth about £9-10 of food," Crummie says.
While in many cases this won't recover the whole cost of the items, Crummie stresses Too Good to Go enables businesses to reach new customers and bring them into their store.
What's the cost?
There is an annual cost of £39 per year and the admin fee is £1.09 per box. However, there is no upfront payment – the annual cost is taken gradually out of every purchase.
"Money only flows one way," says Crummie. "We encourage our partners to use this app as their food waste solution. With the pricing model at selling products for a third of the price, we discourage businesses from overproducing for the app."
Read more: Independent retailers brace for plastic ban
Retailer Martin Wood says money is paid to retailers quarterly. "I use it to get rid of sandwiches, pasties and loads of bread that are out of date rather than chucking them. It's better to get a couple of quid for them rather than throwing them away. As you're giving away £9 in value though it is still a loss," he says.
"But, if you use the app just to get rid of things that are not selling, or you can't sell as they are about to go out of date, then its money you would not have had anyway."
Is it flexible?
If a retailer signs up and doesn't use the app, they won't be charged. If retailers do not make the £39 quota, they will not be fined. The retailer never has to pay anything.
There is also no obligation to sell bags through the app every day. "You can up or down the number of bags daily however so if you have nothing you can just select 'zero bags' for the day and you can change pick up times to later in the day," says Wood. "For me, it's after lunch, so the chance of me selling an on-date sandwich at full price is low."
There is no extra equipment needed, every part of the service can be managed from a laptop, tablet or phone with internet connection.
Could Too Good to Go work for your store? Click here to download through Google or Apple
Read more news and advice on sustainable retail