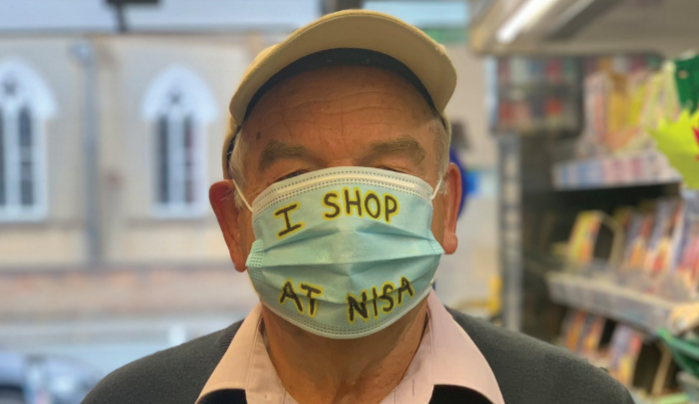 Independent retailers have reported new difficulty in getting customers to wear face masks, following the latest push for enforcement across supermarkets.
Last week, multiples including Tesco, Asda and Waitrose announced they would now deny entry to shoppers who aren't wearing a covering unless they are medically exempt.
Morrisons and Sainsbury's said they would also be placing security guards at the entrances of all their stores to challenge customers.
However, research by betterRetailing revealed that a retailer would have to pay up to £840 a week to hire a guard to enforce the same rule, seven days a week.
Covid-19 rules in supermarkets to be ramped up
Eugene Diamond, of Diamond's Newsagents in Northern Ireland, told betterRetailing he has become a victim of verbal abuse. "Ninetynine per cent of customers comply, but there are still a handful who make life difficult," he said.
"I asked the same person on two separate occasions to wear a mask and he told me it was against his human rights."
He added: "I'm on my own in the store unless there are customers. I have to pick my battles, as you just don't know what people are capable of."
Enforcing the face-mask rule in your store
Serve Legal director Ed Heaver recommended stores communicate the guidance with posters.
He told betterRetailing: "Stores currently use posters to communicate to customers the rules that will be enforced in store.
"Customers not wearing masks should be refused entry to stores altogether, and this message should be communicated before points of entry, for example with high-visibility and repetitive signage at entrances."
Shoplifting up following new coronavirus face mask rules
He said he hoped the move would remove the opportunity for customers to blame retailers. "Clear communication is made that people contravening those rules will not be served, or will be denied entry to the store," said Heaver.
"It is hoped these measures will deter people from entering a store without a face mask."
Symbol groups Nisa, One Stop, Spar and Costcutter all confirmed to betterRetailing they were continuing to support stores in adhering to government guidelines.
Retailer robbed at knife point by face mask attacker
One Stop has implemented a 'no mask, no entry' policy in an effort to strengthen its policy.
The government first made it compulsory for customers in shops in England to wear face coverings last July.
Despite the police claiming it wasn't their responsibility to enforce the rule, policing minister Kit Malthouse reassured retailers last week they would take action if needed. He said "700-odd" fines had been handed out by officers "in that kind of setting".
Read more news and advice for retailers on face masks
Find out more on our coronavirus information hub for retailers