Matters of sustainability in vaping are becoming increasingly important to brands and their customers.
In large part, this has been ex­acerbated by the rise in popularity of disposable vapes, as they are a single-use plastic item that mostly end up in landfill.
Even if people try to recycle it, they still have to think about how to properly dispose of the battery and make sure the pen doesn't contain any nicotine residue. It's fiddly business.
An in-depth look at nicotine pouches
Responsibility first lies with the manufacturers of said prod­ucts to provide customers with sustainable options and educate vapers on the on the negative environmental impact of dispos­ables. Then, its up to retailers to pass this message onto their customers.
For those unsure about where to start, in the June issue of Vape Retailer, we explored the topic in depth. Here are some key points:
Work with manufactures that offer eco-friendly options: Riot Labs recently launched Riot Bar, a carbon negative e-cigarette. Each device is made from bioplastics, which are 75% less carbon intensive and fully recyclable. All parts of the device can be recycled separately, including the battery, casing and mouthpiece.
Vyko is another brand recently launched to enter the market, currently available in Morrisons, although the company said it is in talks with other stores and convenience chains.
Its Paper Bar is marketed as a recyclable disposable vape device that is made from paper, fitted with a removable battery for easy recycling.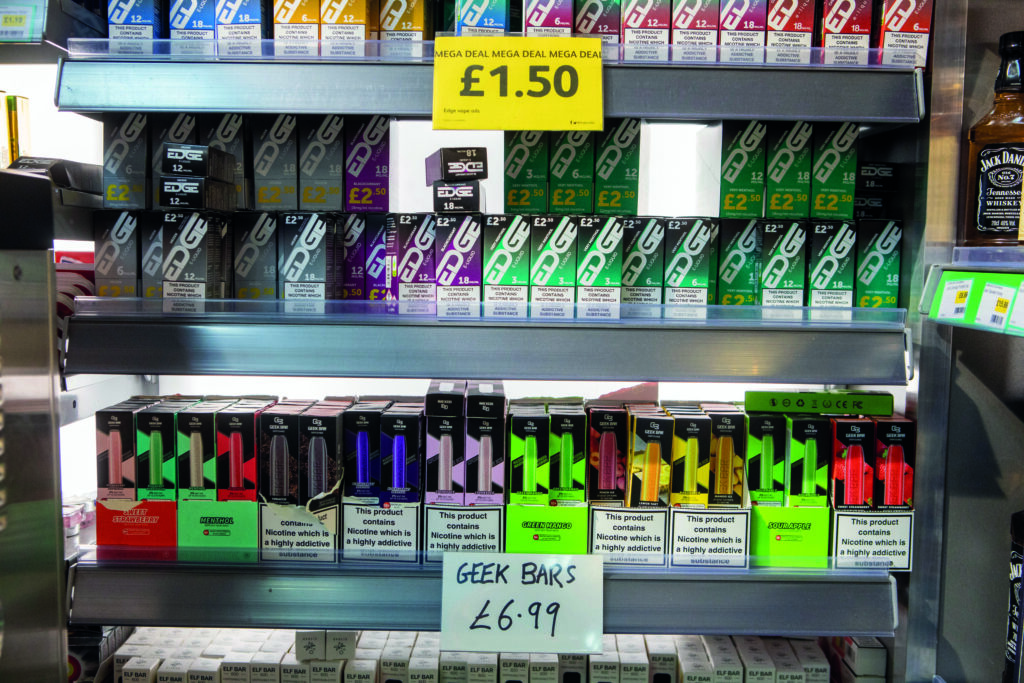 Encourage customers to opt for closed pod and open systems over disposables: The disposables market has a bad reputation overall for being unsustainable and in the long-term is very costly, therefore not only are open and closed systems better value for money, they are also more environmentally friend­ly than disposables.
This is because rather than throwing the entire device away once it runs out of e-liquid, you just need to refill the tank, or replace the pre-filled pod, coil or battery. The device itself only needs to be replaced once in a while.
Buying bigger e-liquid bottles to cut back on plastic sorting: Retailers can also advise their sub ohm customers to buy bigger bottles of short fills – so rather than two bottles of 50ml e-liquid, buy a 100ml option instead to save on the amount of plastic sorting.
Recommending customers use less sweet e-liquid is also a good idea if they have a varia­ble wattage kit. This is because sweeter e-liquids burn the coil faster, meaning they will need to be replaced more often.
Order your copy of Vape Retailer today, the leading vape magazine for the convenience sector. Click here for vape product news and category advice.