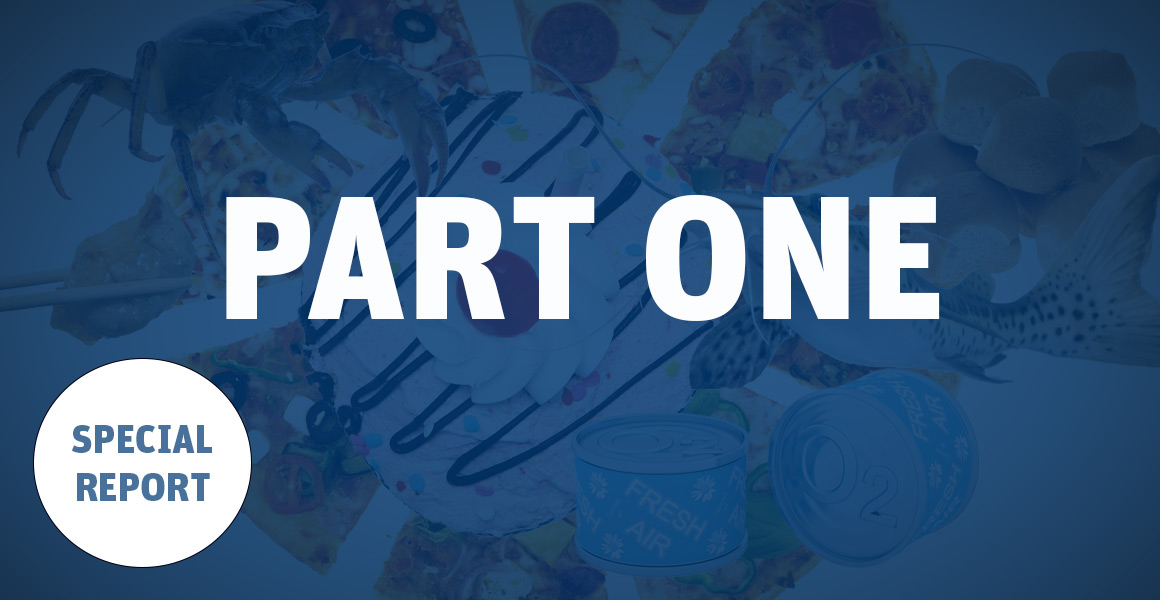 Inspired by one retailer's question, RN went in search of the future of convenience. Here, Tom Gockelen-Kozlowski and Max Liu hunt out the next big thing to drive your business's development
On a sunny September day in Musselburgh, just outside Edinburgh, RN sat down to lunch with three of the most exciting retailers in the UK.
One attendee was Ferhan Ashiq, whose small format, 'on-the-go'-inspired store in the Lothian town has been raising eyebrows since it opened earlier in the year. Also present was Joanna Casonato of Giacopazzi's. Her family runs two stores in the Kinross area of Fife where, utilising their Italian heritage, top quality ice cream and pizza is served alongside more everyday convenience fair.
The final person was Scott Graham, who runs the award-winning McCleish store in Aberdeenshire.
As the discussion veered from the need to develop staff and the challenges of higher wages to the increasing demand for food to go and fresh produce, Scott Graham asked the question which inspired this feature:
"I read all the magazines and they're all telling me to focus on fresh and chilled and food to go because that's the future of convenience. I've been focusing on this and have got a good range of both – what I'd like to know is… what's next?"
The mission RN has given itself since having this conversation is finding out the answer to this question. Of course, fresh and chilled and food to go are growing because of change in society, our understanding of health and lifestyle and the widening tastes and demands of Britons. So "what's next?", and which trends will reign supreme when the popularity of these mega-trends peaks, is a big question.
Speaking to retailers from across the UK to find out how they plan to adapt their businesses in the future and hunting out the best new concept stores and innovative business internationally, we've tried to piece together the directions which the industry might take.
From the impact of technology, the rise of staff-less business models and the demand for items that no customer would ever expect to find in a UK convenience store today, this is our attempt to answer Scott Graham's future-focused question.
These ground-breaking store models could be what's next:
Mariano's
(concentrated around Illinois), USA
The chain started life in Illinois and now has a number of breathtakingly good stores in the state's biggest city, Chicago. In a Mariano's Fresh Market most, if not all, of the ready-to-eat produce (including sushi, cakes and pizza) is made in store and sits alongside high-quality ingredients in case you want to make the same meals at home. In fact, there are a range of classes, music events and demonstrations in store too. Tickets are often sold online, providing extra revenue for the business. The store scores highly among customers for its "old fashioned" customer service too.
Store management
What you could do in store: Excel at events and not only will you showcase the range and quality of your products, but your store will become a place your customers will want to hang out in too.
Wawa's, USA
If the blending of foodservice and convenience feels new in the UK, it's been at the heart of Wawa's model for more than 50 years. With forecourts, major supermarkets and local stores within the business, its small-format stores – filled with spectacular iced coffees, fresh bread rolls and pretzels and meal options for every part of the day – are a hive of activity. Such is the affection for this convenience chain in the US that its stores have become popular wedding venues.
Store management
What you could do in store: Make your food to go memorable. Customers will return for the theatre and quality you offer.
Sweenys Spar Express, Letterkenny, Republic of Ireland
Sweenys is a perennial winner of awards for Ireland's best convenience store or forecourt, but winning again and again hasn't stopped the business innovating. A wide range of lunch options are posted as menus and videos every few weeks on Facebook and the store offers a two-course lunch option from Friday to Sundays and a three-course dinner at weekends. A deli and breakfast offer provides yet more reasons to visit the store and a 90-seat café and dining area means customers can choose to eat on the go or enjoy it in store.
Store management
What you could do in store: Update your food offer regularly and shout about it on social media. This will help bring curious customers in again and again.
Premier Whitstone Village Stores, Devon, UK
Store owner Dan Cock spent a decade collecting great ideas from businesses around the UK before almost entirely rebuilding his village store last year. Miles from any other shops, pubs, restaurants or cafés, Dan saw an opportunity to combine all of these within an expanded convenience store. Following and responding to the demand of locals, he has developed an eat-in or takeaway roast dinner offer on Sundays, runs pizza nights and the store has become the venue for social events for the elderly and the village's mums and toddlers group.
Store management
What you could do in store: Once you've invested and focused on adding food to go or a new seating area, analyse how customers use it further and tailor your range and offer to them.
Cheers, Nangyang, Singapore
A new concept store in Singapore's Nangyang Polytechnic operates as an entirely unmanned site. Freshly-made food is available through vending equipment while cameras watch the shelves to protect stock. At the back of the store computers keep a watch of stock levels, making orders wherever needed. The store saves 160 staff hours each week and has received government approval too – Singapore's minister for trade proudly stated Cheers "raises the bar of what it means to be a convenience store of the future".
Store management
What you could do in store: Look out for new opportunities to automate areas of your business. Alternatively, use customer service to stand out from unmanned businesses.
FairPrice "Living Lab", Singapore
In Singapore's SingPost Centre, grocery chain FairPrice has a "technology driven" store which operates, most of the time, as a self-checkout-only store with staff only used during the busiest times. The 'Experiential Corner' allows brands to run demonstrations, hold tastings and generally bring theatre into the store. Shoppers can use a SCAN2GO system (much like Waitrose's QuickCheck) to scan items in as they shop.
Store management
What you could do in store: The till does not have to be the only place where you offer great customer service. Have you got space for a permanent tastings area?
Eat 17 (Spar Hackney), London, UK
How can you get your store on TV? For James Brundle it was the intriguing store-made Bacon Jam on sale that – with an endorsement from Jonathan Ross – first helped put the store on the map. Starting life in Walthamstow, east London, James and his family's business model is based on using the strength of their E-17 restaurants in their convenience stores and visa versa. So, patrons can sit back and enjoy and craft beer and a trendy burger before browsing the store or simply meet up with friends before picking up a pint of milk at the end of the night. There are now three E-17-branded Spar stores – the original Walthamstow store, Spar Hackney and the newest store in Whitstable.
Store management
What you could do in store: If you or your family have other business interests, think about how working together could be mutually beneficial.
Break Time, Lee's Summit, Missouri, USA
When store owners MFA Oil were about to open their 74th store, they wanted to make the kind of changes to their existing model that any conscientious store owner would make. Alongside the higher ceilings, wooden-effect display units and a "customer-centric floorplan" came the Smokestack BAR.B.Q. This new food to go concept brought new life to a barbecue restaurant brand that has a heritage which goes back to 1957. Curtis Chaney, MFA Oil's senior vice president of retail operations in charge of the Break Time convenience store chain, says of the hickory smoked meats and selection of sides: "It's great-tasting barbecue our customers already know and love."
Store management
What you could do in store: Team up with a much-loved local restaurant or brand. How happy might customers be if they can get the same quality products on the go?
Super Food House, Brownsburg, Indiana, USA
When a convenience store in Indiana hired a new store manager they didn't expect it to drastically change their business model. But Gurmail 'Sunny' Singh Gill is not any normal store manager. An experienced Indian chef, he saw an opportunity in an unused kitchen at the back of the store. He began to bring authentic top-quality freshly-made Indian cuisine to passing motorists. Those using the attached BP "gas station" now can head into the store rather than journeying to the many pizza parlours, sit-down restaurants and fried fish takeaways which are within feet of the store.
Store management
What you could do in store: Do your staff have hidden talents or experience? Do you have unused tools taking up space? Your next innovation could be under your nose.
Read more in this series over the coming days.
In the meantime, let us know how your store is groundbreaking in the Comments section below.