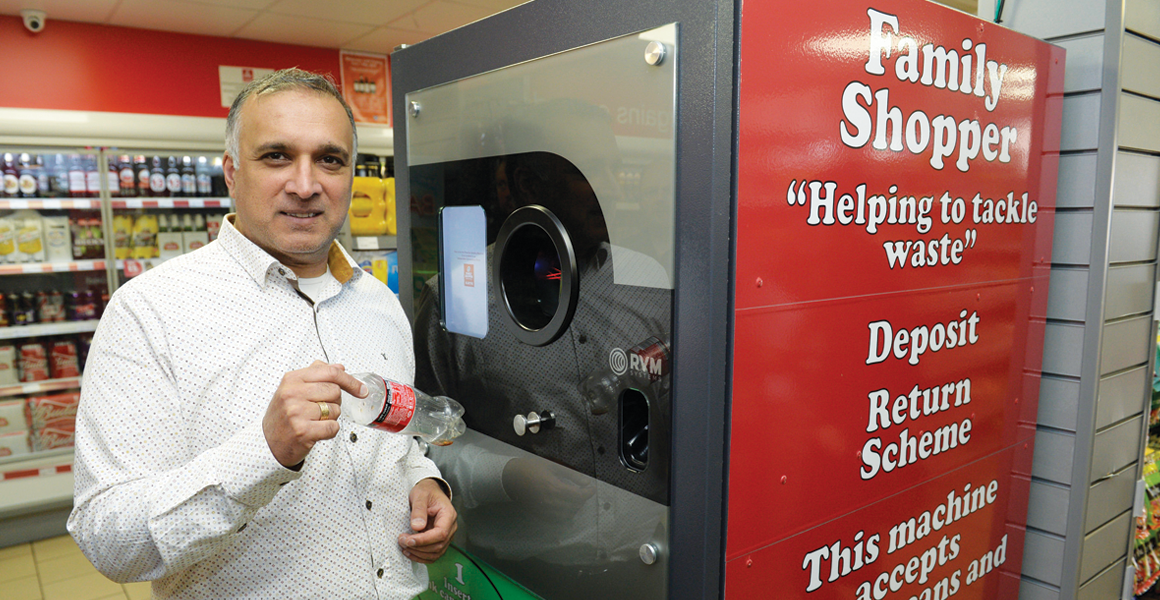 DRS is coming to the UK, but questions remain about what it will mean for store owners. Daryl Worthington takes a look at what we know so far, and what is causing retailers concern.
Last year, the government announced plans to commence a deposit return scheme (DRS) for drinks containers in a bid to tackle the growing issue of plastic pollution. 
In February of this year, it launched a consultation on what a DRS should look like in the UK, with that consultation ending on 13 May.
Under a DRS, consumers pay an up-front deposit when they buy a drink. This deposit is then redeemed when the empty drink container is returned. The schemes already exist in a number of countries, such as Sweden, Norway and some states in the US.
Earlier this month, Scotland became the first country in the UK to announce some, but not all, details of its DRS. As reported by RN, the move received criticism from some retailers. The plan outlined by Holyrood includes a 20p refundable charge, no exemptions for small stores, and the inclusion of glass in the scheme.
Stores will receive 1.5p for over-the-counter returns, and 3.1p per DRS machine return.
"Retailers have been railroaded. A lot has been left undecided, too, and we don't know how it's going to be implemented," said Dennis Williams, from Premier Broadway Convenience store in Oxgangs, Edinburgh, which was the site of a bottle returns machine trial with the Scottish Grocers Federation (SGF).
Meanwhile, the British Soft Drinks Association's director general, Gavin Partington, said: "The inclusion of glass raises costs and introduces a complexity, which creates unnecessary risk to the successful launch of a DRS in Scotland.
"We also remain concerned about the feasibility of introducing a well-designed and effective DRS in such a short timeframe. We urge the Scottish government to reconsider its proposed timescale.
"We continue to believe a GB-wide full DRS for all plastic and can beverage containers remains the best way to increase recycling levels."
Elsewhere, the news was met more positively, with NFRN national president Mike Mitchelson saying the scheme that had been announced was what they had been campaigning for, and welcoming the decision to include a wide range of materials and not to add a small store exemption.
The Scottish scheme is scheduled to have an official rollout in autumn 2020, and it will have repercussions for retailers throughout the UK, with environment minister Michael Gove having suggested the UK-wide scheme should mirror the Scottish one.
Retailer view: Space is like gold dust
I already do a return scheme with glass bottles, and it's quite bulky, so I can't see us having a reverse vending machine in store. Now we know a bit more, I think a lot of small shops will have a manual system to accept plastic bottles.
An issue that keeps cropping up is hygiene, which we have with the glass bottles anyway when people are picking the bottles up off the street and bringing them to us.
We've just had to move our business bin off the street due to council legislation. Because of that, I had to invest in a compactor because of the amount of rubbish we have to process.
I don't put plastic in the compactor, but even just the shrink wrap from around the soft drinks and beers is everywhere. I didn't realise how much rubbish I was producing. Even though it's taken away every second day, it's quite hard to manage.
Our postal service is growing, so space is like gold dust in our store. DRS will be something else to manage.
Retailer view: Where does the funding come from?
From the Welsh point of view, we don't know anything about how a DRS will look here, other than that what is happening in Scotland is being held up as how it could go across the country. We've not heard anything from the Welsh Assembly.
We are only a small store, so I'm very concerned about where we would put the machine, and where all the returns would go.
The other concern we've got is multiples like Asda who do home deliveries out to the village here. It's about a 100-mile round trip to that supermarket. Are those customers going to bring their empty bottles to us, expecting payment for those bottles? We also get a lot of tourists here – are they going to bring their empty bottles to us at the end of the day?
If it's a machine that gives them a voucher to use somewhere, how does that scheme get funded? If you're a big store, you can absorb the cost, but if you're a small store, where does the funding come from? Do you have to put an extra charge on the bottle to cover it?
Retailer view: DRS in action
Customers who return a plastic bottle get a 10p voucher that can be spent at my dessert bar, in store, or donated to charity. The unit has been donated by RVM Systems as part of a six-month trial. An average of 71 bottles were returned each day during the first three weeks.
DRS can boost footfall and bring more customers into your store. Retailers need to understand this
is coming, and if they are planning to refit their shops, they need to think about where to put a machine as manual handling could come with more difficulties.
I've visited countries like Norway and Estonia, where they have DRS machines and recycling is ingrained into their society. As retailers, we need to continue being part of the discussions to make sure the scheme works for us.
There are smaller machines that can fit into most stores, but I understand it's different for corner shops. There is a facility for retailers to manually mark returned bottles and place them in a clear bag behind the counter.
Supplier view: What should a DRS look like?
Matt Gouldsmith
Channel director, wholesale, Lucozade Ribena Suntory
For the most effective deposit return schemes, there are certain elements that are important to have in place. There should be a single, UK/GB-wide deposit return scheme. If – as the recent Scottish government announcement suggests – there isn't a single scheme, then any systems established by individual administrations need to be able to work together. This is to maximise the chances of success and to minimise consumer confusion.
The different schemes would need consistency in three key areas: the deposit level; the material/container each scheme applies to; and that each scheme is run by a not-for-profit organisation.
Supplier view: What should be included in a DRS?
Trystan Farnworth
Group sustainability director, Britvic
A DRS scheme is one of the more effective ways on-the-go littering can be reduced. Britvic is an enthusiastic supporter of a well-designed, GB-wide system that includes on-the-go PET and can packs as well as larger-format take-home PET and can packs.
Great DRS schemes don't just reduce littering, they also create an effective circular economy for packaging materials. DRS systems improve the quantity and quality of recycled materials available for manufacturers to use in their packaging and, by doing so, reduce the overall environmental footprint of packaging.
DRS abroad case study one: Norway
Norway has had a DRS on drinks containers for 20 years. Every store in the country that sells cans and plastic bottles must accept them as part of the scheme.
There are 11,400 manual return points in the country, and 3,600 shops with reverse vending machines (RVMs).
Norway's scheme is centrally run by Infinitum, which is joint owned by retailers and manufacturers. Ninety-three percent of bottles in the Norwegian scheme come through RVMs in grocery stores and 7% from manual pick-up points that don't have an RVM. Less than 1% of plastic bottles are sent back with online deliveries.
The handling fee for retailers is two cents per can, or 10% of the deposit value.
DRS abroad case study two: Sweden
Sweden's deposit return scheme was launched in the mid-'80s. Initially just covering plastic cans, it was expanded in the 1990s to also include bottles.
Unlike the Norwegian scheme, Sweden's is run by an independently-owned limited company called Returpack. Sweden's return rate is 85% and its deposit for consumers is capped at 18 cents, where in Finland it is 35 cents and Norway is 24.
Another key difference between Norway and Sweden is that retailers are paid the equivalent of £2,000 a year to have an RVM, rather than just the handing fee. This is enough to cover the costs of the machine.
Read more news and advice on sustainable retail