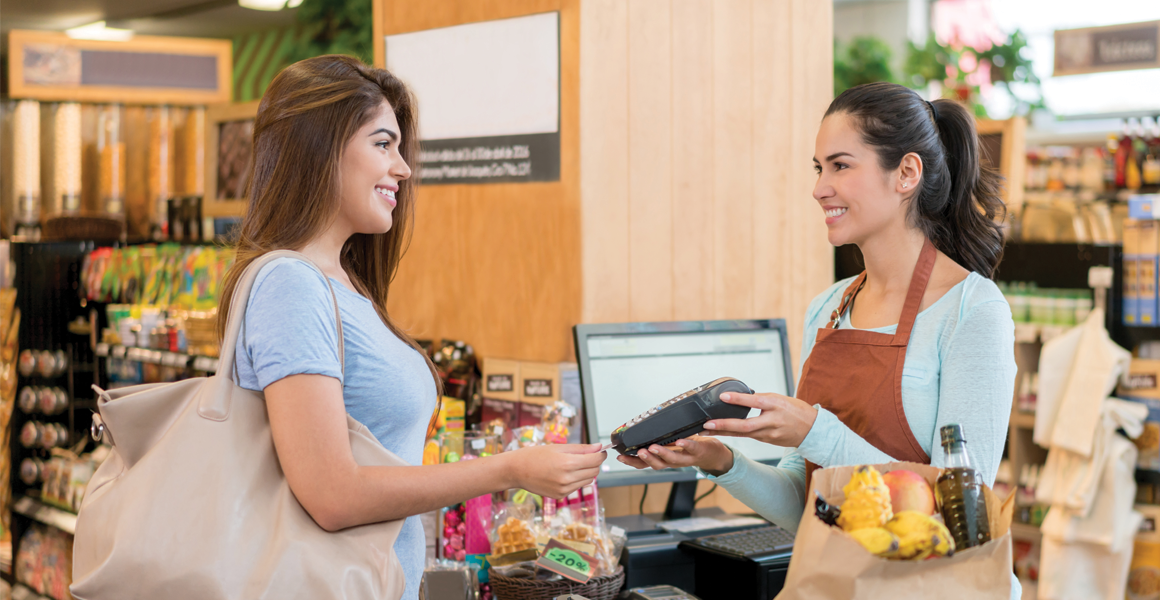 In recent years, technological change has revolutionised payment in convenience stores. Chip and pin, contactless, Apple Pay, Android Pay, even cryptocurrencies are growing. Toby Hill talks to three leading retailers to find out the opportunities and challenges
The retailers
Five opportunities to maximise
1. The rise of cryptocurrency: In one of Kay Patel's east London stores, he's offering an unusual service – ATMs designed for the online cryptocurrency Bitcoin. "Loads of people use the machines, which gives us a massive point of difference," he says. "It brings in young, affluent customers who we might not see otherwise, who buy premium products such as Cîroc." He is also considering accepting payment by Bitcoin, but is wary of changes in its unstable value.
2. More choice and flexibility for customers: Most EPoS systems enable retailers to offer several payment options to their customers. Bedfordshire retailer Peter Mann says: "We use ITS and Retail Management systems, and for both it's all integrated: credit card, cash, contactless, Apple and Android Pay.
"Customers might only have £5 in their account until pay day, but with our EPoS they can pay partly on card, partly in cash, so they don't have to go into their overdraft." Retailers should consider flagging up their options using signs and social media.
3. Increased speed of transactions: The rise of contactless payments has greatly accelerated transaction times for retailers. "Contactless takes three seconds instead of 15, and when you have four or five customers waiting, that's a minute saved, which feels like a lifetime if the shop is busy," says Mann. This leaves retailers with two options, according to David Worsfold, of Farrants Newsagents in Surrey. "For bigger retailers, it could mean they can afford to have fewer staff covering the tills. But I think it allows your staff to spend more time with those customers who need it, who don't want a fast service."
4. Cutting out the costs of holding cash: An advantage of the shift towards cashless payments highlighted by all three retailers is the fact it reduces opportunities for crime – whether petty staff
theft or more serious robberies. "Holding lots of cash in the register has a huge cost, in terms of banking it, insuring it and especially the percentage lost to wastage," says Worsfold. "Cutting down on how much we handle cash in store is definitely preferable for us," agrees Mann.
5. Keeping up with new technologies: With innovation occurring at a rapid pace, retailers recommend keeping a close eye on developments to see what could benefit your store. "I follow ideas such as Amazon Go, where customers just load their app, walk in, and walk out, without having to queue to checkout," says Worsfold. "I read the trade press and visit trade fairs to stay informed." One annual fair where retailers can see the latest innovations is the Retail Business Technology Expo, which takes place on the first weekend of May in Kensington Olympia, London.
Cash is still the quickest system for getting money into my bank
Five challenges you can overcome
1. Online bill payments replacing PayPoint: As a system based on the payment of bills or phone top-up, retailers are increasingly using PayPoint as a community service rather than looking to it for profit.
At the same time, more customers are choosing to pay bills online themselves. However, while people are increasingly paying their bills or topping up their phones through their smartphones, other retailers have found new ways of using PayPoint. "We make more money by using PayPoint as a parcel collection and returns service than we do from any other facility,"
says Worsfold.
2. Choosing the right new technologies: With such an array of EPoS systems available, each
offering a variety of functions and facilities, it can be hard to choose the one that's right for you. Worsfold found this to his cost.
"We were hoping to have an iPad till system where we could just ring up payments on the shop floor," he says. "But we found that actually customers come in looking for a bulky till point, and it just confused them. So, we're returning to a simpler EPoS system."
3. Increasing costs of non-cash payments: As contactless payment becomes increasingly integral to independent stores, payment services have capitalised by raising and extending their charges.
"Mid-term through my contract, my service charge increased," reports Patel. "Just a penny per transaction, but with 1,000 transactions a week, it ends up costing a huge amount more." Worsfold describes similar frustrations with authorisation charges, which have now been extended to contactless payments. "It slows down the system, too, so you have to invest in super-fast broadband," he adds.
4. More regulations and compliance: One of the appeals of cash for many people – from elderly customers to organised crime – is its anonymity. One of the challenges that increased non-cash payments create for retailers is that it involves them in complex regulations related to data storage and protection.
Mann discovered this a year ago, when new regulations meant his new terminals were no longer compliant. "I had to pay close to £1,000 to replace two tills," he says.
To avoid being bitten, retailers need to keep on top of regulatory change, through the trade press and the news.
5. Risking cash flow problems: Card transactions have come to dominate Patel's revenue stream. "Up to 70% of our turnover is now card-based," he says.
However, this reliance on card payments has the potential to create serious cash flow problems. "Cash is still the quickest system for getting money into my bank," he adds. "Card payments mean
my income is sitting in limbo for three days."