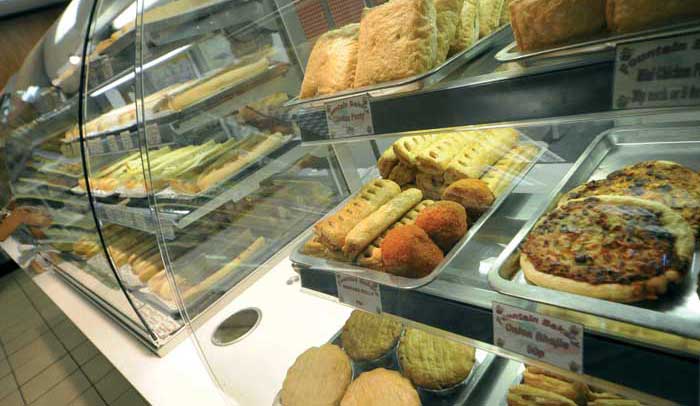 Food to go is an exciting growth area for independents as consumers' lifestyles become ever more transient and time-pressured and the category continues to offer very appealing margins. Nikki Allen takes a closer look at the sector
Food growth is hot property. As consumers clamour for hot sustenance on the move more than ever before, this is an increasingly critical sector for independent retailers to tap into if they are looking to build their business, says James Hall, group director of symbol at Bestway.
"Not only are typical food to go profit margins in excess of 40%, which is very healthy compared to all other categories, the right offer will drive loyalty and repeat visits," he says. "One Best-one store, Joe's Supermarket in Brixton, south London, is now selling an impressive 200 hot dogs every day."
And as consumer demand rises, the food to go ranges available from both high street chains and independent convenience stores have improved dramatically over the past couple of years, says retail analyst and Conlumino managing director Neil Saunders.
"In particular, hot snacks are one of the real growth areas right now, as consumers often feel more sustained by a hot product and, if done properly, these items can attract a healthy premium," he says.
"Breakfast has also been a growth area in recent years, and this has moved on from grabbing a cup of coffee on the way to work to a more complete meal solution incorporating things like porridge, takeaway ce- real and, of course, all the usual traditional morning goods like pastries and muffins."
Nisa business manager Nick Slater agrees that breakfast is a key category at present. "With so many people skipping breakfast at home, independents can cover this with hot food solutions such as a bacon sandwich, coffee and doughnuts, or something as simple as porridge in a pot," he says.
But while the demand and margins
are undoubtedly there, food to go is not a category to rush in to. Making a success of the offering requires some serious thought and consideration, Mr Saunders says. "The key is to think about what can be success- fully executed within independent retailers' own formats," he says. "For many, full service food counters will not be an option due to cost and space restrictions, but providing a hot vending machine for drinks and snacks or microwave facilities may be a more viable solution."
Retailers need to look long and hard at the potential their stores have for food to
go and do a lot of research, adds Mr Slater. "Store location and customer profile will determine what type of offer should be available, and it would then be a question of deciding the level of equipment required to fit the offer and match the purse.
"There are a number of options for independents, from outright purchase of equipment, to free-on-loan deals. In many cases, a stand-alone chiller cabinet at the front of the store with sandwiches, pastry lines and soft drinks would suffice," he suggests.
James Hall says that, despite bakery and hot food to go having been around for years, many independent retailers are reluctant to get involved with either. "They believe them to be too complicated and expensive rather than seeing the high-margin, impulse-led category that this really is," he says. To overcome these concerns, the key is to start simple, he suggests. "Food to go really isn't complicated and doesn't need
to be expensive. Having a hot coffee offer linked to fresh cookies or muffins that can simply be defrosted, for example, is a low- cost, no-waste solution that allows retailers to test consumer demand.
"If that proves successful, retailers can grow the offer easily and with very little initial outlay. All the key suppliers – including Country Choice, Cuisine de France and Rollover – provide the equipment, advice and training needed, with small and frequent deliveries to suit independents' needs."
Bakery, for example, is an easy category to kick off with, says Mr Hall. "If you can defrost pre-baked rolls, write a date code on them and put them on your bread fixture, you're already into in-store bakery. If you're feeling more adventurous, installing an oven for part-baked items isn't as scary as you might think."
It's not just about installing equipment, however – this is a category that needs careful merchandising to really reap re- wards, says Mr Saunders. "Thinking about how food to go is merchandised is really important, and creating a clear section that is easy to shop and looks compelling will help drive sales," he says. "Much of this is relatively inexpensive as it involves thinking about how consumers will shop this category."
Mr Slater adds: "If it's grab and go, it needs to be at the front of the store. And 
if it's a complex hot food solution, it is imperative that customers are made aware of the offer outside the store and are attracted in. My recommendation is to promote the category with a link-deal, whether that be coffee and a doughnut or muffin, or a full sandwich meal deal."
"If independent retailers are within walking distance of a college, transport hub, pub or offices, or do a good early morning trade and are not already offering hot food to go, they are probably turning away money," says Mr Hall.
And that's not something anyone can afford to do.