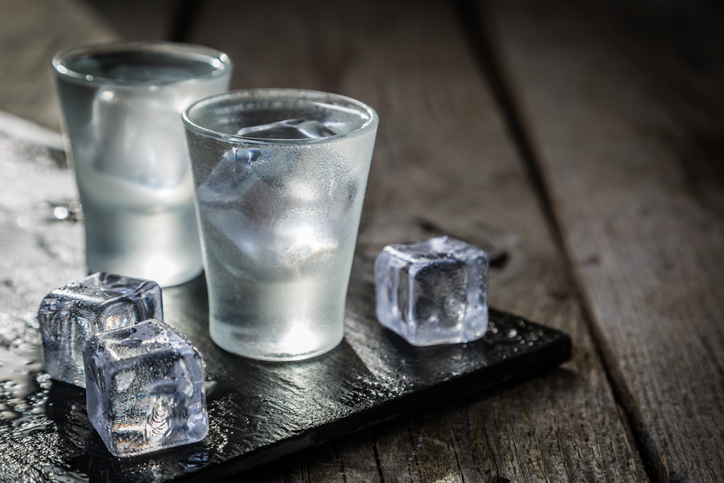 Comparing vodka prices
Our vodka price comparison tools below will help ensure you make the most of this growing category.
Vodka generated £627m of spirit-category sales in the convenience channel last year, and, with Christmas fast approaching, demand will increase. This week's data shows how retailers can drive profits with emerging brands.
Au Vodka offers a big opportunity. The original variety is sold by 46% of retailers for as much as £41, compared with 53% selling it for £34.49, suggesting more than half are missing out. Similarly, 44% charge up to £39.99 on the brand's Fruit Punch flavour, compared with 55% pricing at the most-common price of £34.49.
Forty-four per cent are selling Black Grape as high as £40 – a £5.51 increase on the mostcommon price of £34.49, sold by 53%.
Pricing is competitive among less premium brands, with 95% of retailers charging the most-common price of £20.99 on Kopparberg's Strawberry & Lime Vodka. Additionally, 78% charge £13.49 on Chekov Vodka, with the highest price just £1 more.
Vodka profit checker
Cîroc Red Berry 37.5% 5cl Price distribution %
Must-stock vodka products
Product Name
Lowest
price
Most
common
price
Highest
price
Au Black Grape Vodka 40% 70cl
£27.99
£34.49
£40
J.J Whitley Gold Artisanal Russian Vodka 38% 70cl
£15.99
£15.99
£19.99
Grey Goose Vodka 40% 70cl
£32.99
£39.99
£44.99
Au Fruit Punch Vodka 35.2% 70cl
£28.99
£34.49
£39.99
Glen's Vodka 37.5% 70cl
£12.99
£14.49
£17.99
Smirnoff Red Label Vodka 37.5% 5cl
£1.79
£1.99
£2.99
Chekov Vodka 37.5% 70cl
£10.99
£13.49
£14.49
Absolut Raspberri Flavoured Vodka 40% 70cl
£15.99
£15.99
£22.99
Russian Standard Vodka 38% 1l
£18.99
£21.99
£26.99
Kopparberg Strawberry & Lime Vodka 37.5% 70cl
£16.99
£20.99
£24.99
Ciroc Red Berry Flavoured Vodka 37.5% 5cl
£2.99
£3.99
£6.99
Au Vodka 35.2% 70cl
£26.99
£34.49
£41
Price distribution chart
Percentage of stores selling vodka above, below and at the most common retail price:

"Vodka sales are growing, driven by the introduction of flavoured varieties. It's the next gin, in a way. I'm expanding the range with new products from JJ Whitley, and Au Vodka is strongest. I didn't believe we could sell a bottle of vodka for £35, but shoppers are picking it up, so we're expanding that and sharing it on Facebook.
"There's an opportunity for vodka flavours to launch in smaller formats because consumers want them and there's a demand. Clear vodka sells all year round – Smirnoff and Chekov are strongest in that segment."
"Vodka is the only spirit in growth for us. Flavoured products are driving that growth, such as Au Vodka, and we had the limited-edition Cîroc and we'll get the new Mango & Passionfruit Smirnoff. We've taken our spirits from behind the counter and got backlighting for the range.
"Sales of clear vodkas are steady, they're not driving any growth. A brand to watch is Jatt Life Vodka, which is trending on social media, as well as Au, although we haven't stocked it because our area doesn't warrant it, but it's worth checking out."
Read more Pricewatch and get expert product price comparison analysis and retailer insight on all the key products in your store

Data supplied by the Retail Data Partnership, a specialist data and EPoS supplier committed to serving the independent retail sector