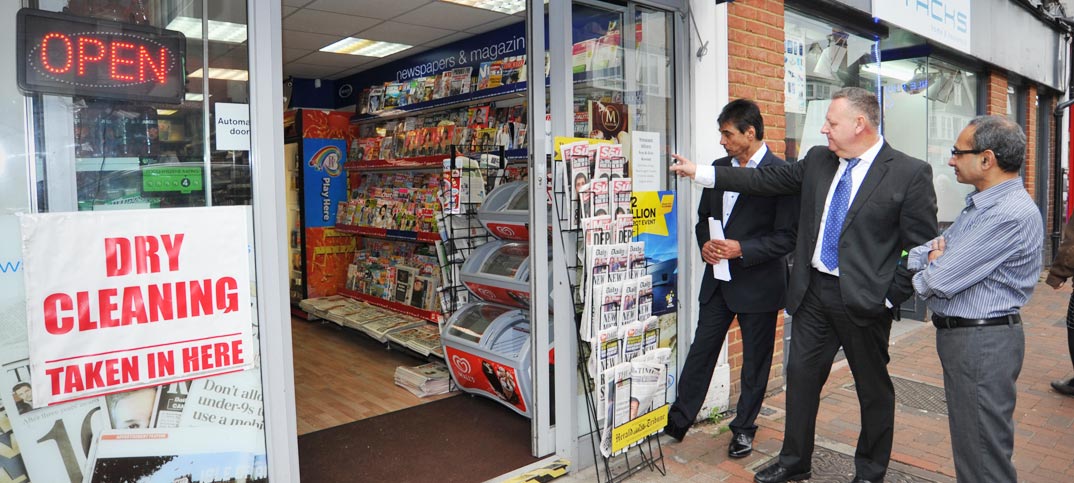 We teamed up with News UK to help a retailer boost his home news delivery (HND) sales this winter
Tony Parker from News UK and Ramesh Shingadia, winner of the 2014 IAA Overall Best Shop met up with retailer Umakant Desai from H&R News to look at how he could make the most of the opportunities he had available to increase his HND sales.
The retailer
Umakant Desai, H&R News, Camberley, Surrey
"Newspaper sales make up more than 50% of our overall sales, so it is a very important category for us. While we pride ourselves on a good service, we have actually lost 25% of HND sales since the economic downturn. I hope this visit helps turn things around."
The advice
Tony Parker, Field partner manager, News UK
"We're trying to give advice on how to maintain and develop the Home News Delivery service. Face to face conversations as a follow up to leaflet dropping, talking to customers in the store more and certainly briefing your staff. Umakant needs to start being proactive"
Ramesh Shingadia, Londis Southwater & Post Office, Horsham
"The clear issue is how to arrest the decline in HND sales. A suggestion would be to introduce an initial trial period for all new customers. Once people are hooked in, then it's much easier to keep them. The focus should be on long term profit, rather than short-term gain."
Action Plan
In-store: Ask staff to remind customers about your HND service and reward those who are successful in bringing in extra business.
Bonuses: Encourage delivery staff to canvass their own patches for new deliveries, giving them guidance on how to approach potential customers and a bonus for new customers.
Lost sales: Contact or visit 'lost' houses to try to sign up new occupants.
What happens next?
The six week trial period is now in full swing. Umakant is following the action plan and we will monitor his sales data at his store.
The results will be shared in RN on February 26 and you can see the follow up video in the second feature online.
GET INVOLVED: If you would like to take part in a similar project call 020 7689 3377 or tweet @betterretailing or let us know in the comments below!