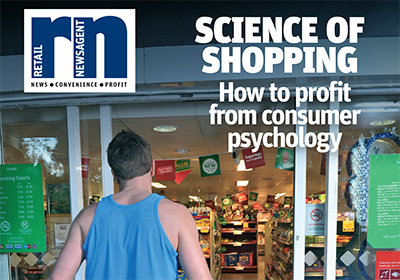 Who are your customers, why do they visit your store, and how can you influence how much they spend?  These are questions retail experts have dedicated their lives to answering, with hundreds of books and academic essays written on the subject.
Independent retailers spend enough time and resources running their stores.  They don't have time to rush to the library to brush up on the latest customer psychology theories.  Do you know how you can manipulate customers through sight, sound, smell and touch?  Do you know what women want from your store or how improved services for elderly customers can boost sales?  Do you know what influence promotions and up-selling premium products can have on customer spend?
If you read Retail Newsagent you're in luck, as this week we've got a whole feature dedicated to understanding how to profit from consumer psychology.
Click the button below to get your copy.
——————————————————————————————
Retail Newsagent is a weekly business magazine for the best of the independent channel, providing retailers with coverage of news and convenience retailing that will help them turn a profit.

 

RN contains great business content and is the only independent-focused trade press title, allowing RN to deliver an audience of engaged, business-savvy retailers for our customers. As the only trade press title which goes out weekly, RN gives suppliers a unique opportunity to advertise promotions with time-specific deadlines.

 

 [button color="#fff" bg="de1b2e" size="medium" link="mailto:sophie.spurr@newtrade.co.uk?subject=I would like to subscribe to RN (via betterRetailing.com)" target="_blank"]Click here to receive your copy of RN[/button]