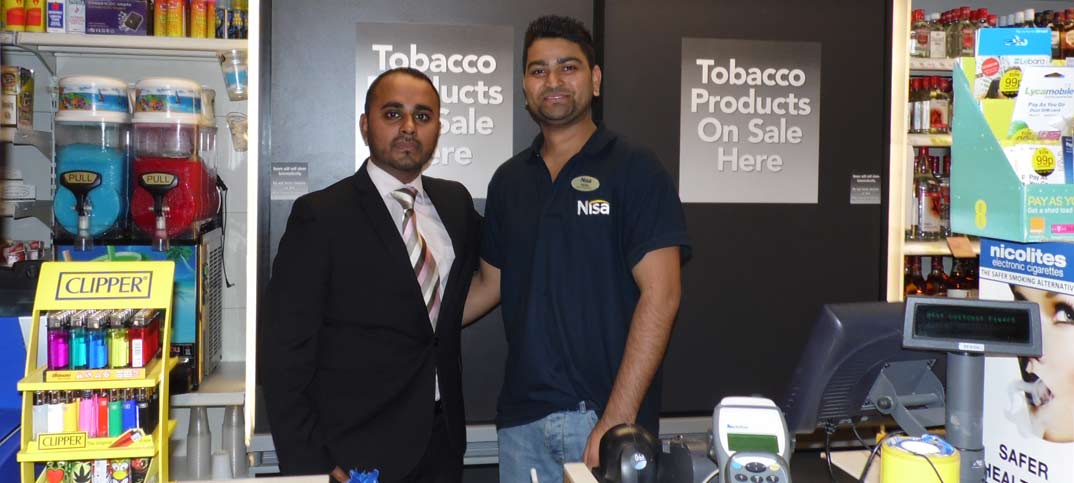 With just over six months to go until the tobacco display ban arrives, the industry is working overtime to help retailers to pr
epare their gantries, the staff and their category management to ensure a smooth transition. RN hears from two retailers who've been working with Imperial Tobacco to do just this
 Case study 1: Living with the display ban since 2012
Barry Patel, owner of a large Nisa in Purley, near Luton, was required to 'go dark' in 2012, and is preparing for his second store to undergo the same process in six months' time.
"At first I was extremely apprehensive ahead of the change in the law and was worried what effect the restrictions would have on the sale of tobacco products in my store" Barry commented.
Imperial Tobacco Retail Development Executive, Ikram Hussain has been working with retailers to do just this.
"They were incredibly supportive during the first phase and ensured I was informed throughout the process. Thanks to the advice and support I received from Imperial Tobacco during the first round of implementation I now feel fully prepared ahead of the changes which will take effect in my second store in April 2015," says Barry Patel.
Much of this advice regarded maintaining a full range of products for customers. "When the doors were installed, Imperial provided me with a planogram which was specific to my store. I was concerned that the introduction of the doors would increase the transaction time for each customer, but in fact I have been pleasantly surprised as it has probably only added seconds on to each transaction," he says.
Help, for Barry, also came in the shape of his sales representative. "My rep was fantastic ahead of the doors going on and made sure that all my staff were fully trained to ensure as smooth a transition as possible," he says.
"Merchandising and availability are also absolutely the key to success in a dark market," says the retailer. "I know that is vitally important to stick to the unit merchandising planogram and have the full range of brands in stock. If a brand isn't available customers won't hang around, most will leave the store and not return as they are unable to browse the unit for alternatives."
Mr Hussain is delighted with Barry's response to the advice and support he has received from Imperial Tobacco over the last two years, "Barry's success, since the installation of his doors, is entirely down to the fact that he understood and took on board the advice from his Imperial Tobacco rep. He recognises the vital role good merchandising and constant availability has on his business' profits, and I have no doubt that Barry will experience the same smooth transition with his second store."
Barry's advice: "Constant availability across your range is essential, use the experience and knowledge of your rep and when the doors go on your sales with remain unaffected."
Case study 2: Raising sales by £14,000 before the display ban
Sheffield retailer Steve Kidder has been working to improve his Costcutter store's range and sales since September last year.
Six months ago, sales were down. "I had no pricemarked packs and the rumour around here was that this shop was too expensive," Steve admits.
Imperial Tobacco retail development executive Ian Hammett has been working with Steve and his staff to make improvements in recent months. "Imperial Tobacco advised me on lost sales, about how customers will not come back if their product has been out of stock two times in a row. I've since added a few different brands such as Richmond and Players and introduced pricemarks," says Steve.
Steve's sales figures demonstrate how influential the right range and prices can be. From 1 June to 31 August last year, he sold £47,000 of tobacco products. From September to December, sales were up to £61,000. During this same period Steve's availability of key tobacco products also jumped from 57% to 96%.
Mr Hammett says other stores could see similar benefits if they "embrace Imperial's advice".
"Speed of service is key, especially in a dark market. If you can get things stable in six months, you have time to get your staff trained up," he says.
Steve says he now plans to apply Ian's advice elsewhere and make final tweaks to his display.
Steve's advice: "I'd like to get it right six months ahead to be totally prepared. A collaborative approach will enable me to get the mix of products and availability right."