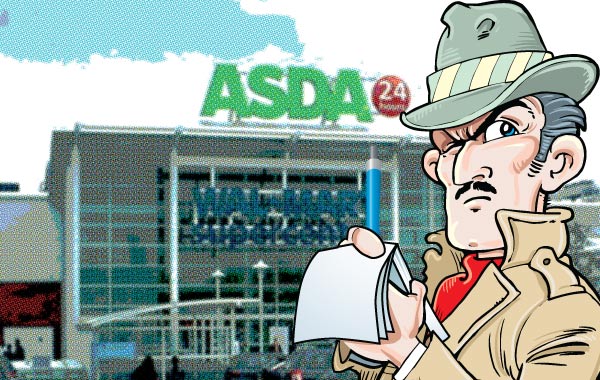 Retail Newsagent went undercover with retail analyst and shopper psychologist Phillip Adcock to unearth the multiples' best strategies, worst mistakes and the opportunities they offer your store.  In part 1 they visited Tesco's to discover some of their secrets.  This time round its ASDA's turn.
SUPPLIERS ARE PITCHED AGAINST EACH OTHER
Evidence of how much power lies in the hands of supermarkets is obvious from the way deals are squeezed from suppliers. In Asda we find numerous Thornton's promotions, one which offers £7 boxes of chocolates for a remarkable three for £10. In Tesco we come upon one fridge entirely filled with I Can't Believe It's Not Butter. "The manufacturer will pay, say £50,000 for it. Tesco will then say to Utterly Butterly, 'You've got to do a deal to compete'," says Mr Adcock.
WHAT CAN YOU DO?
Get in touch with your suppliers and ask how you can work more closely together. As they suffer at the hands of overbearing supermarkets, many are increasing their support for independents.
SUPERMARKETS OFFER TOO MUCH CHOICE
"Asda now has 23 variants of plain crisps and 17 variants of digestive biscuits. Why?" asks Mr Adcock. Excessive choice is a problem common to all supermarkets, something which causes major confusion for shoppers. "Since 2008, Tesco has been trying to offer customers a range of cut-price brands similar to those stocked by Lidl and Aldi," he adds. "This adds a pricepoint somewhere between the cheapest and the own label." When we surveyed Tesco's selection of baked beans beforehand, he pointed out a 36p can as another example. "Tesco should have a range organised by "good, better, best" or "value, mid-range, premium. Here, there are more and more layers, which people don't want."
WHAT CAN YOU DO?
Limit your range to a tight selection of value, mid-range and premium lines, appropriate to your location. Delist bad sellers.
It's only a five minute drive from Tesco to Asda and in that time we pass a moderately sized Sainsbury's and a Tesco Metro.
To the casual observer big supermarkets might seem to be interchangeable places, but visiting two in succession gives a very different impression. From the lighting (Tesco is more natural) to the pricing (Asda uses a simpler round pound system) there is a multitude of small differences which make it easy to understand how customers see them as separate businesses and have definite favourites.
As soon as we walk into Asda some things are immediately familiar: bread has its place at the front of the store. Unlike Tesco, however, Asda continues the fresh atmosphere by making fruit and vegetables the very next things consumers see.
According to Mr Adcock, this department bares the hallmarks of much careful thought. Above the fixtures, large signs hang showing pictures of perfect-looking fruit and lighting brings it alive.
It's should be no surprise, however, that Asda has got this so right. If Tesco has the power of being Britain's largest retailer, Asda's market knowledge, strategies and merchandising are all supported by its parent company, Wal-Mart. Since Wal-Mart took over the supermarket in 1999 Asda has seen its store numbers explode and has taken on an additional 100,000 staff.
One thing which has remained consistent throughout this time, however, has been Asda's reputation as being the UK's cheapest major supermarket. It's immediately clear how important price is in its customer communication. While Tesco has many of its biggest shelf-edge signs telling shoppers about promotions, Asda is more price driven.
Such is the importance of low prices to the identity of Asda that in 2009 – just two years after retiring it – the supermarket brought back its pocket-tapping Asda price adverts.
THE RIGHT FONT SELLS MORE STOCK
Pricemarking often works simply because of the way a price flash looks to consumers, says Mr Adcock. "They think, 'if the manufacturer has put the price in red and yellow it must be cheap'." This same principle lies behind the handwritten-style signs that tell Asda's customers about special purchases and Mr Adcock has seen it used successfully many times. "Ikea has offers written on chalkboards so they look like manager's specials, but if you look carefully they've been printed. This gives a perception that this has all been done for the consumer's visit – that it really is cheap."
WHAT CAN YOU DO?
Use manufacturers' PoS material, then add to it selectively with your own manager's specials.
TOO MANY PROMOTIONS ARE COUNTER PRODUCTIVE
Mr Adcock is not impressed with the pricing and promotional strategy for Asda's speciality beers.
"Stupidly, it's all on offer," he says. "Historically, you'd select a bottled beer like Spitfire and put it on promotion for the week, advertising it in your window, the press and so on. In-store you'd have one or two facings only. The offer would bring people to the fixture, but then you'd hope to persuade them to trade up to a different one."
WHAT CAN YOU DO?
Be clear about the purpose of your promotions. Use a carefully chosen selection to promote your good value, lead shoppers to key ranges, excite your customers and compete locally.
GREAT IMAGES TELL CUSTOMERS FOOD IS FRESH
Asda uses images in its fresh fruit and vegetable aisle very effectively, Mr Adcock points out. "These little gem lettuces look clean and inviting in this picture. Customers won't register it consciously, but it's giving off a message that everything is fresh in this store."
WHAT CAN YOU DO?
Use colour and natural images near fresh produce to promote the fact that your products and store are fresh and clean.
THE BEER AISLE IS MAN'S SWEET SHOP
Asda's impressive range of world and speciality beers is as popular with women wanting peace while they shop as it is with men, being packed with niche small brands from breweries such as Hobgoblin and Shepherd's Neame. "Men love these fixtures," says Mr Adcock as we approach the bottled beer. "It's like putting kids in a sweet shop. Women can park their men here and they'll spend ages choosing one."
WHAT CAN YOU DO?
Excite and tempt your customers by introducing speciality ranges which they will want to browse through.